NY Times Chows Down At Sheepshead's Peruvian Joint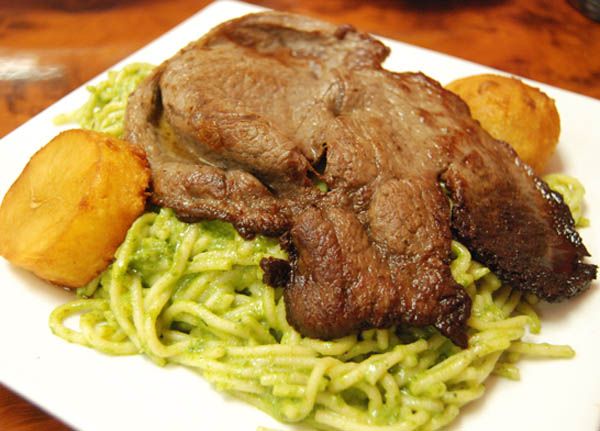 Whenever people ask me about my favorite places to chow down in Sheepshead Bay, Coney Island Taste always lands on the shortlist.
Tucked away in a little storefront opposite the 61st Precinct, it's the only place in the neighborhood for authentic South American cuisine. And, call me biased, but if you're going to only have one South American place, it better be Peruvian. Heck, that's why Coney Island Taste was one of the first restaurants Sheepshead Bites ever reviewed.
It's so good it even gave those hoity toity culinary scribes over at the New York Times reason to slog down the Brighton Line for a bite. With Peruvian being the new Thai, the Times finally got on the bandwagon and did a write-up of several small places to get your ceviche on.
At Coney Island Taste in Sheepshead Bay, Brooklyn, the menu depicts the Wonder Wheel, while the window faces Coney Island Avenue and the local precinct house, 2580 Coney Island Avenue (Gravesend Neck Road-Avenue W); (718) 339-8371. At first glance, the décor suggests a luncheonette, with well-padded chairs and booths, and signs near the register promoting American lunch specials with soda. Peruvian cooking, however, dominates the bill of fare. Rocoto pepper sauce and an amuse-bouche of cancha, salty roasted corn, are delivered by your server, just as cream and sugar would be.
Belly-filling dishes are the order of the day. You might begin with papa a la huancaina ($6), slabs of boiled potato swamped by spicy, creamy cheese sauce. A lighter but equally peppery sauce dresses aji de gallina ($12), shredded chicken. Seco combinado ($11), beef stew buttressed by rice and beans, is milder if chewier.
The fry cook shows a deft touch with jalea ($15), heaped with squid, shrimp and corvina. Chaufa de mariscos ($14), seafood fried rice tinted with soy sauce, is even more expansive, but can be overcooked. To accompany it, there's chicha morada ($8 a pitcher), a soft drink made from purple corn.
And don't forget, Coney Island Taste was one of the participants of A Taste of Sheepshead Bay. So you can find their menu in the restaurant guide we made for the event.