Number Of Artists Moving To Brooklyn Rises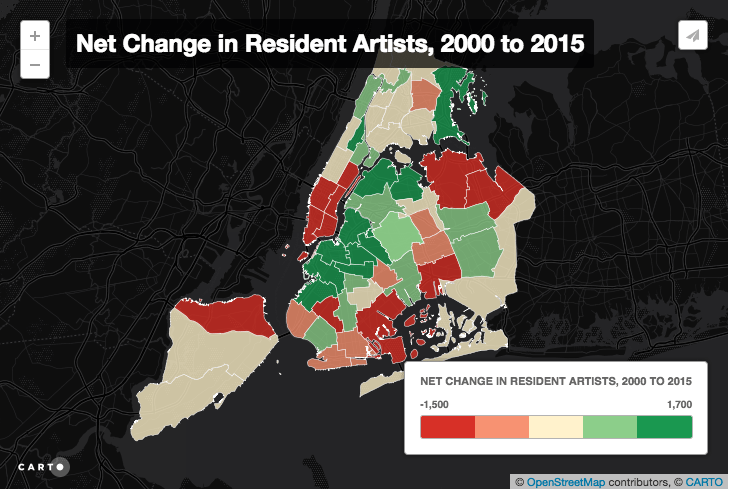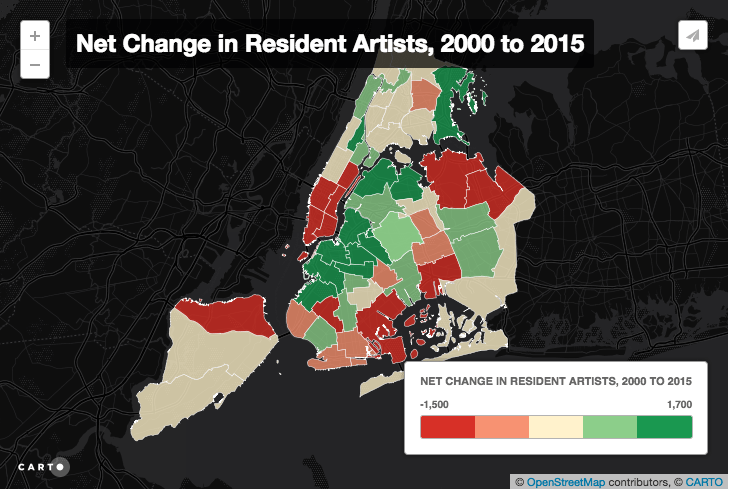 A recent study released by the Center for an Urban Future has revealed that artists have been choosing to move to Brooklyn over Manhattan over the past few years.
The number of artists throughout New York City is at an all-time high, increasing to 56,268 in 2015—a 17.4% increase since 2000.
Since 2000, Brooklyn has seen the number of visual and performance artists moving to the borough grow, up 72% to 17,605. Several Brooklyn neighborhoods saw massive growth spurts from 2000 to 2015. In Bushwick the artist population rose 1,116%—from a mere 150 artists in 2000 to more than 1,800 in 2015.
Following behind Bushwick, the areas that saw the most significant growth in artist populations were Bed-Stuy with 1,061 artists—an increase of 268%; Sunset Park with 993 artists—an increase of 124%; and Crown Heights (north) and Prospect Heights with 1,278 artists—an increase of 114%.
The Williamsburg and Greenpoint area grew 75% to 2,908 artists, though the report says the two neighborhoods may have peaked in 2014 when its all-time high artist population was 2,986.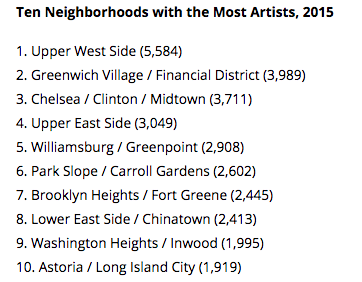 Park Slope and Caroll Gardens saw a 20% growth to 2,602 artists and share the 6th place spot on the list of ten neighborhoods with the most artists. Fort Greene and Brooklyn Heights grew 58% to 2,445 artists, earning the neighborhoods a seventh place spot on the list.
While Manhattan experienced a 10% decline to 26,650 in its overall number of artists since 2000, four Manhattan neighborhoods still topped the list of the ten neighborhoods with the most artists—the Upper West Side, Greenwich Village, Chelsea, and the Upper East Side.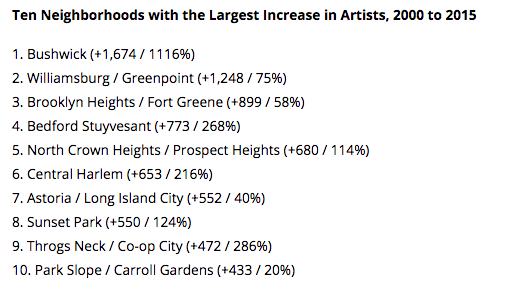 New York City has long been a destination for artists, however the study raises the question of how much longer this will be the case. Skyrocketing rents are pushing artists further away from work, exhibition, and performance spaces. High costs also make it difficult for these facilities to remain open.
If New York City wants to maintain its title as a cultural hub, the report states, "officials should be just as creative in finding solutions as the painters and dancers and photographers who still want to live and work here."
The report suggests that NYC schools share their resources with artists. "A partnership with city schools could be one important component of a citywide strategy to tackle this affordability crisis."
Check out the full report titled, Artists in Schools: A Creative Solution to New York's Affordable Space Crunch at the Center for an Urban Future's website. You can also listen to the organization's Executive Director, Jonathan Bowles, discuss the report on The Brian Lehrer Show on WNYC.