Northern BKLYNER Weekend Events Spotlight: January 6-8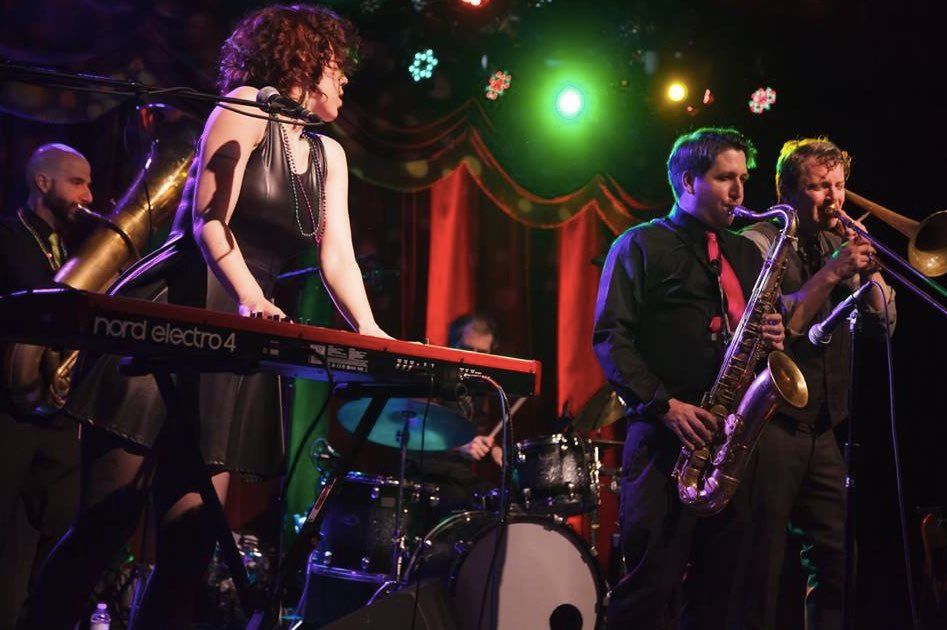 Just because the party's over doesn't mean the events slow down. Drop your pants, mulch away, dance to New Orleans tunes, and more. If you have an event to share, email us at editor@bklyner.com.
Make sure to check out our event listings in Ditmas Park!
City Billies
When: Friday, January 6, 10pm
Where: Sunny's Bar, 253 Conover Street (between Beard and Reed Streets), Red Hook
What: We couldn't be happier to bring reggae bluegrass to Sunny's and start off the new year correct! It was a major year for everyone. There will be lots of new tunes that we recorded in 2016 and will be releasing soon. Joining us at this special show will be Ish Montgomery, Yahoteh Kokayi, Doug Goldstein and Ken Shoji. Sasha'mani and Mark can't wait to share a Red Hook evening with all of you!
How much: No cover, tipping appreciated.
Karaoke Tremendous
When: Friday, January 6 at 11:59pm (or Saturday, January 7 ay 12am – you make the call.
Where: Union Hall, 702 Union Street at 5th Avenue
What: Check out the newest incarnation of the supportive and energetic karaoke dance party with Jeremy (Sir Jarlsberg) Gibson and Lord Easy.
How much: Free
JC4 – Brooklyn CD Release Party
When: Friday, January 6, 7pm-8:30pm
Where: ShapeShifter Lab, 18 Whitwell Place (between 1st and Carroll Streets)
What: A long time student of the legendary Bob Brookmeyer, Sanford has performed as a trombonist along side the likes of Danilo Pérez, Matt Wilson, Bill Stewart, and Donny McCaslin. He was also selected as a "Rising Star" trombonist in DownBeat Magazine's 2015 Critic's Poll. Tonight, he celebrates the release of his quartet CD Can You Believe It? on Red Piano Records. DownBeat magazine describes Sanford's playing on the album as "a warm, unforced sound. He solos with clear direction while avoiding overplay." Canada's Textura describes i t as "a well-rounded and well-crafted set that shows Sanford and company breezily settling into broad stylistic terrain, jazz naturally but funk, rock, R&B, and Latin, too." He'll be joined by bassist Dave Ambrosio, drummer George Schuller, and guitarist Pete McCann.
How much: $10, at the door
Hootenanny 2017: Hosted by your friends Steph & Bill
When: Saturday, January 7, 7pm
Where: Jalopy, 315 Columbia Street (Between Hamilton and Woodhull), Carroll Gardens
What: Back in 2007, a bunch of family musicians got together at Jalopy in Brooklyn to play music for each other, talk, and have a good time. It was awesome. Lifelong friends were made, seeds of collaborations were planted. Lots and lots has happened since then. Then in 2016 we decided it was time to get back to the music. We reunited with our great group of family musicians, new and old(er) and the result was an epic night for all. So we are doing it again. Come out and talk with your friends in the scene. Make new friends. Hang out. Celebrate collaboration.
How much: $20, purchase tickets online.
Mulchfest 2017
When: Saturday, January 7 and Sunday, January 8, 10am-2pm
Where: Various parks around Brooklyn. See our preview article here.
What: Your tree will be recycled into mulch that will nourish plantings across the city. At certain locations, you can take home your own bag of mulch to use in your backyard or to make a winter bed for a street tree.
Smith & 9th Ward
When: Saturday, January 7 at Doors at 10pm
Where: The Way Station, 683 Washington Avenue (Between Prospect Place and St. Marks Avenue)
What: SMITH & 9th WARD is a combo in the New Orleans, funky and soulful tradition.  We channel the likes of Dr. John, James Booker, Allen Toussaint and Professor Longhair to bring you New Orleans grooves with a Brooklyn attitude.  We consist of members of the OUTER BOROUGH BRASS BAND and we love playing funky NOLA tunes, traditional jazz standards and low-down blues. SMITH & 9th WARD: New Orleans grooves with a Brooklyn attitude.
How much: Free
Tinder Live with Lane Moore
When:  Saturday, January 7 at Doors at 7:30pm, Show at 8pm
Where: The Bell House, 149 7th Street (near 2nd Avenue)
What: Produced and hosted by comedian Lane Moore (The Onion, HBO's GIRLS , McSweeney's , Brooklyn Magazine's 50 Funniest People In Brooklyn ), Tinder Live! With Lane Moore is the only comedy show exploring the crazy world of Tinder, the hot new dating app that hooks up local singles based solely on physical attractiveness. The critically acclaimed show is an anything-can-happen interactive comedy showstopper with helpful and oftentimes ridiculous tips, tricks, and real-time swiping and messaging (and sometimes even real-time phone calls and texting with Tinder matches)! If you've ever been on an online dating site, you need to see this show.
How much: $15, purchase tickets online.
Worktable by Kate McIntosh
When: Through Monday, January 9; 12pm-8pm except for 12pm-7pm on January 8
Where: The Invisible Dog, 51 Bergen Street, between Boerum Place and Smith Street
What: Worktable is a live installation that contemplates and completes acts of creation and destruction using every day, domestic objects. Sign up to enter and stay as long as you like. Once inside Worktable, you are given instructions, equipment and safety goggles. It's up to you to decide how things come apart. Co-Presented by Performance Space 122's Coil 2017 Festival and The Invisible Dog Art Center
How much: $20, purchase tickets online.
Winter Flea Holiday Market
When: Saturday and Sundays through March 2017, 10am-6pm
Where: One Hanson Place, Fort Greene
What: Brooklyn Flea moves indoors for the Winter Flea + Holiday Market with 75 vintage/antique/other vendors plus 25 Smorgasburg vendors selling food every Saturday + Sunday, 10am-6pm. The 2016/2017 market is open at Skylight One Hanson in Fort Greene. $1 admission, children under 16 get in free.
Leigh Blanchard and Amy Weil: Mending Fragments: Hide and Seek
When: Through Sunday, February 5. Thursdays and Fridays, 4:00-7:00pm; Saturdays and Sundays, 11:00am-7:00pm.
Where: 440 Gallery, 440 6th Avenue, between 9th and 10th Streets
What: 440 Gallery is pleased to present Mending Fragments: Hide & Seek, a two-person exhibition featuring the photography of Leigh Blanchard and the mixed media paintings of Amy Weil. Blanchard and Weil have a similar conceptual approach to creating their art even though they employ different processes; both explore the philosophical while maintaining a playful curiosity. The artists both embrace the thought behind the Japanese pottery technique Kintsugi—they visualize fragments as positive, additive elements as opposed to something that is missing.
How much: Free.
Improv Everywhere's No Pants Subway Ride 2017
When: Sunday, January 8 at 3pm
Where: Various starting points, including The Old Stone House in Park Slope and Maria Hernandez Park in Williamsburg/Bushwick
What: It's the 16th year that you, your friends, and loved ones will have the opportunity to ride the subway in your underwear — with thousands of participants (roughly 4,000 in recent years). In addition, participants from over 60 other cities around the world will be joining you. Read our preview article here.
How much: Free.