North Brooklyn Schools Awarded $25,000 Grants for Individually Determined Programs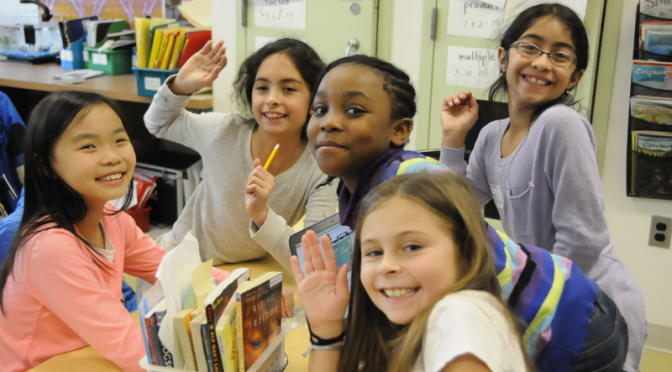 NORTH BROOKLYN – Twenty-one schools in North Brooklyn will receive grant money this year to support school-determined initiatives ranging from science and tech to literacy and the arts, courtesy of a development company's philanthropic offshoot.
The $350,000 being awarded among the schools is courtesy of the Neighborhood School Grants program of the Walentas Family Foundation.
Schools in Districts 13 and 14 can apply for the $25,000 grants, which are available every year, to support unique learning opportunities not covered by the school's standard budget. There is no restriction on the type of program, as the Walentas Foundation allows schools to individually assess their own specific needs and educational goals.
Here are the schools being awarded grants in the 2017-2018 school year:
PS 282 Music Program, Park Slope
Academy of Arts & Letters Math Intervention Program, Fort Greene/Clinton Hill
Achievement First Brooklyn High School – Expand Participation at Speech & Debate National Invitational Tournaments, Crown Heights
Brooklyn Community Arts & Media High School (BCAM) Project AIYM: Artistic & Intelligent Young Men, Clinton Hill/Bedford Stuyvesant
Brooklyn High School for Leadership and Community Service Creative Arts Therapy for Youth (CATY), Clinton Hill
The Brooklyn Latin School STOKED—Action Sports and Youth Development, Bushwick
P373K The Brooklyn Transition Center DanceAbility Studio, South Williamsburg/Bedford Stuyvesant
PS 23 Carter G Woodson Elementary Performance Arts Establishment Project, Bedford Stuyvesant
Compass Charter School Explorers' Initiative, Fort Greene
MS 577 Conselyea Preparatory School Ballroom Dancing with Dancing Classrooms, Williamsburg
PS 132 The Conselyea School Designers – The Thinkers of Tomorrow, Williamsburg
IS 318 Eugenio Maria De Hostos Brooklyn Chess Champs, East Williamsburg
PS 257 John F. Hylan Elementary Marching Band, Williamsburg
PS 56 Lewis H. Latimer Elementary Musical Connections with Little Orchestra Society, Clinton Hill
PS 44 Marcus Garvey Elementary 44 Reads, Bedford Stuyvesant
The Monitor School The Arts Grow Hearts and Minds, Greenpoint
Park Place Community Middle School Drop Everything and Read Program … Across All Content Areas, Bedford Stuyvesant
PS 11 Purvis J Behan Elementary PROJECT PLANET (Program for Language Arts, Numeracy, Empathy and Techonlogy), Clinton Hill
PS 9 Teunis G Bergen Elementary Early Childhood Gardening, Prospect Heights
Urban Dove Team Charter High School HiRisers Program, Bedford Stuyvesant
Williamsburg Early Childhood Center Full STEAM Ahead, Williamsburg
"The Neighborhood School Grants program amplifies the creativity, vision, and energy of the school community – from the students and their families, to faculty and staff, and the neighborhood at large," said Jed Walentas, CEO of Two Trees Management Company. "We're proud to have given more than $1.6 million to local schools over the past few years to support incredible programs in the arts, STEM education, community engagement, literacy and more in Brooklyn."
The Walentas family's Two Trees Management is behind some of the largest and most recognizable developments in Brooklyn, like 300 Ashland and 325 Kent.
For schools in Districts 13 and 14, more information can be found on the Two Trees website where grant applications are available (though the application window is not currently open).