Nobel Prize-Winning Author Toni Morrison Provides 'The Nourishment We Need' At Brooklyn By The Book Series
With a writing career as expansive and dynamic as that of Nobel and Pulitzer Prize-Winner Toni Morrison, it would be more than understandable for her to slow down a bit.
"I really don't know how to stop. I'm not as fast-paced as I used to be. But I can't envision not writing," said Morrison, who was awarded the Presidential Medal of Freedom by President Obama in 2012.
The author spoke last night at an extremely impressive Brooklyn By The Book event at Congregation Beth Elohim.
Brooklyn by the Book is a collaborative series between the Brooklyn Public Library, Community Bookstore, and Congregation Beth Elohim (CBE) which hosts intricate discussions and readings with a variety of authors.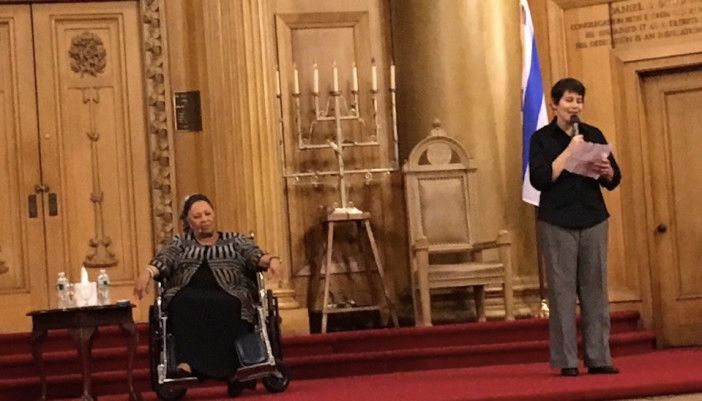 Morrison's best-selling and newest novel God Help the Child (released April 2015) was to be the main focus of the discussion, led by Princeton comparative literature Professor Claudia Brodsky. But with such an immense wealth of material, the conversation addressed a wide range of subjects: the stylistic development of her novels, characters throughout her oeuvre of writing, family stories, and her current projects.
Rabbi Rachel Timoner, Senior Rabbi of CBE, brought her self-described "dog-eared" copy of The Bluest Eye (1970) —  Morrison's first novel — onstage when introducing the author.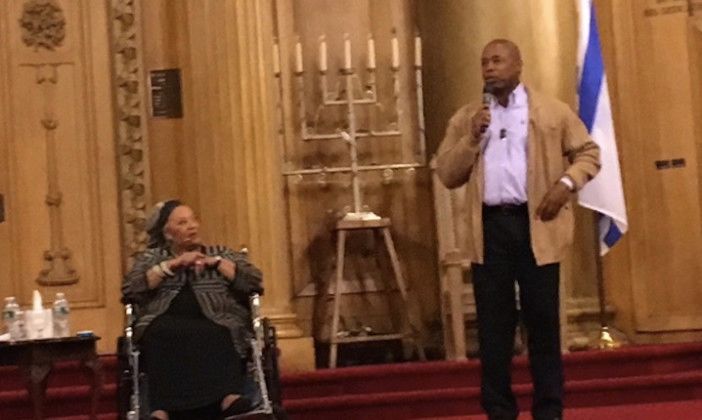 Brooklyn Borough President Eric Adams spoke of his earlier years as a police officer. Adams described Morrison's writing as "the nourishment we need. It is a dream come true to speak with someone whose work has spoken to me." Adams also expressed the importance of Morrison's ideas in 2016 — with a political contextualization. "We need her now more than ever…we have to 'out-Trump' Trump."
During her introductory thoughts, Professor Brodsky described the stylistic variation so prevalent in Morrison's work. "No two of her eleven novels resemble each other. She absolutely never repeats herself."
Morrison explained how she had to put God Help the Child aside for some time before she returned to finish it. "The contemporary language was eluding me," she said. The novel went through several name changes before arriving at the current one. Her earliest was The Wrath of Children, which then changed to Wonderful. She admitted that the final title was not her ideal, "but everyone hated the name Wonderful!"
She describes the comparatively shorter length of this book as significant to the structure. "In this book, I wanted to say more by writing less," said Morrison. "I wanted to find fewer words — but the best language to say it in."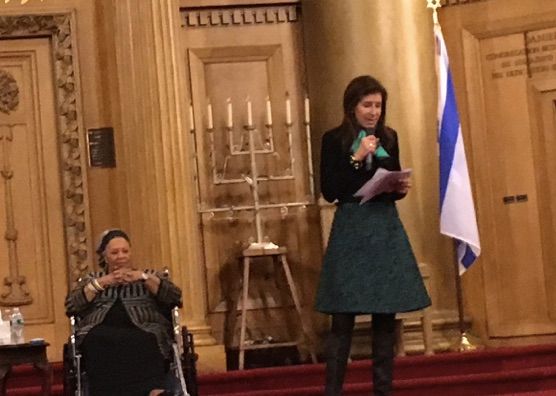 Morrison told a family story concerning a visit by her great grandmother — someone who she did not know well. "When I was a little girl …. we were playing on the floor in our house. My great grandmother was understood to be a legend — the wise one, the head, a sought after mid-wife… She greeted my mother carrying a cane – which she didn't need. She looked at us and said, 'those children have been tampered with'."
Morrison then explained how her grandmother, who was also in the room, responded: "'We have all been tampered with.'"
The author paused, and said, "It may occur to you at this point that I've been writing about this forever."
Morrison has the ability to describe dense concepts with delicacy. Professor Brodsky reminded her of a recent conversation they had. "You once said 'evil has vivid speech — it has a blockbuster audience.'"
"The concept of goodness is too often understood as weak. I think goodness is more interesting. It's more complex," said Morrison.
The news of Morrison's current work on a novel was met with great enthusiasm. "It's the best thing I've ever written. So far, the title is Justice," she said, with a light, wry smile.
One of the most stunning moments of the evening took place when Morrison began quoting from Sula, her novel from 1973:
"'O Lord, Sula,' she cried, 'girl, girl, girlgirlgirl.'
Morrison was sounding out her work in front of us as if she were listening to it for the first time.
Her poignant words resonate even deeper as we begin Black History Month.
"The ramifications of 'Colorism' affects all people," said Morrison.  "Not just about color, but how we decide who belongs and who does not."