No More Water: Artists Explore Injustice, Displacement, And Climate Change
PARK SLOPE – On Thursday, the Old Stone House debuted its latest contemporary art exhibition, No More Water, featuring work by Tahir Carl Karmali and Justin Sterling that tackles inequality, displacement, and global warming.
The title references James Baldwin's The Fire Next Time (1963), which examines racial injustice and opens with the line, "God gave Noah the rainbow sign, no more water, the fire next time!"
"I don't know if anyone has read that book, but it's very pivotal," Sterling said before the opening of the exhibit.
"'No more water, the fire next time,' comes from a specific song [Mary Don't You Weep] that was used during several pivotal moments for Civil Rights, especially for African Americans and black Americans," Karmali explained. "It's something that God said to Noah. He said, 'There's no more water,' after the flood, and 'The fire next time.' What I thought was interesting is the issues that we're talking about with regard to displacement, both here in New York City…in the Congo, and globally. When we think about material acquisition and moving people around, how this capitalist system is engineered to sort of hurt people or move people or break up families."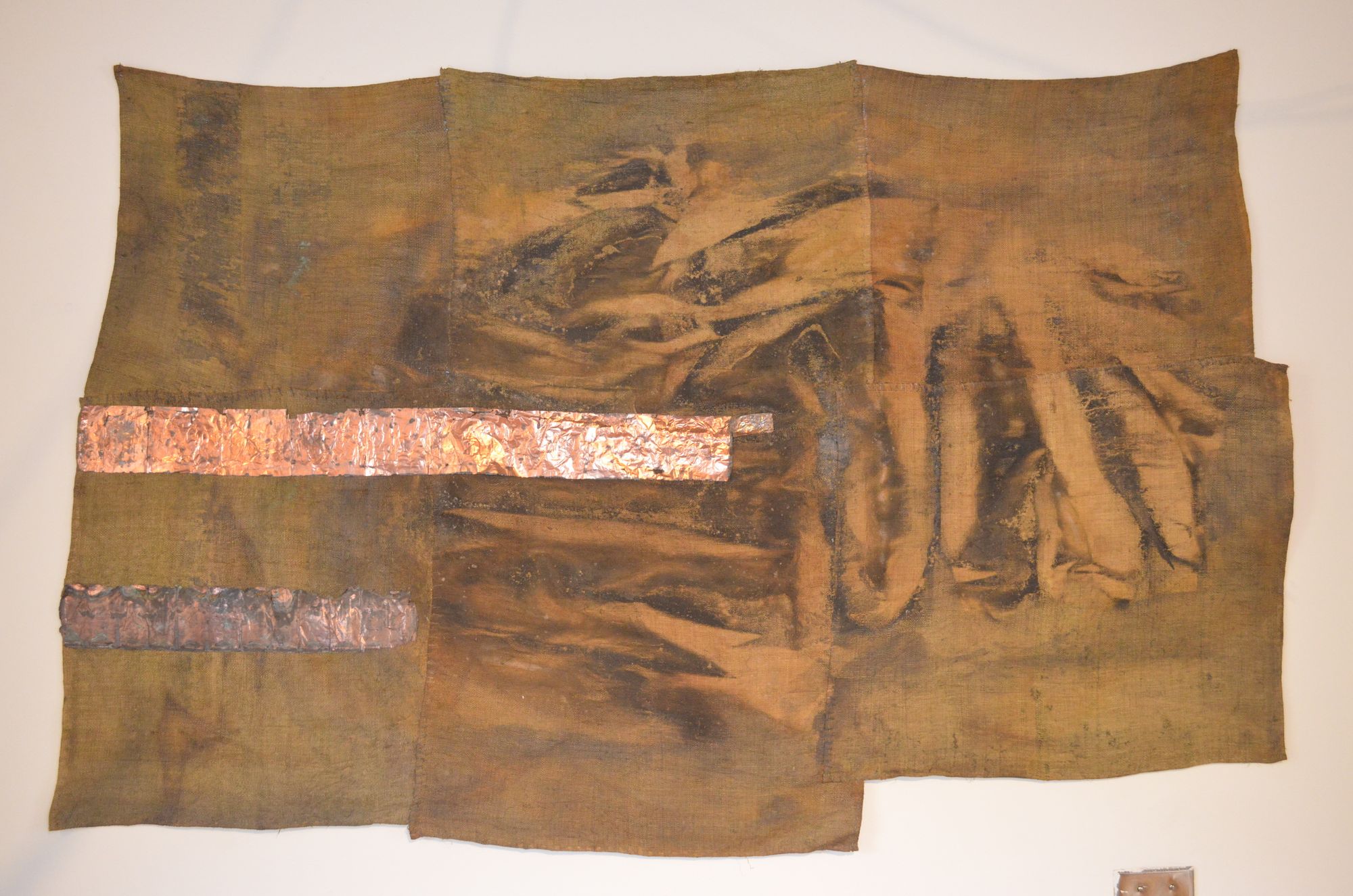 Born in Nairobi, Kenya and currently based in Greenpoint, Karmali dyes layers of raffia with cobalt oxide from old cell phone batteries and stitches them together with copper. His works reference traditional Congolese Kuba cloth as well as the exploitation of cobalt miners working under hazardous conditions in the Democratic Republic of Congo.
Karmali began using cobalt in his work after researching cell phones and their batteries. He learned that the mineral is "mined so aggressively," he said. "I was interested in how this material works as a dye and how I could use a culturally specific material from that region."
"A lot of my work does include fiber, either in paper-making or fabric dying," Karmali continued. "My practice also includes metalwork and installation, but one of the main materials that I always like to revert back to is some sort of textile or fabric."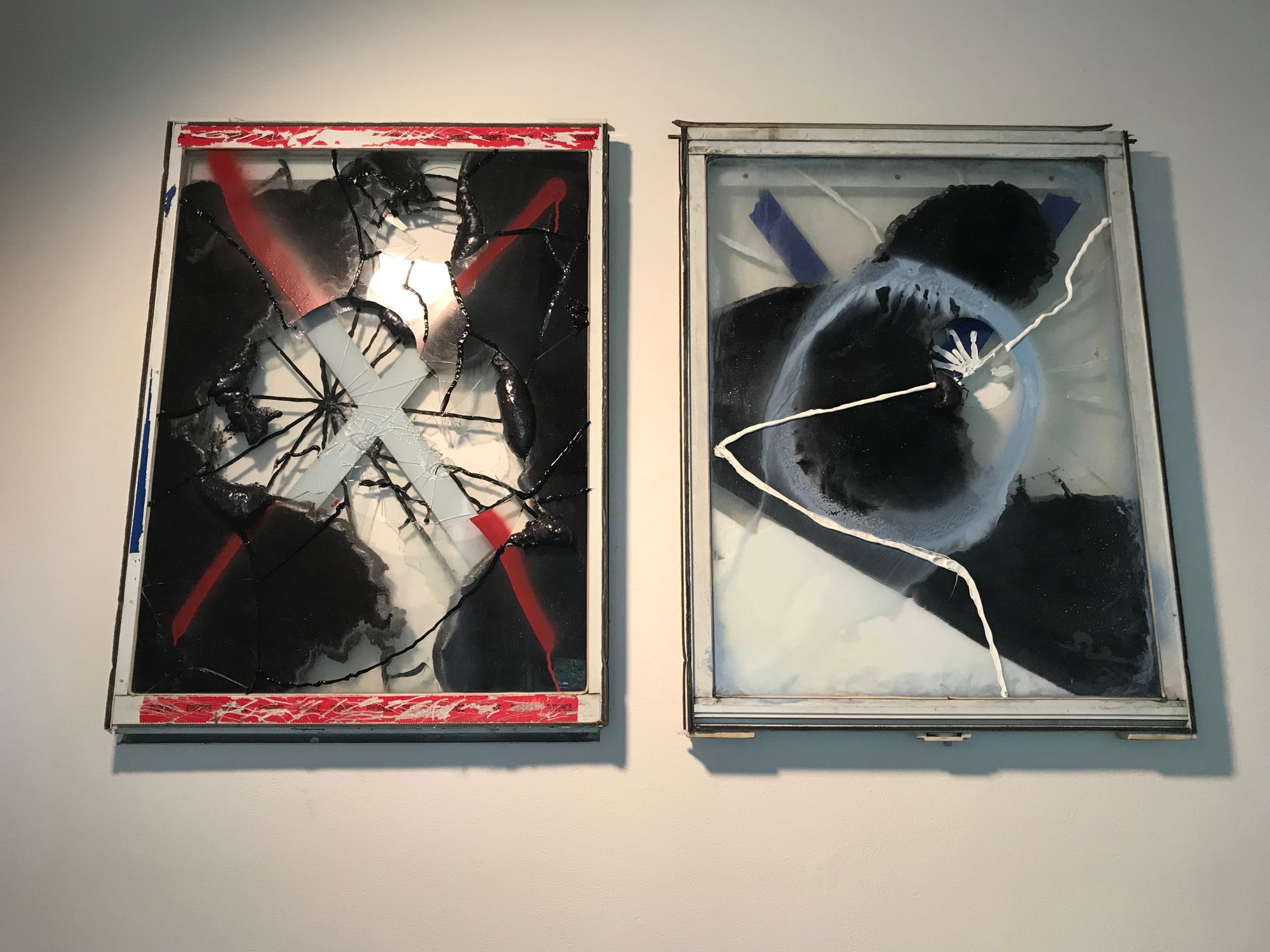 Both artists showcased in No More Water use reclaimed materials. Originally from Houston and now living in Williamsburg, Sterling creates sculptures composed of broken windows and found materials that reference broken windows policing as well as factors that contribute to gentrification, mass incarceration, and natural disasters.
"The city is my medium so I collect objects from the city and turn them into metaphors," he explained. "These metaphors end up having some sort of stake inherent to the city related to politics, socio-economics, or the environment."
The fire hydrant is another found object that frequently appears in Sterling's work. "When I use hydrants, they have a lot to do with fire and water, like grand metaphors for pre-language expression, like 'she's on fire,' 'my love is an ocean,' 'cry me a river,' or 'burning desire.' I was thinking of fire a lot and I remembered The Fire Next Time by James Baldwin and I asked Tahir to read it," he said.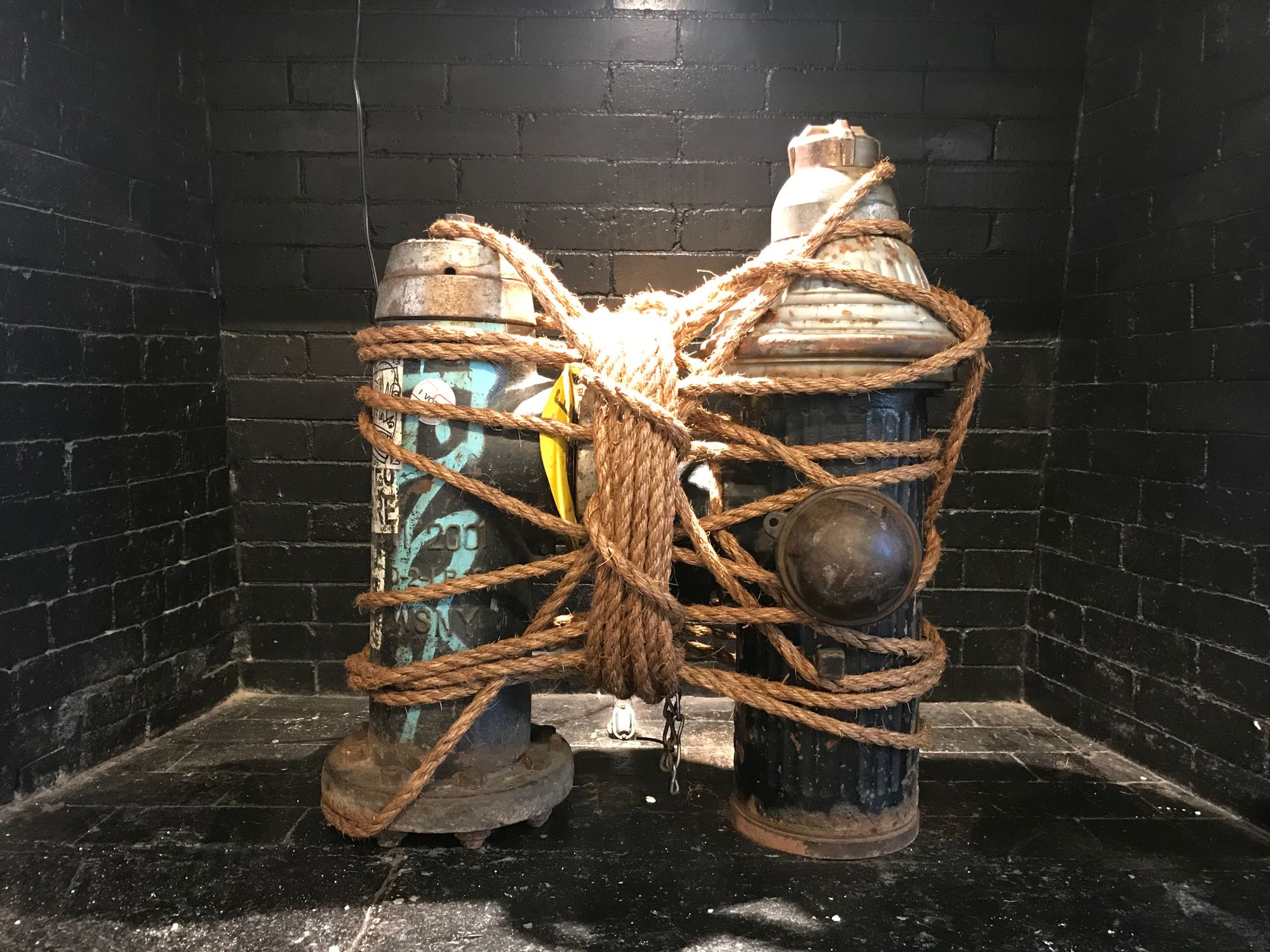 While Karmali and Sterling have known each other for about a year and a half, this is the first time the two are exhibiting together. "The actual selection of the work and the theme was decided by the two artists," said Katherine Gressel, Contemporary Art Curator of the Old Stone House. "We like to keep things artist-driven here. A lot of it was driven by them and their interests."
"It's really hard to make work that is out of touch with what's happening," said Karmali. "I think that these are the conversations that we're having today…."
When it came to creating site-specific works for the colonial farmhouse on a Revolutionary War battle site, the artists were struck by certain architectural features of the Old Stone House.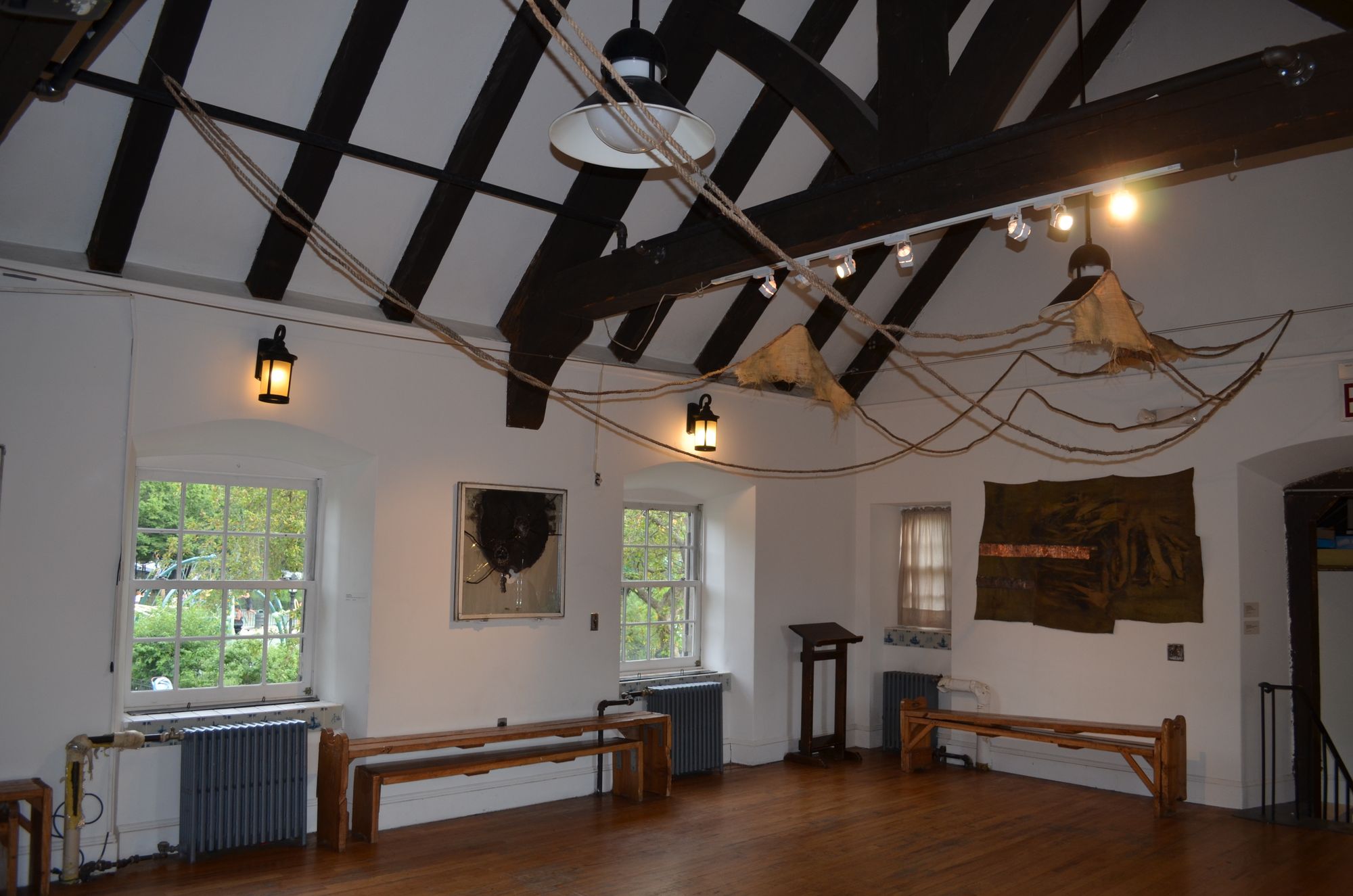 "I wanted to use the fireplace," Sterling said.
"When I came in here I was really interested in the rafters and the beams…how can we play off of them but make it look like we're not touching them in any way?" added Karmali.
Karmali's rope piece, No More Water, is suspended from the Grand Room's ceiling like garland and guides visitors to the far wall where his work, Muddy Heart, is draped over the fireplace, above Sterling's The Fire Next Time—two hydrants in the firebox bound by rope.
"It is like an aisle and it leads to the fire hydrants and this sort of smoky fabric that looks like it's been scorched and burned," said Karmali.
"That's my favorite moment in the show," Sterling noted. "I think both of our practices investigate how materiality can become political in various ways," he added. Sterling said he hopes No More Water helps visitors "see the outside world through the materials we use."
"I always liked the idea of creating calming spaces to engage with difficult topics, so this space itself—though the works have very deep, serious references—still feels  quiet, silent, or calming," Karmali said. "It's great that the OSH has this kind of programming, where artists can engage with the community in a really direct way versus it being in a museum," he added, pointing out a performance of Shakespeare's As You Like It taking place just outside as children played in Washington Park. "There's something in context here versus it being put in a white cube."
"This space, in relation to the neighborhood, is in a very rapidly gentrifying area, and a lot of people have been displaced, including artists," Gressel noted. "I like to think of us as this stable institution that has so much to do with historic preservation and community preservation and [serves as] a safe space for the community to congregate."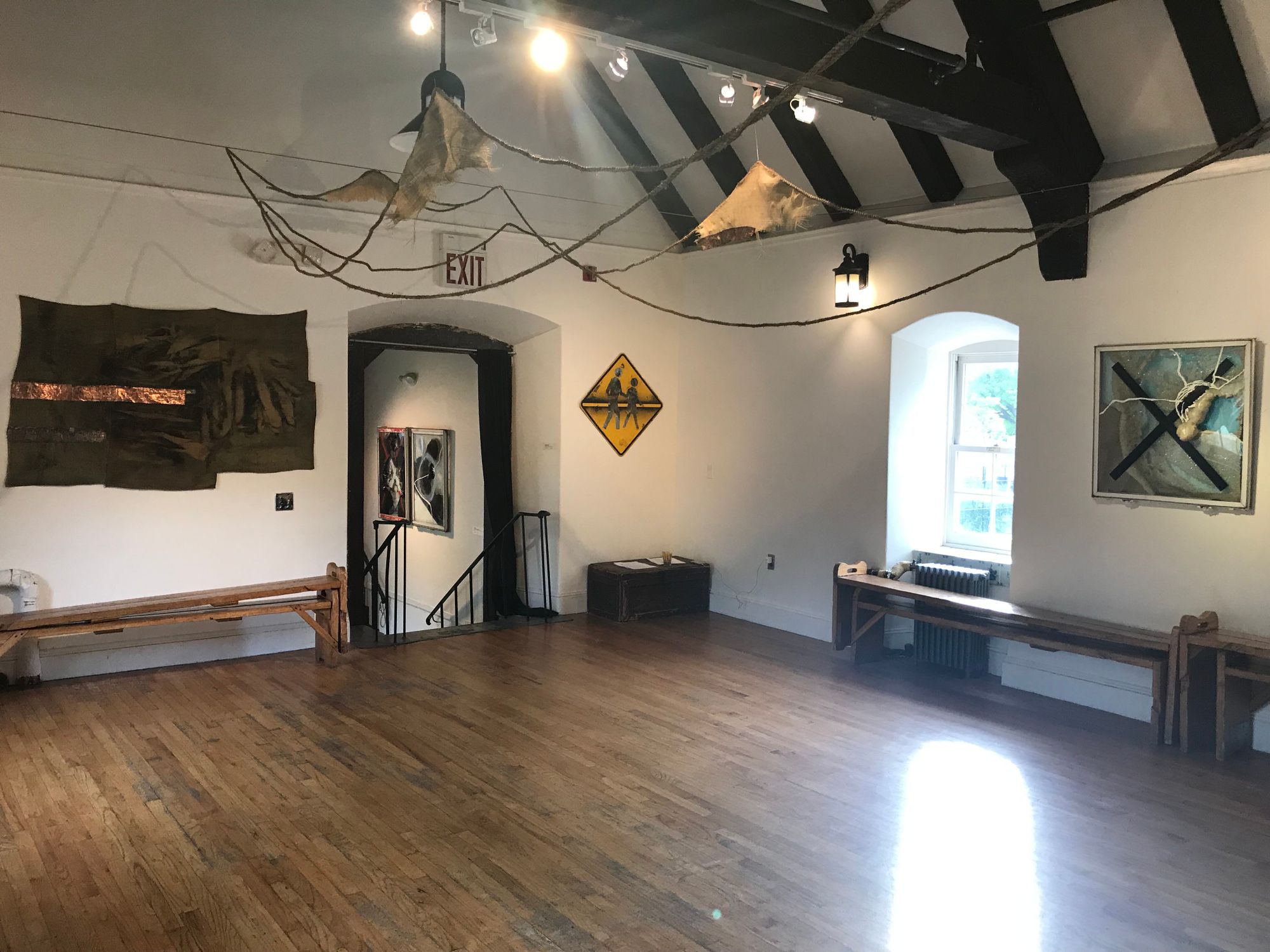 "A lot of the work has a dark political message and speaks a lot to injustice and you can't ignore that aspect of the work, but I think there's also something hopeful about it," she added. "The No More Water text also speaks to the need for people to come together and take action against injustice."
On opening night, Sterling performed with a trumpet, movement/dance, and spoken word to interact with the works. On October 12, Karmali will be joined by textile artist Jessi Highet for a fiber-making workshop, in conjunction with the Kings County Fiber Festival.
No More Water: Artwork by Tahir Carl Karmali and Justin Sterling
On view Thursday, August 15 through Sunday October 13
The Old Stone House, 336 3rd Street (between 4th & 5th Avenues), Park Slope
Fridays, 3pm to 6pm, or by appointment