No More Charter Schools Can Open, And Brooklyn CECs Like It That Way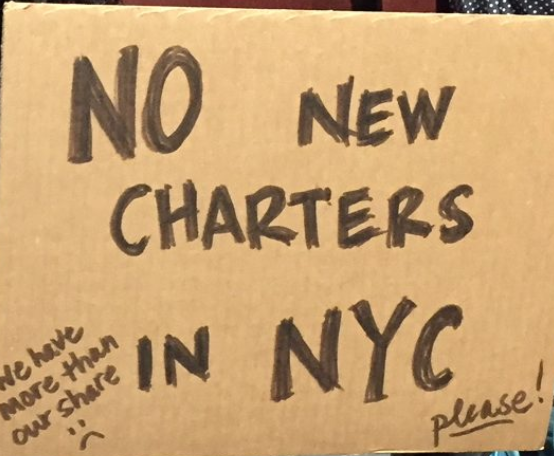 Finding a school that best fits one's child is something most Brooklyn parents dread going through. There are so many choices – independent, religious, charter and public, this borough has plenty to offer when it comes to a Brooklyn youngster's education.
However, schools are not developed all on their own. Politics, community organizations and education movements all have to find ways to work together to figure out what is best for the children. At times, state or local governments have to have a final say, and this year, there is talk on whether New York State should raise the cap on the number of charter schools allowed in New York City.
Last week, there were only 7 spaces left for charter schools, but as of Monday afternoon, those spots were all taken. That means, as of now, no more charter schools are can open in the city. But even so, that hasn't stopped the debate on whether to lift the cap anyway or not.
Brooklyn has the most charter schools – 97 in all, not counting the recently approved ones – compared to the rest of the city, and the thought of more charter schools is not something some public school parents want.
With that, members of Brooklyn's Community Education Councils (CECs) have been voting for resolutions to put a cap on the charter schools.
"We don't want any more invasions," says Anna Lembersky, the President of CEC 21, which covers parts of Southwest Brooklyn, including Brighton Beach and Coney Island. "We'd like our public schools to develop."
CEC 21 voted for the resolution back on Wednesday, February 13
th
. Lembersky also claims that elected officials support it, though she would not disclose who.
CEC 21's motion follows-up on what CEC 15 – which encompasses Park Slope, Cobble Hill, Gowanus, Red Hook and Sunset Park – did on January 29
th
, where its council unanimously voted for a resolution to put a five-year moratorium on charter schools.
While there have been similar resolutions in the past, CEC 15 was the first to move forward on this one.
"We have a charter committee that responds to charter hearings," says Antonia Ferraro, the secretary of CEC 15 who also chairs that committee. "I was going to hearings for new charters in D15 at least twice a month. Nearly all those charters were approved for D15 despite our objections and despite being a district that already had many good public and charter options. "
That led to Ferraro and the rest of the committee to take a deep dive into the New York State Charter School Act and realized that the state could only issue seven more NY City charters before they would have to amend the law to raise the New York City Subcap.
With that, CEC 15 took action.
That led to other CECs to follow suit, including CEC 13, which unanimously passed their resolution on February 26
th
. CECs in other boroughs are getting involved as well.
More so, on February 9
th
, Education Council Consortium (ECC) passed the same resolution. The ECC is made up of members of Citywide and Community Education Councils, and Ayanna Behin was one of those who voted.
"Our thinking is that New York has enough charters," says Behin, who is the President of CEC 13. "It is not to get rid of them, but to evaluate them. As in, how are they doing? Are they doing what they set out to do? Public money is going to these schools. There needs to be public oversight."
The idea stemmed from some charter school organizations and advocates pushing to remove the cap entirely, CEC 15's concern over the lack of oversight into whether the charter schools are living up to their missions, as well as public schools sharing public funding – and sometimes space – with such schools.
Some grassroots organizations are supporting these resolutions on caps on charter schools as well.
"We don't think the resources should be split," says Victoria Quiroz Becerra, the Director of Voces Ciudadanas, a Sunset Park organization that supports CEC 15's position on the cap. "Public schools are accountable, charters are not."
Becerra also explains that charter schools bring in students from all over Brooklyn, instead of the assigned district as public school students are. She believes that does not help solve the overcrowding in her area.
When asked for a comment on the Department of Education's stance on this issue, the reply was "The Chancellor has made clear that he is against raising the charter cap and is focused on investing in every school through our Equity and Excellence for All agenda."
"It's disappointing when anyone opposes the creation of more high quality schools that want to serve African-American and Hispanic students," says James Merriman, the CEO of the New York City Charter School Center. "There's so much work to be done. We should be working together."
When asked about the ever-present concern over funding being split between public schools and charters, Merriman replies, "Charter schools are underfunded. There is less per pupil than public schools."
"There are 123,000 children in New York City who go to charter schools," he adds. "Right now, there are schools that kids are assigned to that are not getting the job done. Parents should have a choice. Having more high quality schools hurts no one."
Despite the current tension between charter schools and public schools, Brooklyn's CEC leaders hope they can work together with their neighboring charter schools to make things better for all Brooklyn's students.
"We're sincerely hoping for some open dialogue," Lembersky says.
Behin echoes that.
"We're not trying to stop progress," she says. "I know it's appealing to turn this into a fight, us against them. But all of us are in this to serve students. All we are looking for is a measure of account."