18 Gang Members Who Terrorized Flatbush And Kensington Indicted Today [Video]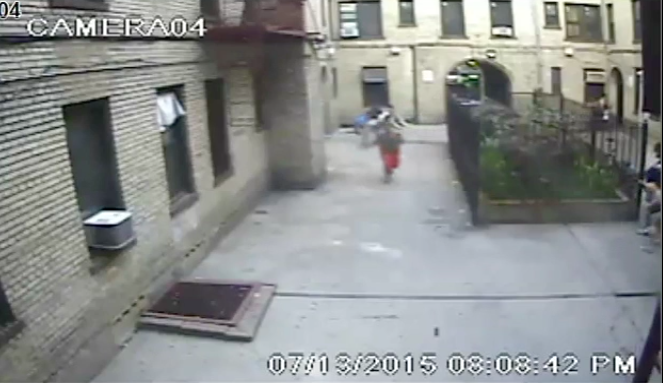 https://www.youtube.com/watch?v=tzZC4NxC91Y&feature=youtu.be
Video depicting July 13, 2015 shooting at 866 Coney Island Avenue. (Courtesy: Brooklyn District Attorney)
A gang which terrorized parts of Brooklyn, especially greater Flatbush, with gun violence has been the subject of a massive police investigation and now indictment by the Brooklyn DA.
Eighteen alleged members of No Love City, a subset of the violent Folk Nation street gang, have been charged in a 76-count indictment with conspiracy to commit murder, weapons possession and other charges for multiple shootings throughout Brooklyn, including one that left a man dead and another that left a 60-year-old woman paralyzed, announced Brooklyn District Attorney Ken Thompson and Police Commissioner Bill Bratton today.
"These defendants are not just crew members but part of a criminal enterprise that has been responsible for a significant amount of the violence which has plagued the Flatbush and Canarsie sections of Brooklyn over the last two years," said Commissioner Bratton.
"We must never allow violent street gangs to take over and terrorize our communities by going on hunting expeditions and roaming our streets shooting and killing people at will," added District Attorney Thompson.
Among the acts of violence charged in the indictment — which covers the period from September 27, 2013 to January 25, 2016 — are:
On May 30, 2014, defendant Kenny Dorcean exchanged gunfire with a rival gang member in Flatbush, then a few minutes later Dorcean opened fire again, striking 60-year-old Deleta Crawford, who was grocery shopping on Flatbush Avenue. The shooting left her paralyzed from the waist down.
On April 17, 2015, defendant Oshane Fyffe shot and injured a rival gang member on Bedford Avenue, in Flatbush.
On July 13, 2015, defendant Corey Roberts entered a courtyard at 866 Coney Island Avenue filled with people, including children playing on scooters, and opened fire, striking two innocent bystanders and narrowly missing two others. Before firing, Roberts allegedly declared his presence by announcing: "I'm Fresh, Corey is my name, from Ditmas, Newkirk.
On July 15, 2015, defendant Oshane Fyffe shot and killed Adetunji Ajakaye who was sitting in his car at Newkirk Avenue and East 17th Street. Ajakaye was believed to be a rival gang member from Rugby Road. Other defendants were overheard discussing a growing dispute with the gang on Rugby Road and Oshane was ordered to address the dispute.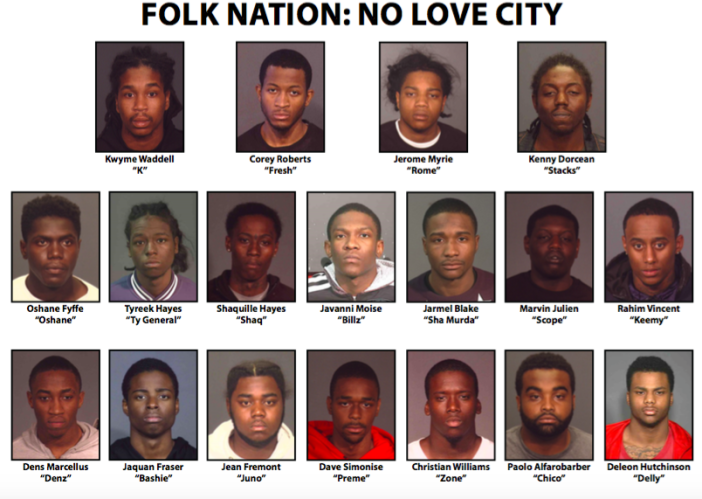 The defendants, whose ages range from 18 to 27 years old, operated primarily within the confines of the 63rd, 67th, 69th and 70th precincts, mostly in the vicinity of Flatbush Avenue, Newkirk Avenue and Ditmas Avenue, said the DA's office.
No Love City members allegedly agreed to commit crimes, including murder and assault, in order to maintain their dominance over that entire area, especially Flatbush. Defendants also directed acts of violence toward rival gang members living in and around Canarsie, said the DA.
Fifteen of the men were arraigned before Brooklyn Supreme Court last week and this week and ordered held without bail. They were ordered to return to court on March 22, 2016. Another defendant is awaiting extradition from New Jersey and two others are being sought.
If convicted, they face penalties ranging from 25 years to life for second-degree murder and up to 25 years for second-degree attempted murder. All of the defendants are charged with second-degree conspiracy for which they face up to 25 years.
Gang members communicated their intentions on social media, authorities said, including Facebook, and during inmate calls made from Rikers Island, ordering acts of retribution such as beatings and shootings of members of rival gangs.