Newsflash: Di Fara's Is Cheap If You Have A Trust Fund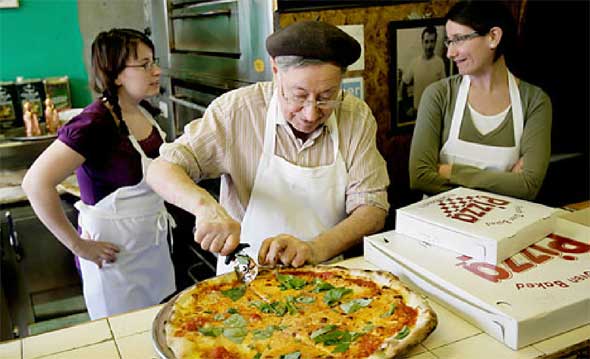 Time Out New York is out with it's annual cheap eats issue, and once again, there's no love for the restaurants of Southern Brooklyn. This Manhattan-centric rag only mentions one restaurant that barely qualifies as being in our part of the world; Di Fara Pizza (1424 Avenue J) in Midwood. Take a look…
For more than 40 years, Italian-born Domenico DeMarco has eaten a slice of his own pizza every day—a one-man quality-control outfit. You know he's doing something right. His painstakingly crafted regular pies ($25)—cracker-thin crust with a pleasing char and a subtle Parmesan zing—are widely considered to be among the city's best. Herbs grown in the window boxes flavor the sauce, and the dough is made fresh several times a day. 1424 Ave J at 15th St, Midwood, Brooklyn (718-258-1367)
Now, I love the pizzas at Di Fara, and St. Dom is truly a master. But come on. Would any of you call Di Fara's $25 pie cheap? Yes, it's a quality pie made by an artisan, but it's TWENTY-FIVE DOLLARS.
That ain't cheap in my book, that's down right pricey. Frankly, I blame the hipsters and foodies that blindly follow the dictates of the corporate shills at Time Out and the other food media outlets for this (Ed. — The Bite is okay, though. Blindly follow the dictates of The Bite.). Before Slice beatified Domenico DeMarco, Di Fara's was a neighborhood gem. Oh yes, it was crowded, the waits barely tolerable, and yes, it was always slightly higher priced than others, but it was our place.
Now, Di Fara is the haven of the hipsters, and Dom, being the successful and savvy business man he is, has raised his prices to reflect demand. Screw the hipsters man! Make hay while the sun shines, Dom, but don't forget that the rain is gonna come. And when it does, I hope that Dom remembers the locals who kept him in business when Manhattan didn't know he existed.
In the meantime, head over to Coney Island's Totonno's or Bensonhurst's Spumoni Gardens, or better yet, our own Delmar and save yourself some dough while not sacrficing quality or taste.
And Time Out New York, you've got to get your head out of your ass.  Leave Manhattan, leave the sterile and overpriced hipster world and check out the offerings of the boroughs. You'll be shocked to find what $25 can buy.