Newkirk Plaza is Looking to Get Private Security After a String of Robberies and a Decline in Police Presence
The oldest outdoor shopping plaza in America wants to hire private security as an increase in crime and a decrease of community policing shakes the idyllic center of Victorian Flatbush.
Newkirk Plaza is known for its stores, some – like Leon's Barber Shop – have been in the same business for over a century, and active subway station, serving B and Q lines and an average 10,000 riders on weekdays. It is a busy plaza that has, in recent months, seen a string of robberies.
Michael Terry, owner of Smoke Shop & Vape, used his own cameras to identify a robbery after hours 2 months ago; an employee of Liberty Chemists, was held at gunpoint as a robber stole 300 dollars from the register and 100 from his pocket last month; and a Plaza Wireless employee was assaulted a few weeks ago.
"Unfortunately, [police] keep saying Newkirk Plaza doesn't have that high of a crime rate, but I beg to differ on that," Newkirk Plaza Merchant Association President Javi Saez said.
Worried about its security and the safety of its customers, the plaza association is teaming up with local groups like the West Midwood Neighborhood Association and Flatbush Development Corporation to fund a daily patrol for the area. With the recent show of support of Council Member Dr. Mathieu Eugene at a late October meeting, the groups are calling private security firms to get cost estimates and solve what Saez called an "epidemic." On average, a posted officer could cost them a few thousand dollars, split between the organizations and the council member.
Council Member Eugene arrived to the talk at a plaza staple: Don Burrito. "You're doing a wonderful job identifying the issues impacting your community," he said, continuing, "you hardworking people should feel safe." NYPD was invited but did not attend.
The plaza was not always without security.
Over a decade ago, E, who didn't want to give her full name due to her prevalence in the community, remembers a time when she felt safe at any hour of the day.
The difference, she said, can be explained by a lack of a posted officer who knows the community. The plaza has seen an array of community patrollers from the 70th precinct until a few years ago, most beloved being Francis Hennessy, who died in 2006. "When officer Hennessy was there, God rest his soul, we had a much more peaceful feel."
Since then, the New York Police Department has repeatedly denied the need for a full-time community officer, according to Saez. Instead, the 70th Precinct provides two community officers who are meant to patrol the plaza every hour. Saez said there are sometimes days between visits.
The police precinct judges allocation by crime statistics, which Saez says are not sufficient because of a lack of reporting.  The NYPD did not respond to repeated requests for comment over a two week period.
Because of this shift in police presence, the plaza often only sees law enforcement after a crime has already happened. These interactions can lead to a difficult relationship with the 70th precinct and a general distrust among the community.
E said that having a stationed person in uniform being consistent, whether it be a P.O. or private security, will help build up a healthier relationship with Midwood's diverse population. "We lean more towards the darker side. This is why we need someone to build a relationship." Other local business owners support adding security, but doubt NYPD's likelihood to serve their shops.
Newkirk Pharmacist Nancy Behny laughed, "They never catch anybody." She said that one time the police did not help her and her daughter until three hours after their initial call about a stolen phone.
Behny's now used to solving crime in house, largely ignoring small offenses like stealing candy, and hoping nothing worse happens. "I don't make a big fuss out of it," she said. "It's not money," Behny paused, "yet."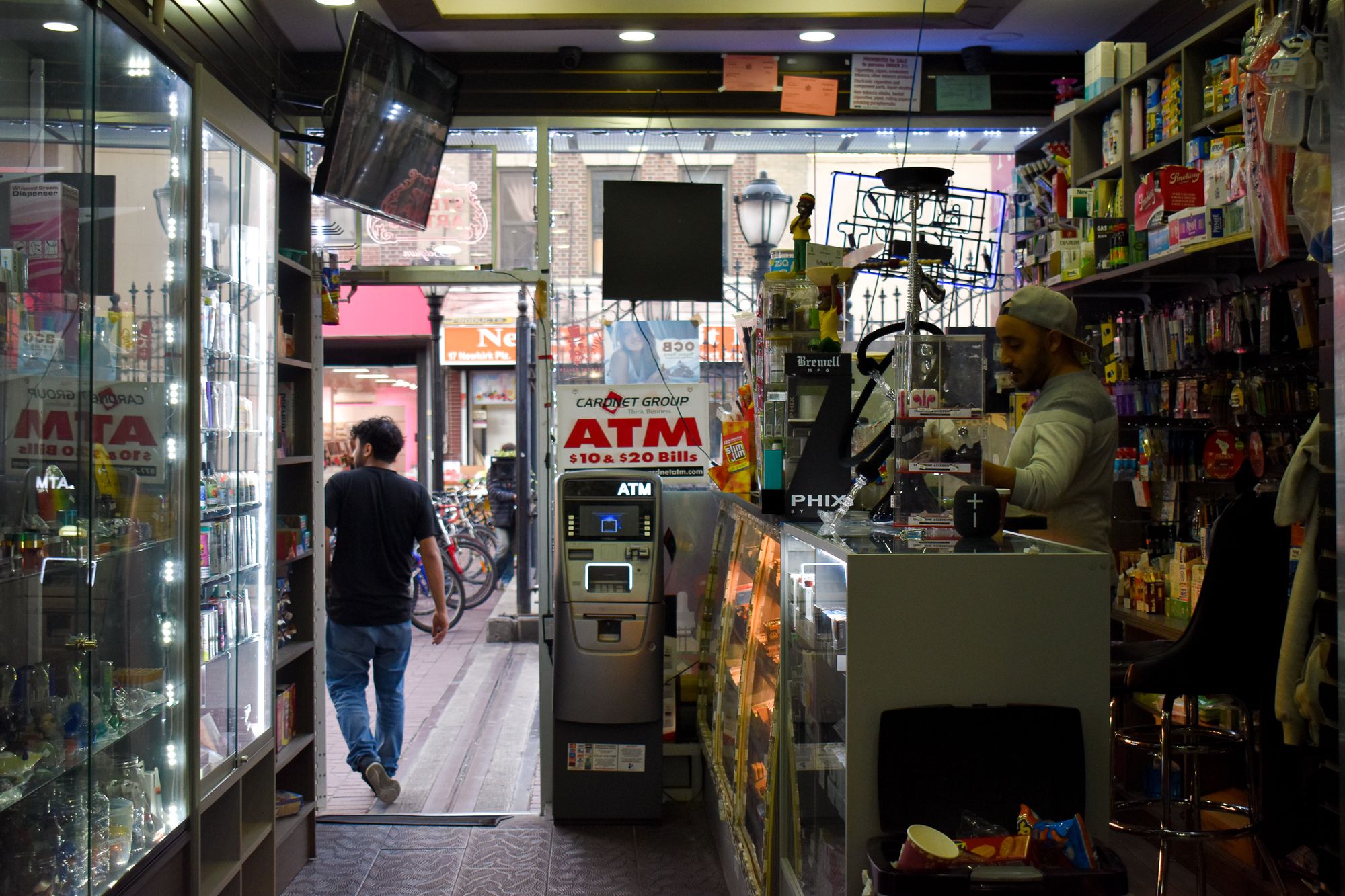 In the next couple of weeks, NPMA, Council Member Eugene, and other groups are figuring out how to find the estimated couple thousand dollars a month for private security. Eugene said he could provide some funding once given a detailed plan, but did not specify if merchants and affiliated community members will still pay a fee.
Sitting in his office, equipped with security cameras and a two-way mirror, NPMA President Saez said, "Once in a blue moon doesn't cut it. We need consistency."