A New Slice Comes To Life: Artichoke Pizza Opens On 5th Avenue
After a soft opening this past Saturday, Artichoke Basille's Pizza opened today at 59 5th Avenue (between St Marks Avenue and Bergen Street) in the former Luscious Foods space.
This will be New York's sixth Artichoke outpost, joining three in Manhattan, one in Astoria, and one at LaGuardia Airport. But it's Brooklyn's first. And it should benefit from significant foot traffic due to its proximity to nearby Barclays Center.
Owners and cousins Francis Garcia and Sal Basille bring a warmth and affability to Park Slope's newest place for a slice. "I was born at Methodist [Hospital] and this neighborhood is an important place to me," says Francis Garcia. Francis, Sal, as well as partner Peter Leonforte have been spending all of their time on 5th Avenue preparing for the opening. And they'll be here for awhile.
"We have to eat the pizza and make sure it's good!" says Francis.
Artichoke comes with a strong reputation, including the admiration of many celebrities. Based on the today's sampling, we certainly agree. The generous Margherita slice has a tangy tomato sauce, fresh-tasting basil, and a rich, crunchy crust.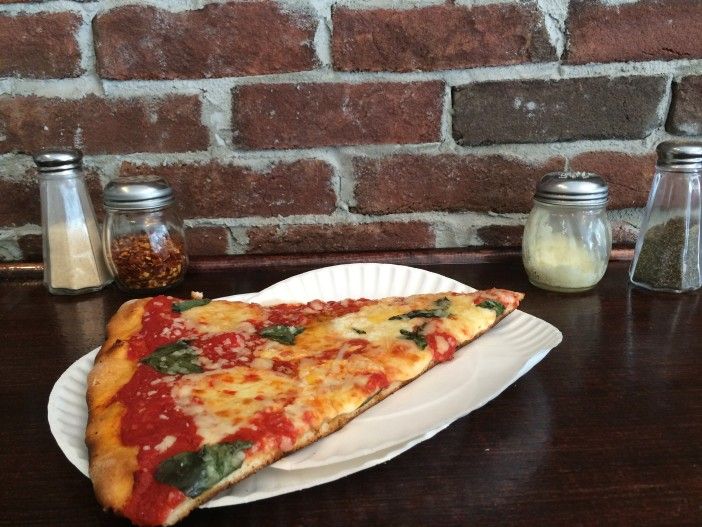 Park Slope neighbor Brigitte Prat stopped in with her mother, Laurette Vermey, for the well-known Artichoke slice.
"Welcome to 5th Avenue," said Brigitte, greeting Francis and Peter as they ordered their slices. "We came because of the reputation," she added, noting that she was pleasantly surprised to be one of the first customers to have a slice.
Laurette gave it a thumbs up: "It's large. It's delicious!"
You can choose from their Margherita, Vodka, Sicilian, and Artichoke slices. They will be adding their well-known Crab slice later this week. Plus, Francis tells us Artichoke is creating a new slice just for Brooklyn.
"We're still working on it," he said. "When it's ready, Brooklyn is going to love it."
The Rundown: Artichoke Basille's Pizza
Where: 59 5th Avenue (between St Marks Avenue and Bergen Street)
Phone: No phone as of yet.
Hours: Sunday-Tuesday 11am-2am; Wednesday-Saturday 11am-4am