New Resilient Tower Planned To Protect Coney Island Hospital's Critical Services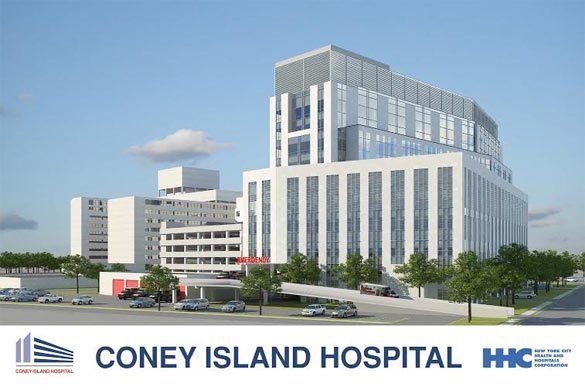 Coney Island Hospital (2601 Ocean Parkway) is slated to construct a new, resilient building to house critical services, ensuring that Southern Brooklyn's only major medical center will continue without significant service interruptions in the case of another weather event like Superstorm Sandy
The new building, as well as a planned 1,720-foot flood wall, is being funded using part of a $923 million grant from FEMA, representing the lion's share from a slated $1.6 billion payout Health and Hospital Corporation (HHC) announced last week.
"Few services are as critical as our hospitals during extreme weather. This unprecedented investment will make four key public hospitals much more resilient next time they need to be," said Mayor Bill de Blasio at a press conference at Coney Island Hospital on Thursday.
The new building will be constructed in a section of the hospital campus' parking lot near Avenue Z. It will be elevated by pillars 10- to 15-feet high, allowing water to pass beneath in the event of a future flood.
When it's completed, the new building will be the largest investment and expansion of the hospital in more than a decade.
The hospital's critical services – many of which were off-line for months after Superstorm Sandy – will all be housed in the new, flood-proof structure. A ramp will bring ambulances to a second-floor Emergency Room, and the medical center's most used services – X-ray, CAT scan, MRI, pharmacy and lab departments – will all be in the same building.
"This is a big deal for the community. They should be excited about it," said Coney Island Hospital's Associate Executive Director for Public Affairs Robert Cooper. "This is going to shore it up and guarantee that there won't be any disruption in their healthcare in another storm like Sandy."
When it's completed some four to five years from now, it'll be the largest investment and expansion of the hospital since the completion of the  inpatient bed tower building in 2006.
The parts of the campus not currently storm-proofed, which include the tower building and the main building, which houses the emergency department, will be wrapped in a 1,720-foot flood wall, designed to protect from a storm surge on the scale of that predicted to occur only once every 500 years.
Exact specifications of the new building are not yet known. Although the hospital worked with HHC, FEMA and consultants on the proposal and have created a rendering, seen at the top of this post, the actual designs have not been finalized. The project will go out to bid shortly after funding comes through the federal pipeline.
In addition to the new building, a portion of the $923 million is being used to reimburse the hospital for repairs already made to the facility's basements, first floor and electrical systems.
Despite being more than a quarter-mile away from the waterfront, the hospital suffered severe flooding during Superstorm Sandy, devastating its basement and first floor. The hospital was evacuated after the storm and its emergency department was shuttered until February 2013. It did not see all services restored until later in the spring, and its temporary closure caused overflows at other hospitals that stretched resources thin.
Video tour of damage after Sandy, filmed in November 2012:
Some improvements have already been made to make the campus more resilient, including the elevation of electrical systems and the acquisition of temporary flood barrier systems that can be deployed before another storm.
Coney Island Hospital is the only major public hospital in Southern Brooklyn, and the only HHC facility in Brooklyn damaged during Sandy. Officials also announced on Thursday that Bellevue Hospital will receive $376 million, Metropolitan Hospital will receive $120 million, and Roosevelt Island's Coler Specialty Hospital will receive $181 million as part of the same grant through FEMA's 428 program for resiliency.
Local pols are praising the investment in resiliency for local healthcare services.
"We must do all that we can to minimize future impacts to public health facilities like this vital Southern Brooklyn institution that serves thousands of people," said Councilman Mark Treyger via press release. " We can't afford having Coney Island Hospital and others lose power and shut down emergency room access, when so many in our vulnerable residents rely on our public hospitals."
"In the crucial months following Hurricane Sandy, residents were transported and referred to nearby hospitals. In a medical emergency, seconds can mean the difference between life and death," said Councilman Chaim Deutsch in a statement.