New PS/MS 282 Principal Rashan Hoke Is Ready To Build A Stronger School Community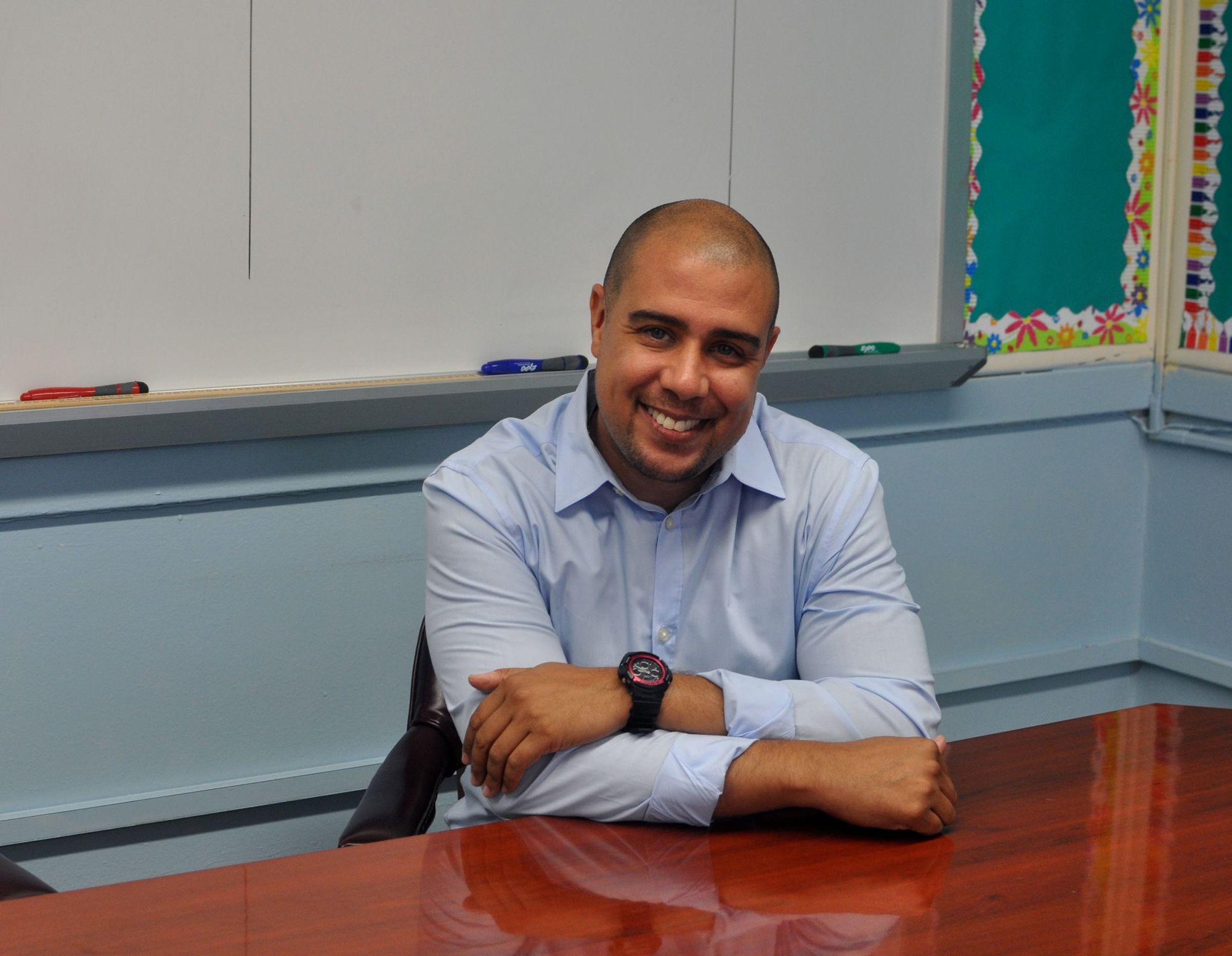 When students return from summer break to PS/MS 282 on Thursday, a new principal will be welcoming them at the door. In fact, Principal Rashan Hoke plans to be out there in front of the school, talking to students, parents, and neighbors, as often as possible.
"We're trying to make sure this year that not only we have a safe learning environment, but that we're welcoming," he says. "I'm sure it's going to be a challenge. But I feel like as long as we communicate with each other — it doesn't mean we have to agree, but if we can work on communicating with each other — that's the first step."
And it could be a big step, considering the past couple of years at the school, which were a bit controversial — parents spoke of tension between zoned families, many of whom are white; families of the racially diverse group of students who attend from outside of the zone; and former principal Principal Magalie Alexis, who left this summer to reportedly take a leave of absence. In addition, some teachers reported strained relationships with the principal. But Principal Hoke, who the Department of Education is calling the interim acting principal, is hoping to change all of that.
"There are a lot of divisions," he says. "We see them everywhere, we see them in the news, so why wouldn't we have them right here sometimes?"
A large part of working on that, he says, is through communication, and Principal Hoke wants to be "as accessible as possible" by ensuring not just that the PTO is robust but that everyone in the school is able to have a regular dialogue with him — which again, he stresses, might be easiest to do in person.
"Sitting down is really difficult for me," he says, noting that he's full of so much energy that sometimes people think he's running down the hallways when he swears he's just walking. "If you email me, I will get back to you, but it might be faster to look for me outside at dismissal. I'm just not behind the computer too much."

In fact, he hasn't been behind a computer much ever since he decided to become a teacher back in 2002. He had been working as an executive recruiter, and when his 30th birthday rolled around, he realized he was in the wrong place.
"I said, 'I've always wanted to be a teacher. If I don't do it now, I'll never do it.'"
He joined the NYC Teaching Fellows program, focusing on elementary education, and then taught at PS 5 in Inwood — very close to where he grew up in Washington Heights — for more than a decade, while also working as an educational director and facilitator at the Children's Aid Society at night.
Principal Hoke notes that one of the most important things he learned in that time was how working with outside organizations could help incorporate real-world experiences into a child's education. For instance, PS 5 worked with the non-profit New York Restoration Project on a lot of gardening. When he saw the beds here at 282, he was very excited about all the possibilities.

"With NYRP we did a lot of gardening," he says. "We integrated one science unit into our science curriculum, and tried to get mathematics in there too. You can do anything with gardening."
Just don't leave him alone with those beds, though, he says.
"I'm not a gardener. I'd be afraid if anyone wanted me to take care of their plants."
Engaging arts programming is also something Principal Hoke would love to bring more of to 282, which he saw a bit of while working in administration at schools on the Upper West Side and the central Bronx. Still, it's not just about adding things to the school — he notes that there's plenty already to be proud of.
"It's important to honor some of the good work that's being done here already," he says, noting how excellent some of the arts programs are, as are the championship chess and rugby teams. "Those types of things we want to enhance and support. Change is good, but the kind of change we're talking about early on is just making assessments on what is really working, and fixing what's broken."

Assessing the current situation, he says, will involve figuring out how best to develop "the whole child," to ensure students have social and emotional supports along with physical intelligence and an overall engaging environment.
"That's important," he says. "Are those curriculums engaging our students? It's got to be purposeful. Are we taking what's going on outside and applying it in the classroom, like using the garden? Just making it engaging, just making it fun."
But it's not just the students who need to be engaged, he says, it has to be everyone — students, teachers, parents, and community members.
"It's hard work, but the right work," he says. "That's what makes a vibrant community, and that's where learning happens."
As such, trying to build a strong staff is another of his top priorities, and he'll be stressing collaboration and communication as they look at various approaches to curriculum and professional development.
"If we don't support our teachers, how can we expect to have good results with our children?"
For current 282 parents, again, so much for Principal Hoke is about open communication. He says he'd like to find ways to get more parents involved at the school, from art exhibits to plays to beautifying the building.
"The parent engagement here is wonderful and welcoming," he says. "Everyone is like, 'We're here to help, we've got your back.'"

As for potential future 282 families, he says it's all about getting the message out that this school is a vibrant option in the neighborhood. He says he'd love to meet with Principal Liz Phillips of PS 321 to learn about some of the successful things they've been doing, but that he'd also like to hear from the community about what kinds of programs you'd like to see here — and spreading the word about what's already here.
"One of the things I'm most looking forward to is building this as a pre-K to 8 school where kids come in in pre-K, and they go through all the way and go to high school after that. That's the goal. I'm over the moon for the opportunity to serve the community, the students, and the teachers, and work with everyone and give them 110%, because that's what they'll get."
If somehow you don't see Principal Hoke in front of the building, keep an eye out for him at some of our local restaurants and shops. He says he's excited to try some of the great food options, which haven't been such a draw around his former schools, saying he's already gotten a bit addicted to the produce and cheeses at nearby Union Market and the bacalao empanadas at Bogota Latin Bistro. Plus, all these new options have a special bonus for him, as well.
"The way to spend time with your 19-year-old son is by bribing him to go out and eat," he says with a laugh.

The next few months, if not the whole school year, may be a work in progress, but it's that laughter, that energy and positivity, that Principal Hoke projects that will help bring even more of the same out of 282.
"There's a lot of joy here," he says. "We just have to broadcast it."