New Midwood Community Center Celebrates Grand Opening, Will Offer Free Space To Nonprofits & Art Groups For Events
New Yorkers are famous for not knowing – much less understanding – their neighbors. But local advocate Mark Meyer Appel wants to change that.
"Our mission is to stop this hate and invest in new ways for our very diverse population to work together to better understand each other and protect our children and families," Appel said as he welcomed community members and local politicians to the grand opening of The Bridge Community Center (1894 Flatbush Avenue) Sunday evening, October 19.
The center is being opened through the Bridge Multicultural Advocacy Project and the Voice of Justice, a nonprofit organization, as an interactive facility that will host local meetings and community events to bring together the diverse communities in the neighborhood.
Appel, the president of the Voice of Justice, raised $300,000 in private funds to repair the 6,000 square-foot brick building he has long owned at 1894 Flatbush Avenue. Its renovated first floor open studio space, which can fit up to 300 people, will be lent out free of charge to nonprofits and art groups to host events.
The space will also be an art gallery. Leaders hope that communities will visit in order to learn about other arts and cultures – and that these interactions will foster understanding.
"Art breaks down barriers and helps us to uncover and discover that we are all not that different," explained Public Advocate Letitia James in her speech.
Artists from around the world, including Russian artist Mikhail Turovsky, artist Ebony Thompson, who is originally from Sierra Leone, and Brooklyn native Sophia Domeville, exhibited pieces at the event.
Artist Robert Bery's work reflected the spirit of the event with a piece featuring flags from around the world sewn together into a single flag.
"We are all under the same flag," said Bery.
This mentality is what many organizers hope the community center will foster.
"This opens doors to people talking to each other, which is always positive," Rabbi Gershon Tannenbaum, the spiritual leader of Linden Heights and the Director of the Rabbinical Alliance of America explained.
Local politicians, Council members and community leaders filled the new center to support the project and enjoy the kosher wine, Haitian food and sushi.
A Haitian jazz band, Buyu Ambroise and the Blues In Red Band, entertained the crowd with traditional Haitian tunes with jazz infusion.
In the spirit of the evening, the band collaborated with a Jewish group for a portion of the evening improvising together. The crowd danced the Hora to their music after symbolically cutting the grand opening ribbon.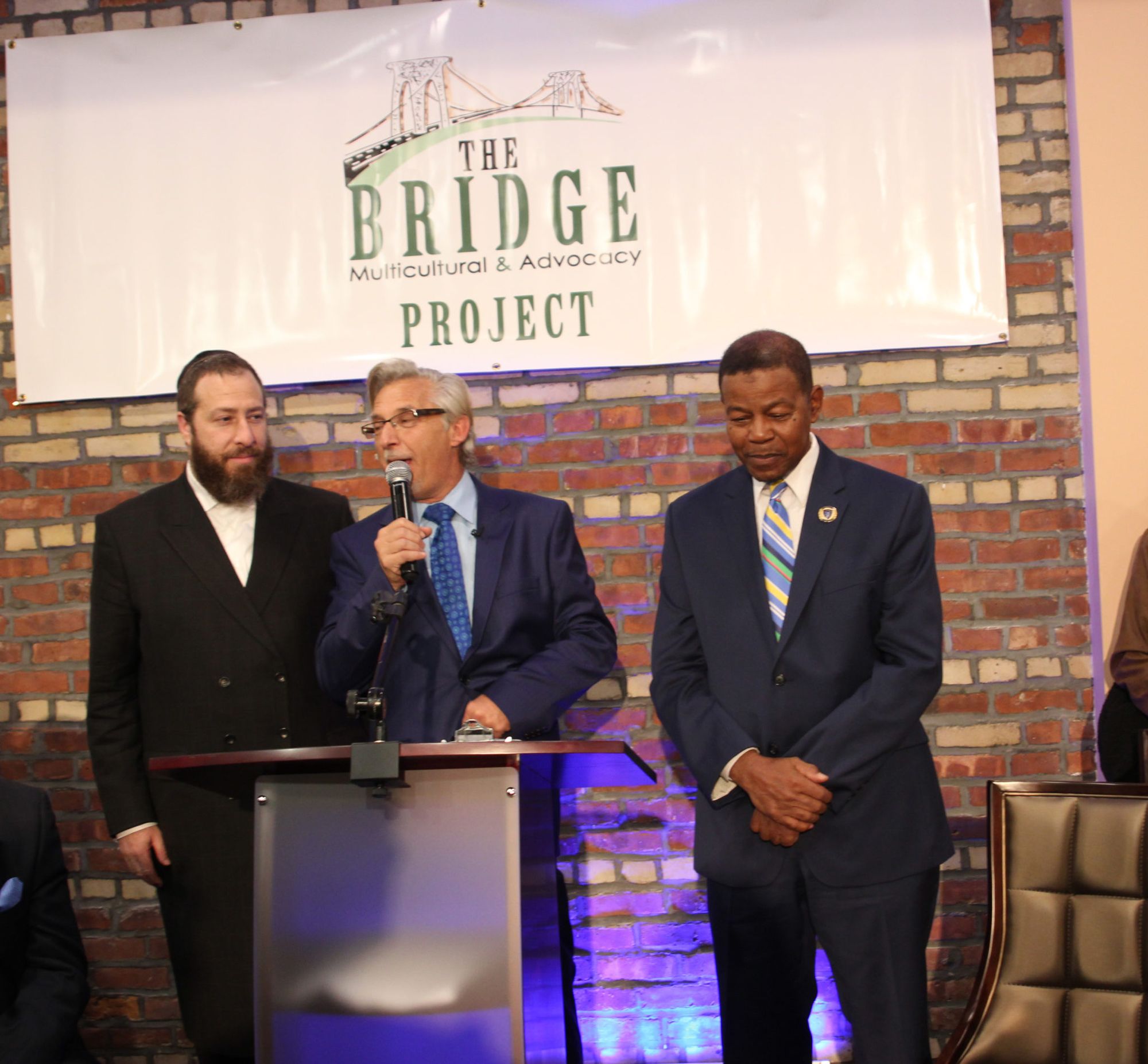 Local community leaders were honored during the evening as Appel awarded Hero's Awards to Brooklyn District Attorney Ken Thompson; Ezra Friedlander, founder and CEO of The Friedlander Group, a public relations company; and Ed Powell, a Democratic district leader and New York State Committeeman of the Kings County Democratic Party, for their service to the community.
Powell will be partnering with Appel on a task force through the Bridge Community Center that will be working to train local law enforcement.
"When local law enforcement understands civilians are real human beings, not jobs they are responding to – not just 9-11 calls- there will be an opportunity for real justice," Powell said in his Hero's Award acceptance speech.
Appel was also awarded for his commitment to the Brooklyn community for opening The Bridge.
Rodneyse Bichotte, the Democratic nominee running to represent the 42nd Assembly District, presented him with a citation from Brooklyn Borough President Eric Adams congratulating him on the opening of the center. He also received a citation from the state Assembly, presented by retiring Assemblywoman Rhoda Jacobs.
Amid the artwork and awards, community members celebrated coming together to learn to better understand each other.
Appel marked the whole evening as a turning point for the community saying, "Today in Flatbush, Brooklyn, we are extinguishing the flames of evil and lighting the flames of hope."