New Middle School Opens 90 Seats In District 22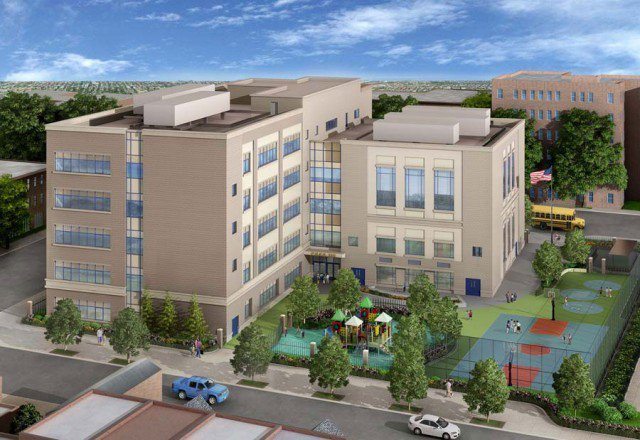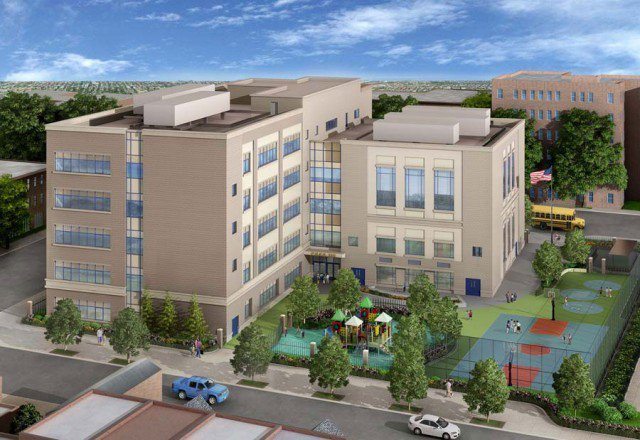 The new, long-awaited Kensington public school is now open for middle school applicants throughout District 22. In addition to the standard enrollment period (which opened in November), M.S. 890 is open for an additional round of applicants until March 1.
M.S. 890, co-located with an incoming elementary school in building K338, will open September 2017 at 510 Coney Island Avenue.
The school will be modeled on the schoolwide enrichment model supported by DOE Chancellor Carmen Fariña, with a project-based curriculum and small class size. At full capacity, the middlde school won't be more than 300 students (about 100 per grade), said middle school project manager Nicholas Frangella.
The curriculum will include enrichment programs and a "capstone project" resembling a year-long thesis for eighth-grade students. School administrators are still searching for the right staff to lead programs, and you can vote on proposed programs topics of study here.
Who can attend
M.S. 890 has 90 seats open for September 2017. Every year the school plans to add more students to the incoming sixth-grade class, according to Frangella.
Right now the school is operating under open enrollment, meaning anyone in District 22 can apply. In addition, no preference will be given to students who graduate the co-located elementary school in the same building (which is open only to students within the zoned area).
The struggle for seats and rezoning boundaries
Before its doors opened, the new K338 school building has caused a stir among parents of middle and elementary school students in the district, as well as among some Kensington community leaders.
The school, which sits on the border between Districts 15 and 22, faced opposition from members of Community Board 12 before construction began. Board member Yeruchim Silber said he voted against the project because it excludes students from District 15, which struggles with overcrowding, reports Patch.
But on the other side of Coney Island Avenue, District 22 parents said they need more middle school seats, citing the new Parkside School (M.S. 839) on Caton Avenue which opened its doors only to District 15 students. But these parents also raised objections to the K338 project, hoping to make the building middle school only rather than sharing with an elementary school.
In September, the project had a rippling effect throughout District 22 when the DOE pushed ahead with a rezoning plan for neighboring elementary schools. Many parents expressed frustration, citing a potential loss of diversity, loss of funding from under-enrollment at P.S. 139 and P.S. 217, and what they called a lack of public input.
Now that the school is set to open, Frangella has been fielding calls from parents concerned with the school diversity issue. But, he said, administrators expect that the district's diverse population, plus the random application process, will result in a diverse student body.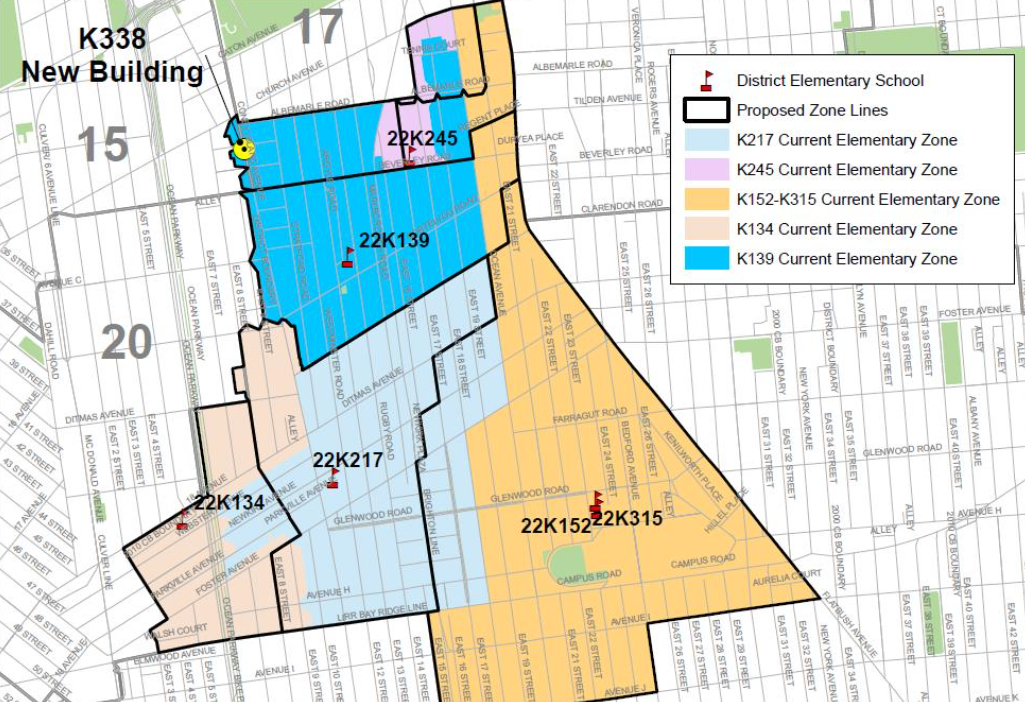 The elementary school zone for the new school, pictured above, extends to both sides of Coney Island Avenue from Albermarle Road to Beverley Road (including a small slice near Church Avenue), extended east to East 17th Street. The zone also includes a square pocket from the District's northern end — roughly from Beverley Road to Church Avenue between East 18th Street and East 21st Street.
See more details on the zone and how redistricting will affect District 22 elementary schools here.