New Map Shows 133% Increase In Moving Violation Tickets In The 70th Precinct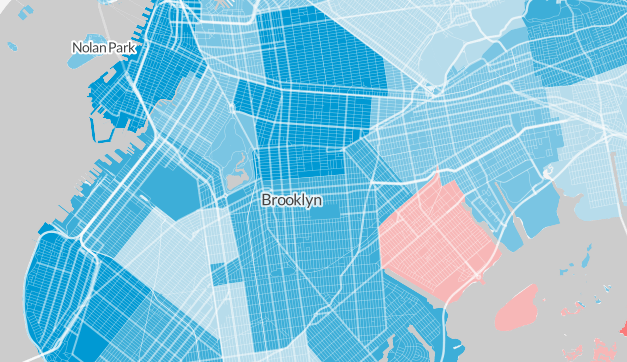 Neighbors have admitted frustration in the past over speeding and other moving violations in Ditmas Park. When 20 MPH speed limits were proposed for much of Brooklyn, neighbors said signs would mean nothing without enforcement. When a study about risky behavior in Community District 14 came out, neighbors were surprised to find it said there was little problem with speeding in the area. When the 70th Precinct recently released tips on pedestrian safety, some neighbors felt police were targeting the least harmful offenders first. But a new map shows our local authorities are cracking down on drivers, too.
WNYC compiled data from all New York City precincts, comparing the amount of moving violation tickets issued in February 2013 to those given in February of this year, ultimately finding that the 70th Precinct showed a 133% increase in tickets from 94 (in 2013) to 219 (in 2014).
The increase is about level with the 67th Precinct to the east (132%) and far above both Park Slope's 78th Precinct (32%), where neighbors have been campaigning for lower speed limits and better enforcement more aggressively since the death of 12-year-old Sammy Cohen-Eckstein in October of last year, as well as Kensington/Borough Park's 66th Precinct, which saw only a 3% increase in tickets and which through Ocean Parkway or half of Coney Island Avenue alone likely should have racked up more than two more tickets from the previous year.
What's your take on the matter? Do you think more ticketing will cut down on accidents and improve roads for all commuters in our area, or is it not the most effective thing to do? Have you been ticketed recently for a moving violation and thought it wasn't deserved, or found it refreshing to see the speed racers on your block finally pulled over?
Map via WNYC