New Maintenance & Horticulture Services Will Be Big Boost For Church Avenue, Kensington Plaza, Leaders Say
Since it opened in 2012, volunteers have spent countless hours cleaning up Kensington Plaza (located at the corner of Beverley and Church), making sure that the relatively new public space that is regularly filled with everyone from weary travelers just getting off the subway to those sipping coffee with friends remains not only trash-free, but a place where community residents will want to spend their time.
Now, those devoted neighbors are going to be getting a big helping hand with their efforts – Councilman Brad Lander, the Horticultural Society of New York, and the Association of Community Employment (ACE) announced Monday morning that they will be helping to provide extra sidewalk cleaning along Church Avenue, from Ocean Parkway to Story Street – with special attention being paid to the plaza.
After being allocated just under $60,000 as part of the city Council's Cleanup NYC initiative, Lander dedicated two-thirds of the funding to the Kensington Plaza/Church Avenue cleanup program, with the rest going to Business Improve District services and improved trash cans in other parts of the lawmaker's district.
"I am pleased to announce these additional horticulture and maintenance services, through the City Council Cleanup NYC initiative, that build upon the local civic capacity," Lander said. "While my office has worked to provide streetscape enhancements around Kensington Plaza, merchants and activist volunteers have been making extra cleaning efforts to maintain the public space."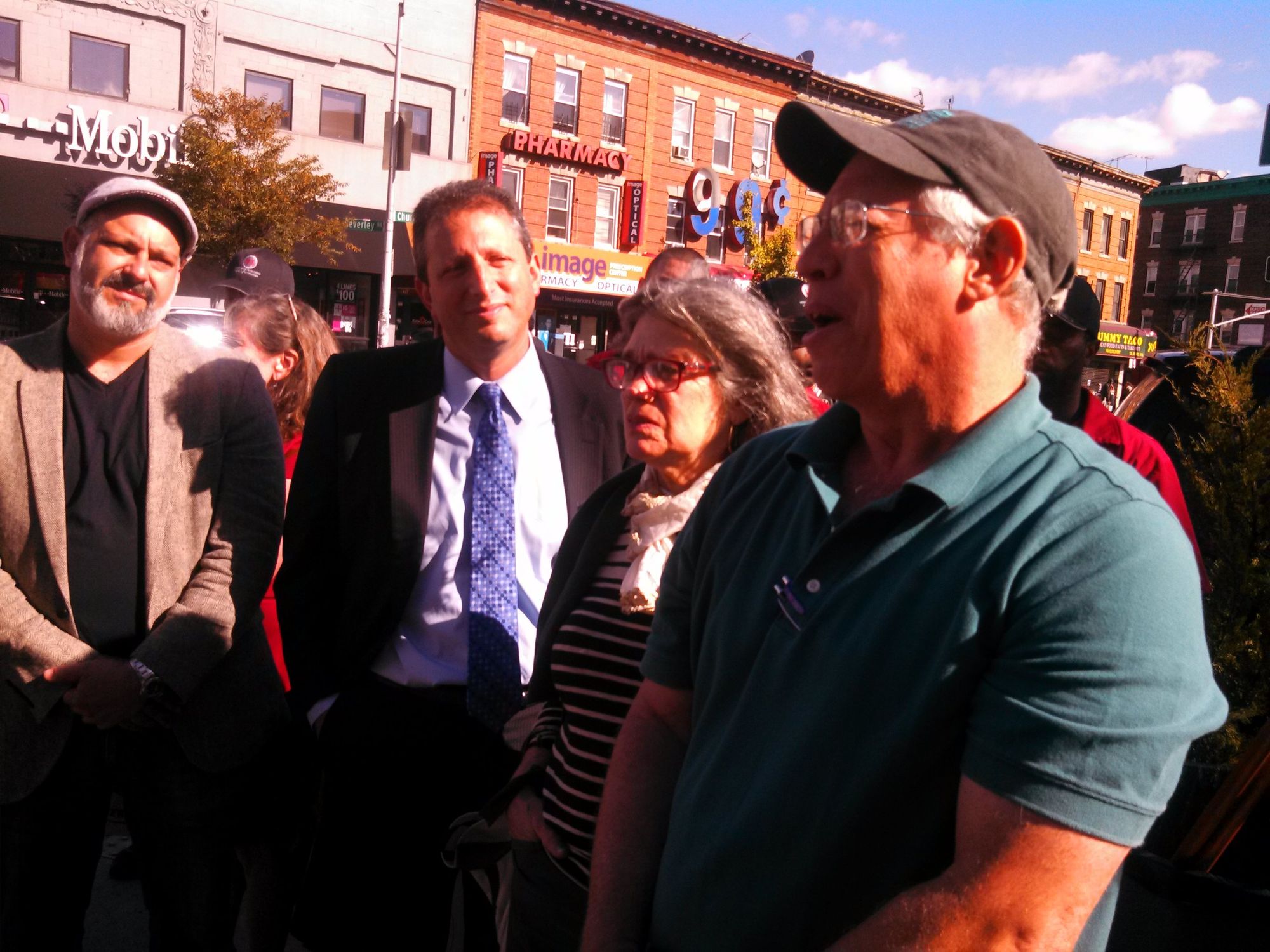 The actual cleanup will be conducted by men and women from ACE, a group that works with homeless individuals throughout the city, providing job training, work experience, and other support with the goal of helping people in shelters achieve economic independence.
"These are people who are going out not just to learn to be street sweepers, but to learn to be disciplined – to show up to work on time, to be dressed for work," said ACE Founder Henry Buhl, who also attended Monday's announcement. "It changes their whole way of thinking."
Starting today, there will be one cleaning crew member on Monday, Thursday, and Friday from 9am to 5pm and two crew members on Saturday and Sunday from 9am to 5pm, Lander's office said. The members will sweep sidewalks, remove liners from the trash and recycling baskets, clean tree pits, and remove snow from corners.
Starting in October, crew members will work with the Horticultural Society to provide seasonal plantings in tree pits with tree guards (including in Kensington Plaza) and water the planted tree pits. Additionally, Kensington Plaza will receive service seven days a week beginning in October.
"Through our GreenTeam programs, which provide transitional work and training for hard-to-employ New Yorkers, we ensure that our trees and natural resources remain healthy, green and clean for the benefit of all New Yorkers," said Sarah Hobel, the executive director at The Horticultural Society of New York. "We consider the Kensington community a full partner in this endeavor – the residents and businesses benefit from the service and they benefit our crews by giving them a second chance."
Those at Monday's press conference stressed that they expect this initiative to be transformative in the diverse commercial district, where there are stores owned by members of the longtime Orthodox community and the growing Bangladeshi community, among others. Alongside creating employment opportunities for individuals who are homeless, Lander noted that it should help support the locally-owned shops that are the backbone of the community.
"Nobody wants to go into a store if they feel like it's in a dirty area," Lander said.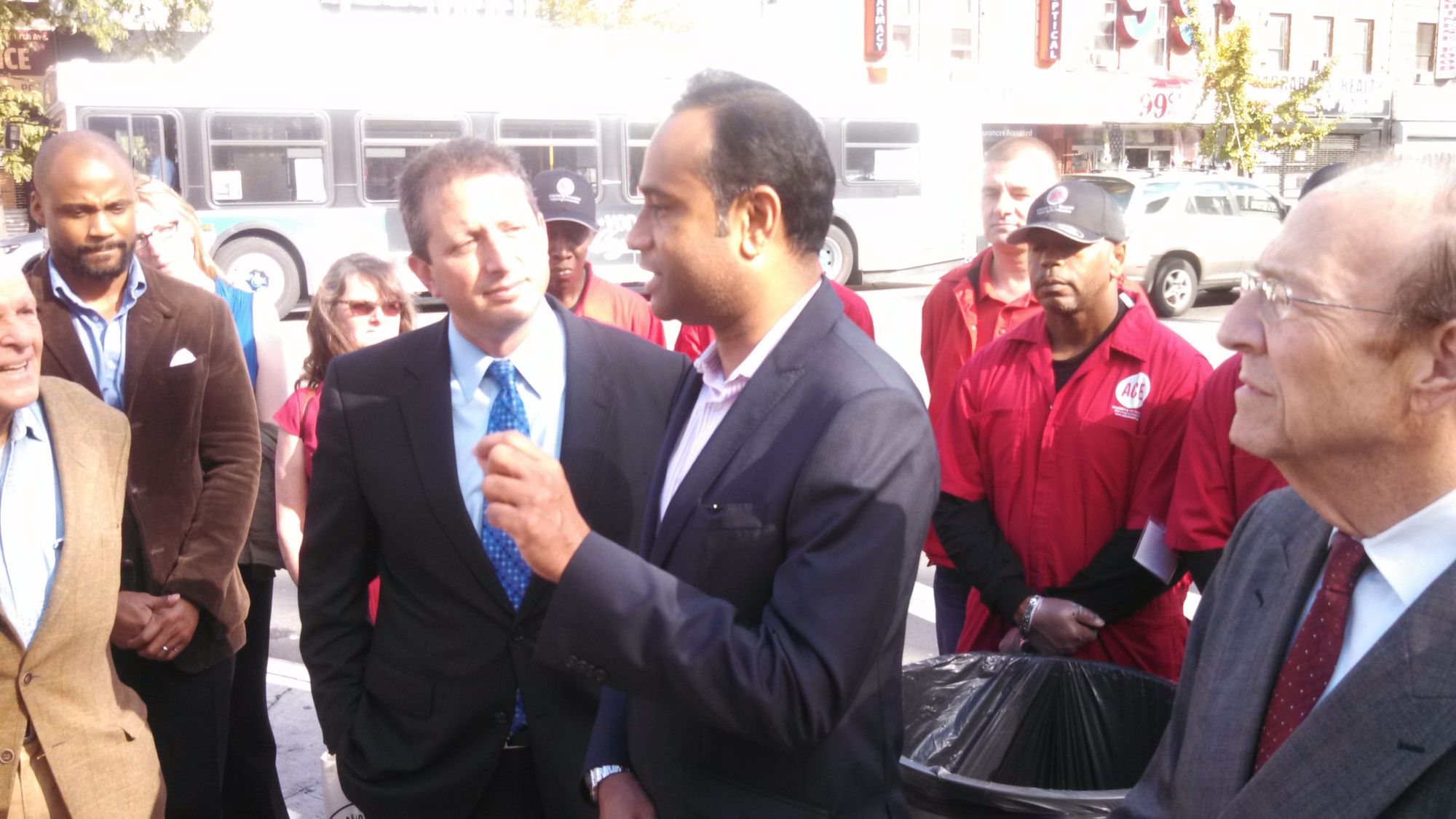 Mamnunul Haq, a member of Community Board 12 and a leader in the Bangladeshi community, too said this would be a boon for the businesses, noting that the area that is slated for the cleanup program is the center of the area's Bangladeshi community.
"There are more than 200 businesses owned by Bangladeshis within two blocks," Haq said. "…If we can keep it more clean, it will make a big difference."
Kensington resident Jole Carliner, who spearheaded the efforts to create the plaza, said she and the other stewards of the area are thrilled with the additional help – particularly in light of the fact that the plaza is increasingly becoming a popular spot for many members of the community.
"I came here at 10 the other night, and it was packed with people," Carliner said.
Another longtime volunteer, Mike Rosenbluth, said he expects this initiative to be "one of the hallmarks of building this community."
"Hopefully we'll be models for the folks who use the space every day, who enjoy the space every day," Rosenbluth said.