New Clean-Up Crew in Prospect Park Consists of Eight Four-Legged Friends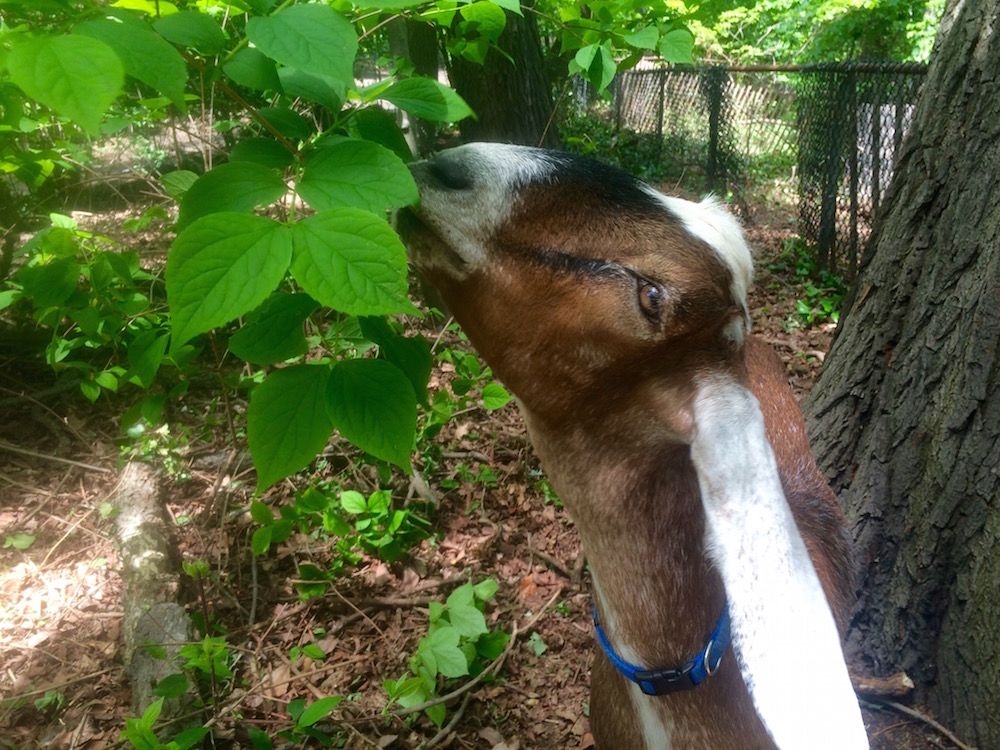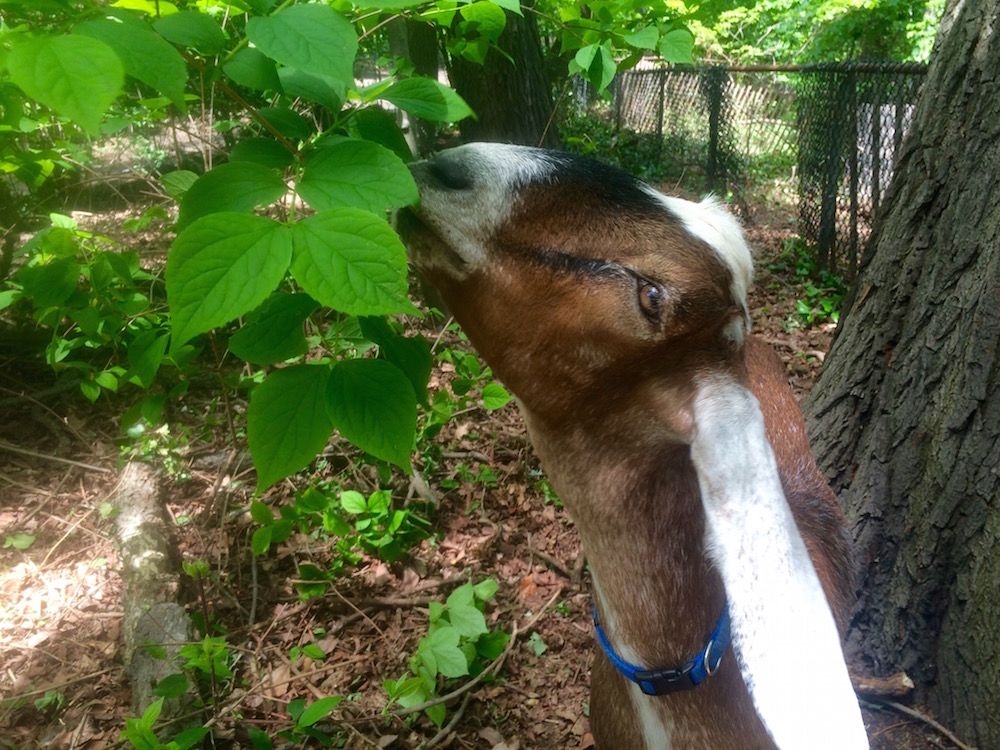 Don't be surprised if you run into a goat or two, or eight, on your daily jog through Prospect Park this summer. For the next five months, a group of eight goats will work to re-stabilize woodlands in Prospect Park, specifically in the Donald and Barbara Zucker Natural Exploration Area at the Vale of Cashmere, after damage from storms like Superstorm Sandy.
Goats have four stomachs, so they're a hungry bunch, and they'll be filling up on invasive plants that can be dangerous for humans to handle, like poison ivy, goutweed and English ivy.
The project is funded by grants from the Hurricane Sandy Disaster Relief Grant Program administered by the New York State Department of Parks, Recreation and Historic Preservation. The Prospect Park Alliance, a non-profit organization in charge of the restoration and preservation of Prospect Park, applied for the grants back in May of last year and was accepted.
Leslie Wright, the NYC Regional Director of the New York State Department of Parks, Recreation and Historic Preservation, and Sue Donoghue, President of Prospect Park Alliance, spoke together about the project at a press conference at the Zucker Natural Exploration Area, which is located on East Drive just past the Prospect Park Zoo.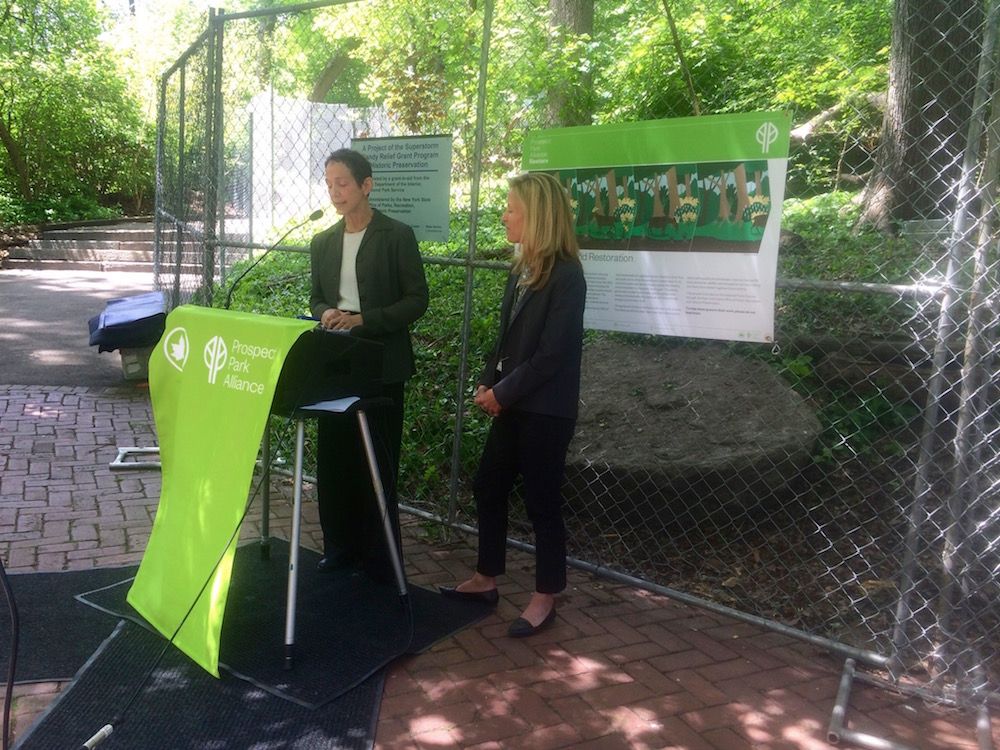 "Many thanks to our colleagues at New York State Parks for making this project possible. Through two generous grants totaling 1.2 million dollars in funding, we're not only able to restore these woodlands, but also in the near future Lookout Hill, a woodland area that is closer to Prospect Park Lake," Donoghue said, before introducing Wright.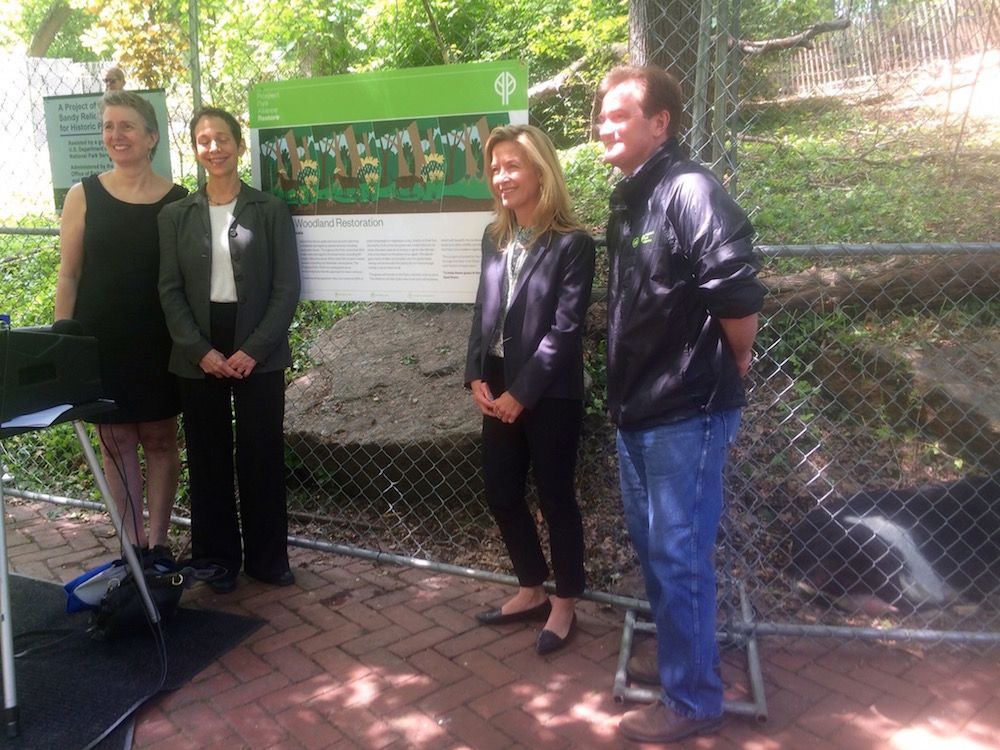 Wright spoke about how Prospect Park resonates with the people of New York:
"Our agency, New York State Parks, is very excited to support the Alliance's effort to restore Superstorm Sandy damaged areas within Prospect Park. Historic places like Prospect Park help to define New York's distinctive identity, character, and sense of place, really. A key part of my agency's mission is to help protect and preserve these assets for all of New York's citizens and visitors."
"With the support of Governor Cuomo, New York State's Parks has helped to award more than 11 million dollars in support for 27 projects to repair Superstorm Sandy damage at historically significant properties. This funding enables not-for-profit organizations and municipalities the opportunity to better protect and restore these important places."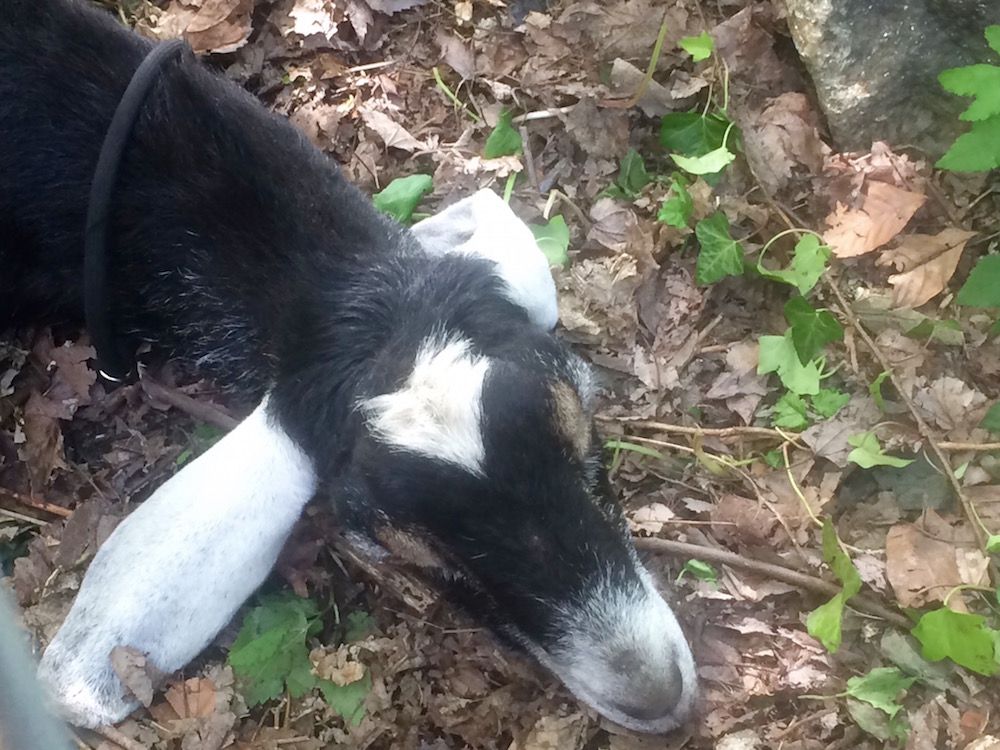 The goats have been provided by Green Goats, a goat farm run by Larry and Ann Chihanek in Rhinebeck, New York. The Chihaneks raise the goats in order to put them to work assisting to restore parks, cemeteries, and other important outdoor areas across New York, New Jersey and Pennsylvania. The goats in Prospect Park arrived Monday.
"They're an eclectic bunch of goats," Larry Chihanek said. "There are five breeds in there. There's a Kiko goat, which is a meat goat, a Boer goat, which is also a meat goat, a couple of Anglo-Nubians, those are dairy goats, there's one with no ears, that's called a Lamanchia, and a Toggenburg."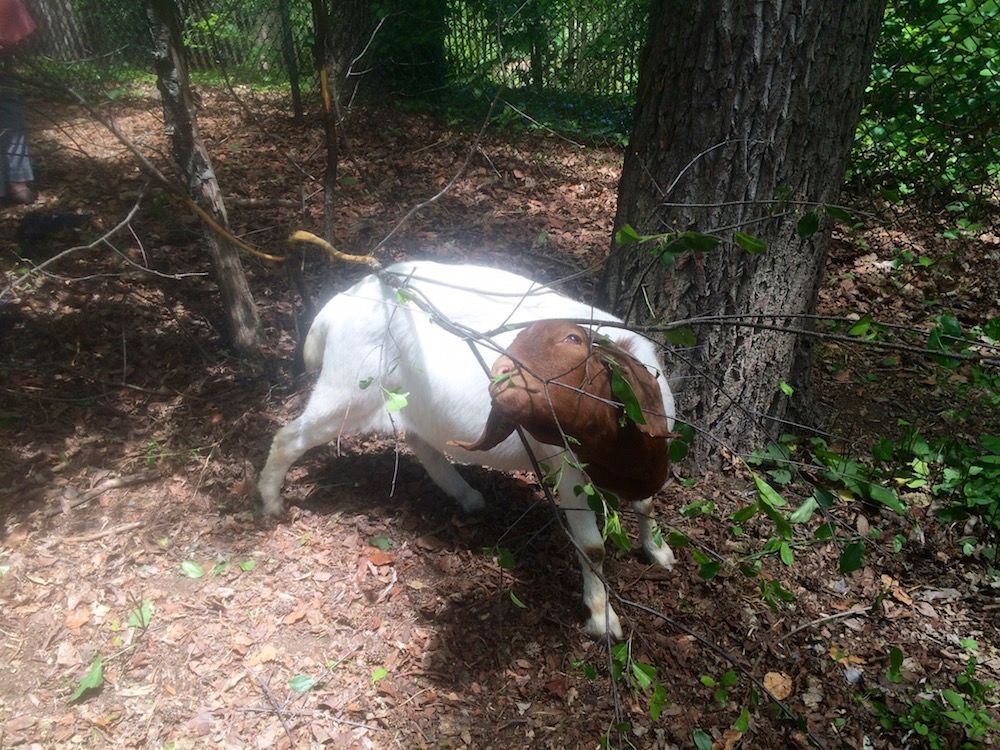 Christian Zimmerman, Vice President of Capital and Landscape Management at Prospect Park Alliance, emphasized the importance of the impact on the environment that the goats will have. As the first step in the restoration process, the goats will remove the invasive plants, which grew in after storms knocked down trees and made room for a new flow of light. The Alliance will then replant native material.
"We're planting about 4000 seedlings of native plants, like maples, oaks, and sweetgums. What this allows us to do is to bring habitat back. We're right on the Eastern flyway for birds and wildlife," Zimmerman said. "The general public and the community is really getting tired of the alternative method [to removing invasive plants], which is using herbicides, so we said, okay, if we can't do that, and we shouldn't do that, let's do it the natural way."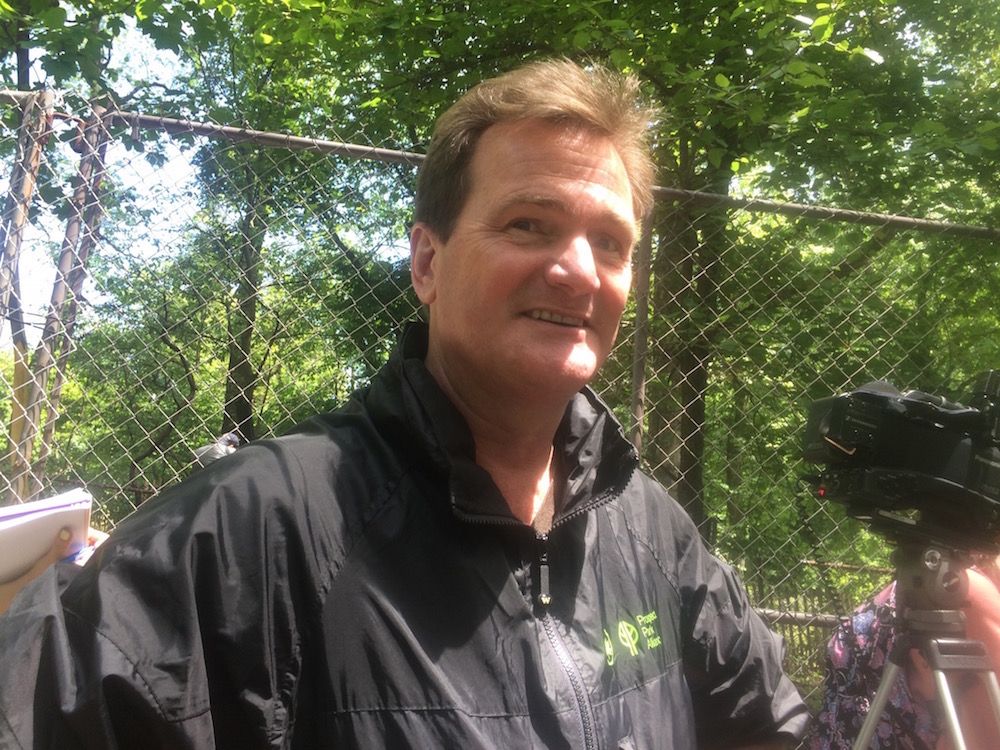 It's impossible for people to do the work that the goats are doing alone without machinery or chemicals. It would also be a much more expensive process. Mary Keehbauch, a member of the Natural Resources crew for the Alliance, explained how people would work alongside the goats.
"Our job is monitoring the goats, bringing them water and making sure they're okay. We'll also be doing invasive species control with them and keeping them moving and on task. We will be replanting the woodlands next year," Keehbauch said.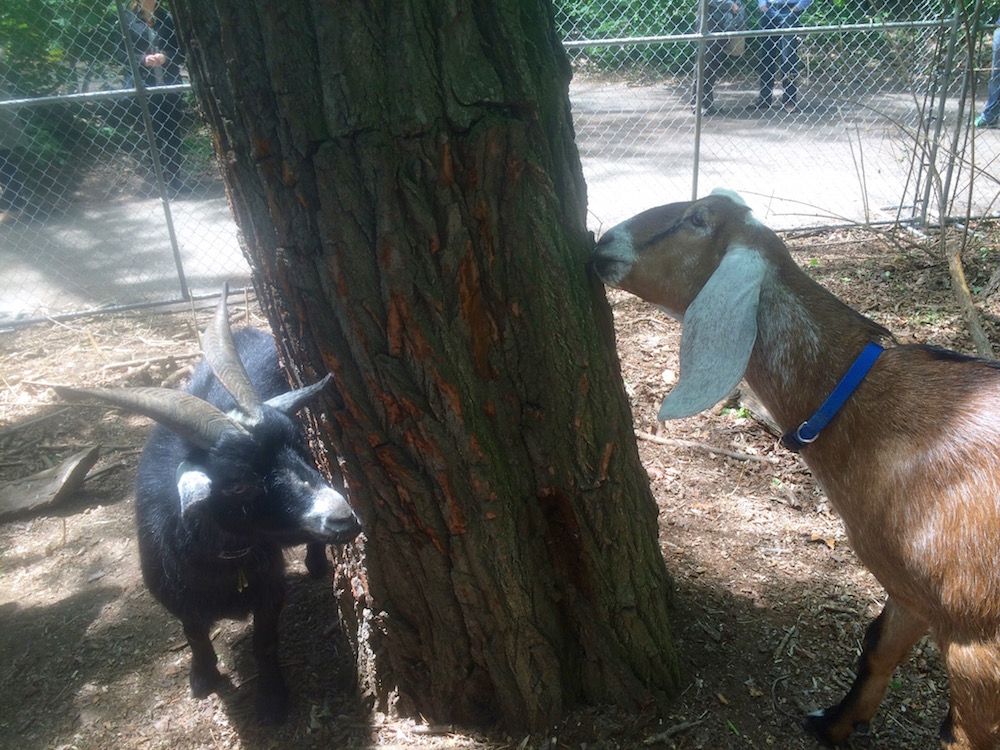 After the press conference, Wright expressed her enthusiasm about the particular decision to use goats to restore the woodlands.
"Personally, I was ecstatic. I've been in love with goats since I was born. Let me be clear, though, I found out about the grant after it was rewarded. I don't have any part of the process, so I did not rig it for the goats," Wright joked. "When it became clear that the goats would be involved in this, it was just a home-run in so many ways, to get the work done, and to just be this wonderful addition to the park, and you know, educational, too. It's a great opportunity for kids, families, and park-goers."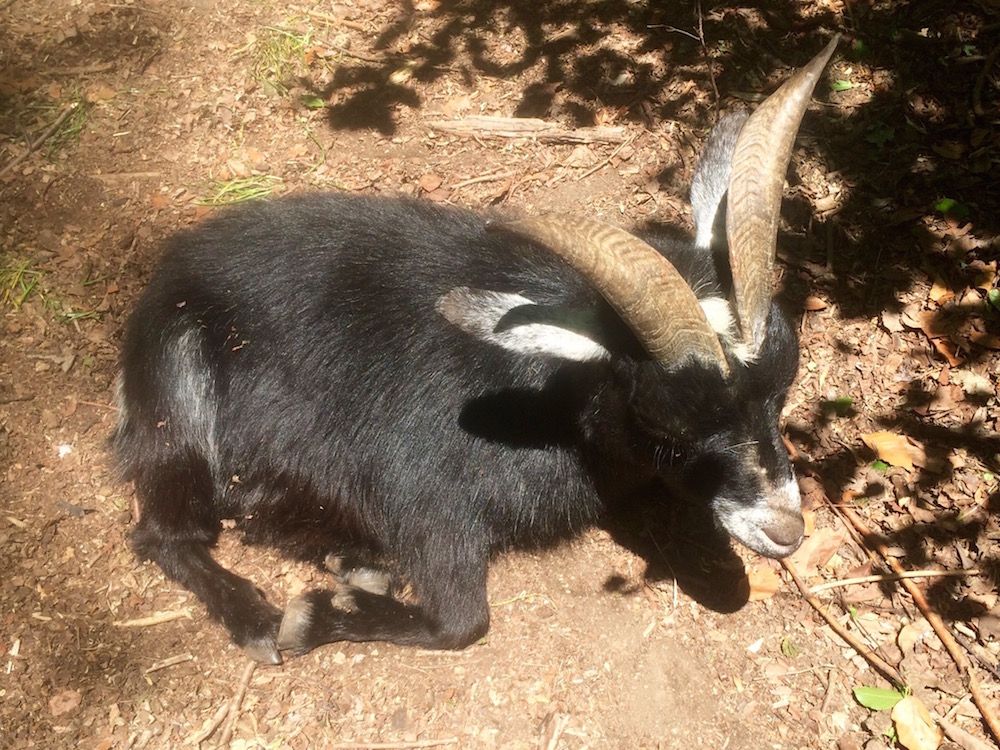 If you're interested and want to meet the goats, head out to Prospect Park this Sunday, May 22, for a Fun on the Farm event. There will be fun activities for the whole family, including tours to see the goats, goat milk ice cream making and more.
The Event Rundown: Fun on the Farm
Where: Lefferts Historic House in Prospect Park
When: Sunday, May 22, 1pm-4pm
Schedule Information: Celebrate the arrival of goats to the Park as part of the Prospect Park Alliance's woodlands restoration! Learn how to make yarn using wool and make goat's milk ice cream. Enjoy special tours to visit the goats, and join us on a parade to the Prospect Park Zoo to see sheep-shearing demonstrations and collect fleece to bring back to Lefferts and make felt balls.
Admission: Free