New Can? Here Comes Trash City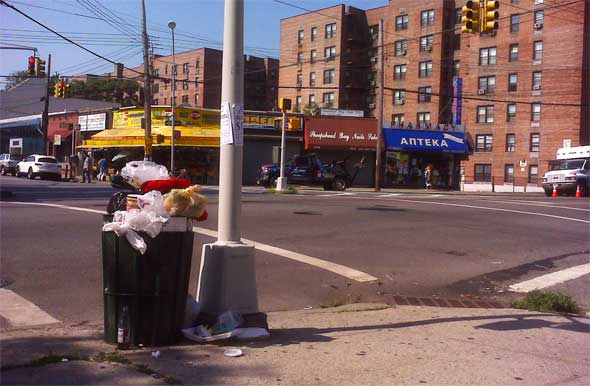 It's been just two days since this garbage can appeared on Avenue Z and East 14th Street, and it's already overflowing. Residential pickup for East 14th Street is Tuesdays and Fridays, so this can should have been emptied yesterday. It wasn't.
But beyond the Sanitation Department's failure to deliver service, we're getting to witness a very interesting phenomenon with this newly placed trash bin. This corner was previously garbage free. Sure, you had the occasional drifting plastic bag or paper cup, but compared to the sidewalk around the train station, it was positively speckless.
As you can already see in the photo above, that's changing. Trash from the packed can is falling onto the sidewalk, soon to be taken for a ride by a gust of wind.
No can, no garbage in the streets. Give a can, it's trash city.
That seems to support the theory from Community Board 11, where they've asked the city to remove all the public trash cans from commercial corridors. The idea was that people would hold on to their garbage until they get where they're going, so public cans wouldn't overflow and clutter the streets. According to reports in April, the experiment worked and streets were cleaner within weeks.
I asked a public official about implementing that program in Sheepshead Bay. Since I can't remember the exact response, I'm not going to name the official, but the general sentiments were as follows: Sheepshead Bay is not like some other neighborhoods. People in our neighborhood will not put their trash in their pocket and wait for a garbage can, they'll just drop it in the street. We need more pickups, not less cans.
All I know is that there was never a problem with trash on the corner of Avenue Z and East 14th Street, and it seems like one's emerging. It's now a local proving ground for Community Board 11's theory, if only in reverse, and I'll be keeping an eye on it over the next few weeks to see how it shapes up.