New Book by Neighbor Crissa-Jean Chappell Released Today
Crissa-Jean Chappell moved from her hometown of Miami, Florida to Ditmas Park about six months ago. Even though she's been very busy–finishing up her second novel, Narc, about a high school informant, which comes out today, and working on her third, due out in 2014–she's managed to explore the neighborhood and really turn it into her second home.
We sat down to talk to her about the new book, the surprising similarities between Miami and Ditmas Park, and the one thing that so many of you will agree is missing from our neighborhood.
Tell us a little about yourself.
I studied screenwriting, that's my Master's. Then my Doctorate is interdisciplinary, between philosophy, film theory, and literature–mostly about narrative. Everything was about writing, but I wanted to study it from different angles. Then I was a professor for 10 years and taught film and writing, but I got really burnt out. The climate nowadays is tough on teaching. I miss that environment, but there's a lot going on that makes it tough to teach.
You recently moved from Florida–why did you come to NYC, and why did you choose Ditmas Park?
There was an opportunity to come here–my boyfriend is originally from New York, and he was living here. I came for love as well as money, because I wanted to be closer to the publishing industry so I could do events like the Book Expo, and I can meet my agent if I need to talk to her, so it just made sense.
We were looking around for a place to live, and we forged out here. I'll never forget popping out of the subway–it feels like a pop-up book. The pages open in front of you with these beautiful old Victorian mansions, and my heart was exploding. And I was like, that's it, we're coming here. He lived in Williamsburg before, and as much as I like hanging out there because it's fun, it's not my home, I couldn't live there. To me, this is home, you can build a world here.
What are some of the differences about where you are now and where you came from in Miami?
Being here, it does remind me of the south, especially when I saw the houses with the Greco-Roman columns and the huge oak trees, they remind me of my home. Some people don't associate Florida with the things I do, but I grew up south of the city proper, so I was actually climbing oaks when I was a kid, skinning my knees, running through the swamp, looking for little petrified clams in the mud. We had all kinds of creatures, foxes and bats, and it was that landscape that's so much a part of your body. I smell the jasmine here at night, and I feel like I'm home. And the fireflies. Just like home, I had that too.
Another crazy thing about this neighborhood is that you have the Quaker parrots, and I had those in Miami. It's the same little green guys! I walk around and I hear them and it's just like home.
A lot of people don't think of Miami as the south, but I do, I know it beyond the pink flamingoes and the things people see on TV. It's changing a lot. I go back and forth a lot, so I feel like I have two homes now. Every couple months I go home, otherwise my mom will kill me.
Did you always want to be a writer?
My boyfriend says, "You're such a weirdo, who knows what they want to be when they're little?" I did!
When I was really little, I don't think I understood the concept of people writing books. I knew that there were books, and that I wanted to tell my own books, so to speak. I'd make my own little books.
My dad would bring books from the Air Force base library, and I would come running when I'd see the car because he'd pop the trunk and there would be this world of books inside. He always inspired me when I was little.
One of the first books I remember is Frog and Toad. I was obsessed with that when I was little. It's so profound, so wise.
Your books are marketed as young adult, which aims for a certain age group. Do you feel like you're writing for a specific age group as an audience?
When I wrote my first book [2007's Total Constant Order], I wasn't thinking specifically that I was going to write YA. I just knew it was a young person telling her story from her point of view, but I wouldn't for one second ever dumb something down or talk down. I was a teacher for all that time, and I was with these kids, hearing their stories and their voices, and they know what's up, they have a really decent BS detector. I just love teenagers so much. I'm writing for them, I'm not writing for a genre.
My publisher that I'm with now, Flux, I love their catchphrase: "Where young adult is a point of view, not a reading level." I love that. My editor did not take one bad word, one anything, out of Narc. With that type of story, I had to keep it honest, and it wouldn't be right if I didn't show what's really going on. Thankfully, he didn't censor me.
What I love about that genre in particular is that it has all the big themes. Like Frog and Toad, really. The big questions like who am I, is there a god, what is the meaning, where am I going? I like the bigness, the meaningfulness, the big questions of YA books. And that's what I like to write about.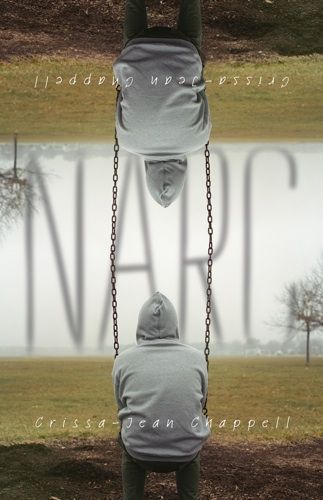 What are some of those big issues in Narc?
The main character is infiltrating the popular cliques at school even though he's a loser. It's like a reverse Cinderella story. He gets to have the ball, but it's going to be taken away from him. It's about the masks people wear, and how you have to pretend in order to survive that war zone of high school. He gets to see behind people's masks, and what they're about.
And the next book, Flip the Switch?
The next book is a romance for freaks, I call it. It's a romance for people who don't like romances, for people like me. I never felt connected to the girls who were in a lot of romance stories, but it doesn't mean that I don't want that. I just want it to be more punk rock, I guess, so I wrote it for those girls.
Now that you're living in NYC, will you continue to write about Florida?
All my stories that I've done so far have been set in Florida. I feel like it's my duty to show the real Florida. Like in New York, there are different neighborhoods and different things going on, so I try to show the different parts of Florida. It's important to me to show that.
I ask myself, am I going to go back home and see it in a new way? If that happens, I'm cool with that, because it's all about noticing things when you write. You have to notice things and point them out to the reader to let them see what you're seeing. If I live in a place so much that it becomes almost background noise, how is that doing it justice? Sometimes it's good to step away. Because when I come home, I notice details that I didn't see before.
That's a long way of saying that I hope the move helps my writing. I will keep writing about Florida for sure. No offense, but there are enough New York stories, and I don't feel like that's my world.
What's your writing process like? You write mostly at home, but do you ever do any work in public, at local cafes?
I'm boring. I just write all day, all the time. Some writers I know, they can write in different places. I've tried writing in coffeehouses, but the stimulation is distracting, it pulls me out. I've got tunnel vision in my hobbit hole.
Sometimes I do it when I need that detachment. Like when I did my copyedits of Narc I was in Cafe Madeline. Or when I was doing edits on another project, I was in Prospect Park sitting in the meadow with pages all over me and the grass, because printing out the pages does something else than seeing the words on a computer screen, so I do that.
Your boyfriend, Harlan Erskine, is a photographer–have you two ever thought of working together?
I keep saying I'd like to do that, but it hasn't happened yet. He's doing his own thing, and I'm doing mine, and maybe someday that will come together for the right project at the right time. Words and pictures.
What's been your best neighborhood discovery so far?
It's in Kensington, but that slot car place [Buzz-a-Rama] is crazy. It's a good example of something that's locked into the past, but then you see all the changes going on around it, and this thing is still holding onto that world. I feel like walking around here is part pop-up book, part movie. It's changing from past to present, urban but also sort of rural, it's just amazing to me. I love feeling that jolt of surprise, "I didn't know that was here."
Sometimes I'm just going shopping on Cortelyou and I'm walking a short distance and I'm like, "There's a cat, there's a person on a porch reading, there's this, there's that!" I'm looking at stories, at layers and layers of narrative around me, and the whole neighborhood is telling its story over and over every day. I love it.
What's one thing that's missing from Ditmas Park?
How about a bookstore? It would have to offer, like many bookstores now, more than just books. The place that's really successful where I come from has a cafe, so people eat and read and hang out, and they do events so people linger, and if you linger, then you might actually buy a book. And it should have wine and beer and booze. That would be a successful bookstore. This is my dream, someone make it happen!
Narc hit bookshelves today–since we don't have any bookstores in the neighborhood at the moment, you can find the closest one here, or you can pick up a copy of the book online.