With New Album Release, Mil's Trills Wants To Make Sure We're Friends
Park Slope neighbor and Brooklyn-bred Amelia Robinson has been rather busy as of late. Robinson — who performs under the name Mil's Trills — released her second album on September 23.
Titled Now That We're Friends…, the album is geared towards children and families (Robinson calls Mil's Trills "everyone music"). The body of songs features Robinson's excellent songwriting, musician, and ability to create a textured experience for a young audience.
The new album comes after her 2014 debut Everyone Together Now!, lauded by the Parents' Choice Awards.
Previous to Mil's Trill's, Robinson has performed in diverse projects. She has appeared at Carnegie Hall with Marvin Hamlisch, in the Cathedral of St. John the Divine, as well as on Broadway.
Robinson is a renowned for her sophisticated work on the ukulele, which she describes as a "little instrument that evokes big smiles." One of her most notable projects involved Robinson composing and conducting a 20-minute orchestral exploration through the East End of London. She enlisted the help of 500 bicycle bell-playing participants. The Cycle Symphony received a #1 Time Out London Critic's Choice and she earned a spot on BBC Radio 1.
Robinson is also a Park Slope resident who loves her neighborhood, performing locally and throughout New York City. We had a chance to speak with her about her new album, her approach to composition, her influences, and — of course — her favorite haunts in the 'hood.
SSN: Congrats on Now That We're Friends… The album sounds both rich and lush, but also uncluttered. Tell us a bit about some new approaches or styles that you are working on with the new album.
Amelia Robinson: Thank you so much! I really appreciate your kind words.
I had a clear vision for this album from the get-go, so that made it really fluid to make! It also made the music cohesive, which helped in communications between each player throughout the entire process.
The songs were written within the span of a few months (rather than spread over a few years) and we made a lot of effort this time in pre-production to flesh out the arrangements and weave in a distinct narrative.
What makes many of these songs different to our debut album was that I composed them on the first instrument I ever learned – the piano! I compose very differently on piano than I do on the ukulele, so it was nice to get back to my roots.
So Mil's Trills. It's a cool name and has a musicality to it. Where does it come from?
Well, my nickname is Mil (as a kid, my younger brother couldn't say my full name, so he just called me Mil because it was easier). 'Mil's Trills' actually came from my college years – that was around about the time I started writing songs as gifts (college students have to be thrifty!). My dear friend Lona, who was in an a cappella group with me, used to call my original ditties "Mil's Trills" and so years later when it came time to find a name for my project, she brought it back up again and it just felt right. But I remember having pages and pages of scribbles with random names of all sorts and struggling to make a decision because you know you're gonna be stuck with it for years. People always get the l's mixed up, but that's ok – it is a bit tricky if you don't know the story behind it!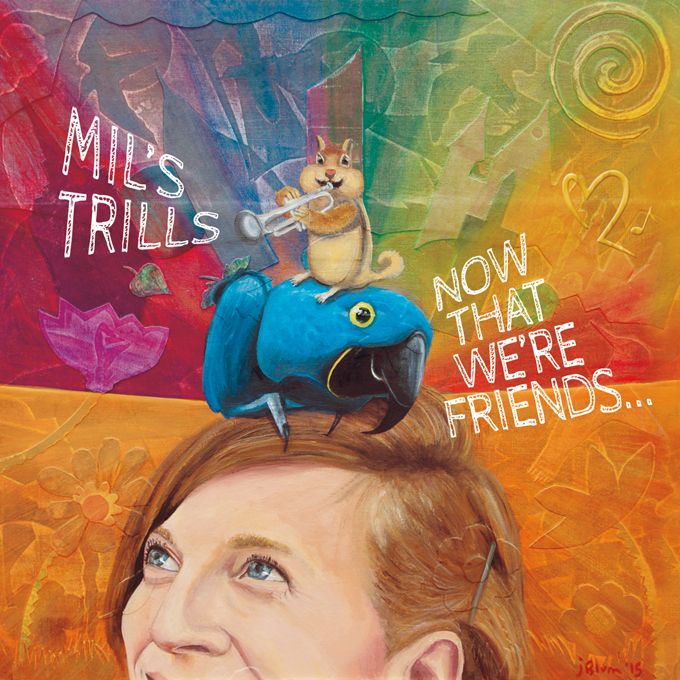 You've worked on some elaborate compositions in the past. You composed and conducted a multimedia interactive orchestral piece called The Cycle Symphony which incorporated an audience of 500 bicycle bell playing participants. Does that type of work connect with what is clearly a more intimate album?
Yes, absolutely! There are many intricacies on this album that we invested a lot of time in developing, which can be heard mostly in the arrangements and the instrumentation. I come from a classical background, so am always layering parts and developing harmonies and counterpoint.
Additionally, all of my work has a central theme – to value and engage an individual within a larger community through live interactive experiences. With The Cycle Symphony, I used the sound of a single bell to identify a person's voice and acknowledge their presence within the larger group. In Mil's Trills, I involve the audience and encourage interpersonal interactions through the lyrics and vibe of a song.
Although my music is somewhat peppy, much of it is a response to feelings of being lost, insignificant, or disconnected in such a big world. Although young kids may not yet be aware of that side of life yet, I want to provide them with a firm foundation as they grow into themselves.
It's a balance with empowerment and self-awareness – understanding that we each play a vital and significant role on this planet, and how the actions we take have a direct effect on the people around us. The tricky part of making a concept album like that is to effectively create a safe platform for an intimate exchange without physically being in the room.
There are some subtle major/minor key variants you use in some of your songs on the album. "When You're Gone" sticks out to me. There's a sense of celebration of oneself on this album. But there are tiny moments of loneliness here and there. Was that something you worked towards or did it just happen?
The album actually came out of a period of grief. In August last year we tragically lost a close family member. I went through an existential phase of "Why are we here?" and found myself writing about pretty serious feelings of loneliness.
I took a trip down to see my family in Australia / NZ [New Zealand] for my cousin's wedding and found the experience of being surrounded by so much family extremely cathartic and moving (I have a HUGE extended family down under, as that's where my parents are from).
I was reinvigorated by the power of love and was inspired by the mere strength and support of family to transcend distance and time. It filled me with hope and healing, and I realized that life really comes down to LOVE. Not limited to the romantic kind, but the appreciation for LOVING the world around you, and all that is has to offer. It's the one thing all of us humans have in common.
And the most important thing is to love yourself – because when you love yourself you have strength to grow and relate to others in a positive way that can help the world become a better place.
What does the term "kids' music" mean to you? How does it differ from other music you like to play? Or is there a connection?
I've taken to calling my music "everyone" music. It's intent is to be shared by audiences of all ages. Most of the music I play is inspired by the human condition – something we can all relate to on various levels. I can play the same songs for both audiences, but with a different delivery.
With kids' music, often I'm managing the audience, responding to their energy levels and sculpting a movement based experience for them with clear windows for participation and involvement. The interactive element certainly works best for kids, but it's very surprising how many adults respond to the opportunity to participate as well.
Think of all those hip hop songs that instruct the listener to "put your hands in the air like you just don't care!" We're all kids on some level!
However, sometimes I do find there are deeper issues I want to address beyond lyrics about slugs and chocolate. My first "grown-up" album is coming out next year, which is called "The Space Between". It dives into a further exploration of self-growth and allows me to reflect on what it was like to be 12 now that I'm in my 30s.
I must also mention that since there are so many amazing artists out there creating a wide breadth of 'kids' music, I think we should challenge the genre's definition and push the limits beyond the mainstream stigma of what children's music can be. It's a powerful genre that can define a generation.
You have a lot of interest in ethnomusicology. As a listener, I hear a "Caribbean sound" on "Just A Little Bit." What other cultural sounds did you use on this album?
We are all a fusion of our life experiences. I happened to have travelled a lot in my formative years, and as a result much of my music has influences from all over the world.
I definitely have a propensity towards reggae rhythms and Caribbean grooves because they make you feel plain ol' happy, but I've grown a more recent fascination by how each culture integrates music into their rituals and traditions in a distinct way.
In this album, I've drawn more on the social side of ethnomusicology rather than the styles and exploration of instruments as I did in my first release (Everyone Together Now! enlisted 42 instruments played by 13 musicians).
You're a wonderful musician and writer — we're sure you have a variety of music tastes. Who's been an influence on you as a musician?
Awww, thank you!! I think the biggest influences on me as a musician are actually the people I've met through music. What gets my goat are the connections I meet on the road and the story behind why someone plays, or why they are drawn to a particular instrument.
Coming to mind are the street musicians I met in Barcelona who opened me up to a world of classical Spanish guitar and the meditative Hang. Then there's the time I went to northern Kazakhstan and bathed in traditional folk songs sung by a Russian babushka who then gifted me a beautiful old Bayan which I still dabble with today.
There were the classical musicians tucked away in the exquisite architecture of Rome, which evoked memories of listening to the New York Philharmonic in the park with my family growing up in Brooklyn.
And we mustn't leave out the artists that defined my urban teenage years and will forever be etched in my veins – Mariah Carey, Boyz II Men, Salt N Pepa, Biggie, Snoop Dog, etc. In college I was perhaps more of a Ben Folds, Guster, and Mary J Blige fan.
Nowadays I'm actually getting into more electronic fusions like Quantic (particularly featuring Alice Russell), Bonobo, Zero 7, First Aid Kit. And it never gets old waking up to the likes of James Brown or Sharon Jones and the DapKings.
All of these artists have left a great impression on me. They inspire me to be true to who I am and challenge me to make the music I was born to make.
Finally, you're a native Park Sloper. You must have some haunts and fun things to do in the neighborhood you can share with us.
I really enjoy spending time with artist Jonathan Blum. He's the artist who did the album cover art for Now That We're Friends… At the end of the day, it's wonderful to talk with him and immerse myself in color.
I love seeing live music, so I spend time at both Littlefield [622 Degraw Street, between 3rd and 4th Avenues] and ShapeShifter Lab [18 Whitwell Place, between 1st and Carroll Streets].
As far as food, there's so much! My mom and I go to Mura Sushi [369 5th Avenue, between 5th and 6th Streets] — they have a great lunch special there. Everyone knows Miriam [79 5th Avenue at Prospect Place] has an amazing brunch. And I love the rice balls they give you at La Villa [261 5th Avenue, between Garfield Place and 1st Street] — they really take care of their neighbors.
I like to enjoy a drink at The Gate [321 5th Avenue at 3rd Street] and Skylark [477 5th Avenue at 11th Street]. And I'm a member of the 5th Avenue BID because I want to support the local businesses.
Now That We're Friends . . . was released on September 23. Visit the website to purchase the album, listen to song samples, and learn about upcoming performances by Mil's Trills.