Nets Sign NBA Player Andrei Kirilenko, Looking To Appeal To Russians In Brighton Beach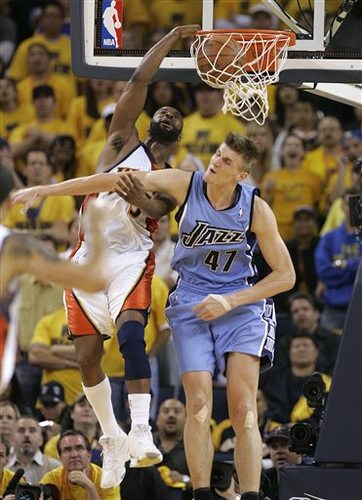 The Brooklyn Nets have had a busy off season, making trades for NBA superstars Kevin Garnett and Paul Pierce in their hopes to steal the spotlight away from Carmelo Anthony's New York Knicks. According to a report by Nets Daily, the team has also added Russian-born forward Andrei Kirilenko, hoping to use his presence to appeal to the Russian population abroad and in Brooklyn.
The Nets are owned by Russian billionaire Mikhail Prokhorov. Prokhorov is a sports fan's dream as he spends wildly on the team, ignoring salary cap penalties and taxes, kind of like a modern day George Steinbrenner. Besides trying to create a championship caliber team, Prokhorov is doing his best to appeal to the world's growing interest in the NBA:
"We have a desire to [market] a large number of products in Russian and geared towards Andrei Kirilenko. I think that soon the Russian fans will  able to fulfill this dream," said the Nets CEO when asked about Kirilenko jerseys.
On Brighton Beach, Yormark said Kirilenko is "the best advertising for Brooklyn in Brighton Beach."
Yormark also said the Nets hope to play in Russia at some point, noting they traveled to Russia two years ago on their way to China for exhibition games.
"We would like to play in Moscow," he told ITAR-TASS. "We have been here a couple of years ago, master classes, and would like to do it again. But not this year. January 16 we will hold the London leg of the regular season against the Atlanta Hawks. We will continue to work on expanding our brand in Europe with the help of these away games. I hope that in the future and get to Russia."
So, I guess Kirilenko jerseys and the man himself will soon make his presence known in Brighton Beach. Pretty cool. Might not be hard to miss the sight of a 6-foot-9-inch athletic looking white guy, so if you see one, be sure to ask for his autograph.