Neighbors Petition For Speed Bumps On Decatur Street
BEDFORD STUYVESANT – Residents are calling for speed bumps to be installed on Decatur Street between Malcolm X Boulevard and Patchen Avenues, and a petition shared by the Decatur Street Block Association that has garnered close to 100 signatures.
In the petition, the block association's Quality of Life committee references several incidents in the area caused by speeding vehicles. Some of the incidents, the committee says, have led to property damage and "severely hurt children."
Data collected by the city and presented on its Vision Zero View map show that while there were 10 injuries from traffic crashes in 2016, there were only two last year.
Margenette Moore-Roberts, a block association member, said that the installation of speed bumps is among her organization's top priorities but that the city's Department of Transportation (DOT) hasn't been responsive.
"[T]he process has been extremely slow," Moore-Roberts said. "We decided to launch the petition in an effort to get more support from political officials."
A spokesperson for the city's Department of Transportation (DOT) confirmed that the agency received a request last June to install speed bumps on the block and said that they are still studying it. She noted that the safety enhancements can be implemented if all criteria are met and the location is deemed feasible.
Some of DOT's criteria include the width and use of the street, results of a speed study and whether the street is a bus, truck or emergency vehicle route. Installation of new speed bumps must also be approved by the local community board.
Brooklyn Community Board 3 did not respond to a request for comment.
Several blocks in the surrounding area already have speed bumps. Records show they were installed on Decatur Street between Patchen and Ralph Avenues in 2005 and between Lewis Avenue and Stuyvesant Avenue in 2003.
The block falls within a Vision Zero "priority area" and the city has already implemented other safety measures in the vicinity, such as a leading pedestrian interval at the intersection of Patchen Avenue and Decatur Street. The interval gives pedestrian a few extra seconds to cross before a light turns green. Vision Zero is Mayor Bill de Blasio's plan to reduce traffic fatalities across the city.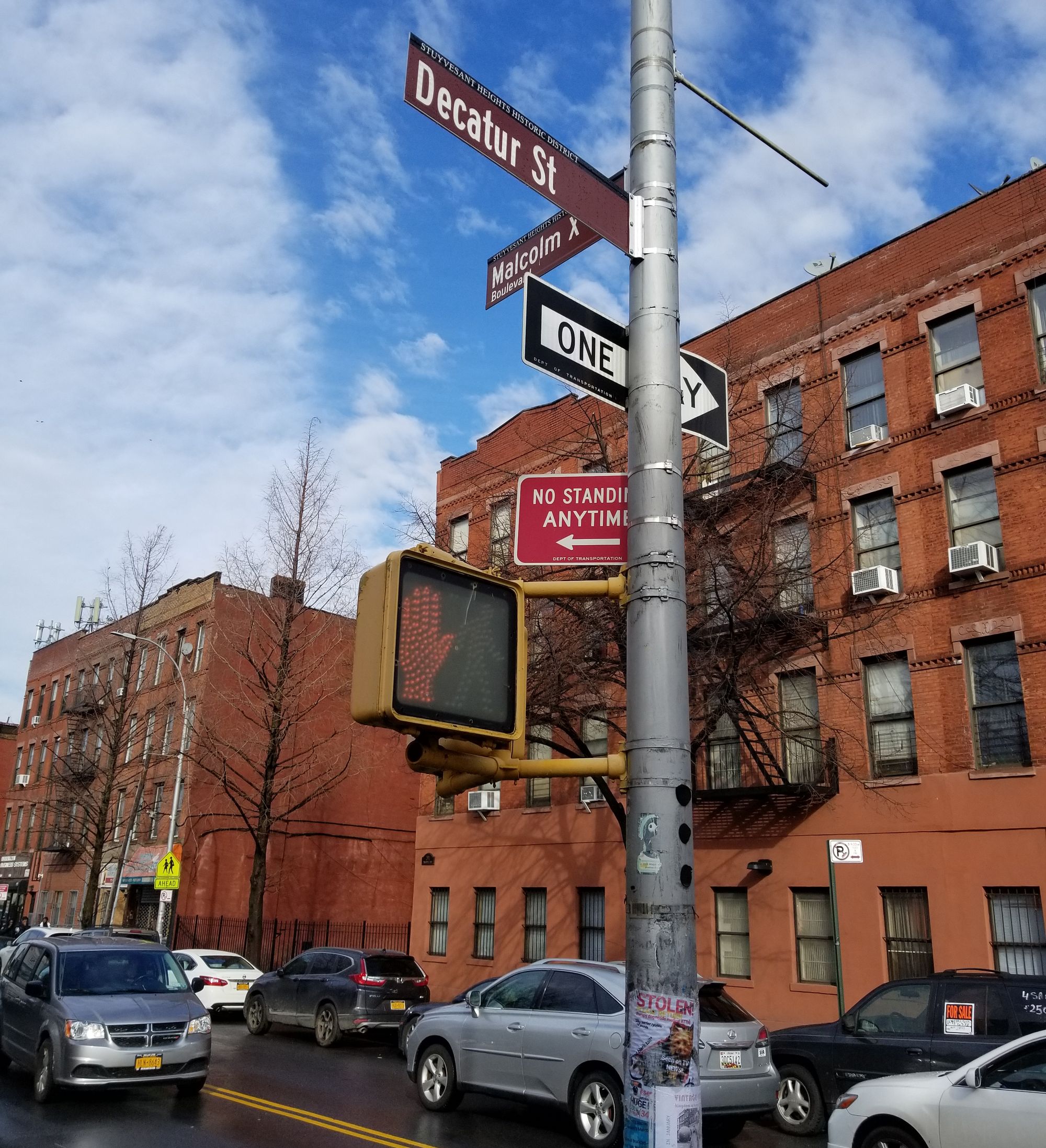 In 2016, DOT introduced select bus service and optimized signals for the B46 line, which runs along Malcolm X Boulevard past Decatur Street.
The block association said that it plans to deliver the petition to both councilman Robert Cornegy, Jr. and the DOT in an effort to expedite the city's study. Cornegy did not respond to a request for comment.
"We are pushing to have the speed bumps installed sooner rather than later for the safety of our children, the elderly and the rest of us," Moore-Roberts said. "And simply to have more serenity on the block."