Neighbors Blame Lake Avenue Fire On "Slum Lord"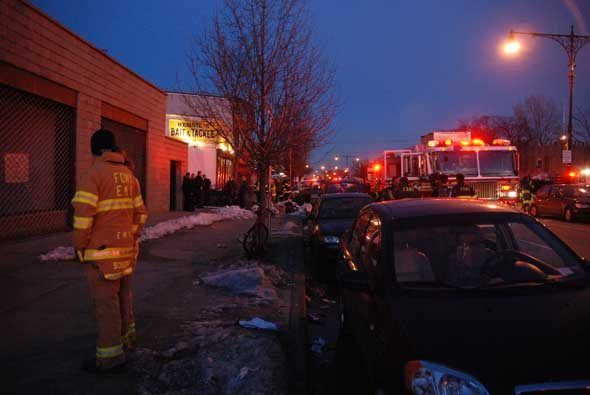 Robert Haggerty was taking an afternoon nap when a neighbor woke him with shouts that his Lake Avenue home was on fire yesterday. The legally blind longtime Sheepshead Bay resident bolted out of bed and out the door, in time to find the home next door ablaze, and flames licking the side of his house.
"I'm just glad somebody woke him up, otherwise he'd be dead," said a close relative who lives up the block.
In the bungalow colonies, wooden homes nearly 100 years old line the alleyway with little room in between. Only about three feet wide, the "avenue" in front of their home is nothing more than a walking path, and fire trucks are denied access. A small fire can quickly wipe out a community.
Luckily for Lake Avenue residents, scores of firefighters made it to the scene, linking hoses together and containing the blaze that started at 8 Lake Avenue in about 20 minutes. While Haggerty's home next door had severe damage, and many of his belongings are headed for the trash, he did manage to save a prized possession: an urn with his deceased wife's remains.
But, to Haggerty and other neighbors, the fire itself wasn't much of a surprise. They say the property owner is a slumlord with a record of abuse.
"We always knew this was going to happen. We all knew," said Haggerty's daughter, Melissa, who also lives on Lake Avenue.
"The house was reported numerous time to the Department of Buildings and the FDNY," said Robert Haggerty. "Nothing was done. This was a tragedy in the making."
According to Haggerty and other neighbors, the property owner, Lily (the property owner is named as Lily Home Inc. on the DOB website; we could not find a last name and Lily did not speak to Sheepshead Bites for this article), was running a "Mexican hotel." They say she had illegally converted the building into an Single Room Occupancy boarding house for illegals, and that calls to the DOB had gone ignored.
DOB records, though, show only three complaints on the property since 2006 (records show a different owner for the building until the property was "purchased" by Lily Home Inc. in 2007 for $500). Two of the complaints alleged an SRO was being operated. The first, in 2007, was dismissed by the DOB. In 2009, the second complaint was never verified, as DOB inspectors were denied access to the home on three occasions before closing the file.
That's not an unusual step for the DOB, according to community liaison Ken Lazar.
"If it's a real complaint people would've kept calling in," he said. "If there is evidence that a hazardous condition exists then [the inspector] brings it to the attention of the supervisor and gets an access warrant." Such evidence includes multiple mailboxes, satellite dishes, and other indicators of more than one family living in the home. But inspectors didn't see such signs at the Lake Avenue house. "A lot of people use us to harass their neighbors," Lazar added.
But whether it was an SRO or not, Lily was a bad neighbor, said others on the block. Her yard was frequently full of trash, poor maintenance led to her having to shut down the water main to her house – which also controls the next four houses – and she was making a fire hazard.
That much was on display. Firefighters were seen tearing into a wooden structure in front of the house, which neighbors said she recently built to "keep her cats warm," and put drapes and space heaters in. They also said she had removed radiators from the house and was heating the home with space heaters.
Neighbors say they saw Lily leave the house at 3:30 p.m. – half an hour later they reported hearing a loud pop before the building caught fire. Haggerty's family alleged this is routine business for Lily, who admitted to having at least one other home burn down recently in either Brighton Beach or on Avenue Y (neighbors said both; Lily admitted only one to the Fire Marshal).
The FDNY is investigating the cause of the fire. But the Haggertys, whose emotions flared when they confronted Lily (video below – 2:20 mark), think they have a good idea of what happened.
"This is just too similar to the other house; come on," said Melissa Haggerty. "Maybe this is how she makes a living."
Raw video from the incident
Photos, including a shot from the balcony of a nearby condo courtesy of coolphil:
A video from Cem Cem, shot from the Manhattan Beach side: