Neighborhood Native and Former "Wonderama" Host Sonny Fox Celebrates His Roots With Fundraiser For PS 217
Talking to Sonny Fox, former host of the children's program "Wonderama," it's easy to see why people who watched the show as children still remember him, he's genuinely entertaining. It's hard not to get swept up in his jokes and stories.
The 90-year-old entertainer, who now lives in Los Angeles, will be back home in Brooklyn on October 24 to host "Broadway Comes To Brooklyn" to raise money for his former elementary school, PS 217.
"I'll be standing on the stage from which I graduated 78 years ago!" Sonny exclaims happily.
Sonny came back to PS 217 for the first time since his elementary days last September. He was staying with friends on the Upper East Side and one day he got on the train at Lexington, got off at Newkirk Plaza, and walked over to the school.
"Now why did I do that? The answer is I don't know, except maybe at my age I'm on my farewell tour. I wanted to connect in some way. I had not been back since 1938," says Sonny. But the teachers remembered him and a tour of the school and a game of Simon Says with a group of students quickly ensued.
Sonny was impressed with the arts programming and so not long after his visit he offered to do a show for the school as a fundraiser.
We talked with Sonny over the phone for nearly an hour about what it was like growing up in Flatbush — "Now you have all different names for it, but it was just Flatbush when I lived there" — during the Great Depression and how he ended up in children's programming.
Sonny fondly remembers playing in the streets as a kid. "We made up games and we refereed ourselves. Somehow we were able to negotiate our way through all of these aspects of growing up," he recalled.
And the old LIRR train tracks near Avenue H were a common place to congregate. "We'd bring out potatoes and we'd make a fire down there to cook them up. That's where I first learned about sex, somebody had some comic books that were crudely drawn but anatomically correct," says Sonny.
He says he started riding the subway by himself when he was just nine years old. "New York became my playground. I would go to NBC and go to listen to them record radio shows," Sonny remembers. "Afterward, I'd walk up to the stage where the announcer was and say, 'can I have a page of your script?' And I'd take that home — a touch of glamour."
He graduated from PS 217 and moved on to James Madison High School. His mother kept moving him ahead in school so he graduated from high school very early, "A month before I graduated, World War II broke out and even though I was only 16 1/2, I knew I would be drafted eventually."
In the meantime, he took classes at NYU where he discovered radio production. "About three months into it I realized this is what I want to do," he explains.
Eventually he was drafted and sent over to Europe on the Queen Elizabeth 1. He was captured during battle and spent time in a POW camp.
"I came back an entirely different person," he recalls. "I went over a wimp and came back a mensch."
He started working in radio, bouncing around and doing a variety of jobs until he ended up as a war correspondent for Voice Of America in Korea in 1950. After getting married and traveling for a bit, he came back to New York and was looking for a job. He heard about a new educational channel in St. Louis who was looking for a children's show host.
"I'd never done TV and I didn't want to do children's programming, but I sent them a letter and they said fly out here, we'll give you an audition. I sent them a letter back saying I don't have the money. They sent a letter back saying they'd split the cost."
Soon he was hosting five 45 minute shows a week in a converted girls gymnasium on Washington University's campus. "They didn't tell me what to do. It was a playground. I did whatever I felt like doing."
Six months later CBS offered him a job and the next thing he knew he was in television. "Nothing ever happened to me in my career by design. It was all fate."
While describing working on "Wonderama," which he was the host of from 1959-1967, he kept returning to how much he learned from the kids on the show.
"They have the most interesting interior lives, but you've got to give time to learning about those lives. That means that you have to listen," says Sonny. "I would submit that Wonderama listened to kids better than any other kid show ever did."
Sonny brought up a time on the show when a little girl, no more than eight years old, told him about the man she planned to marry. "She told me something that she probably hadn't told her parents. That moment was the embodiment of why Wonderama worked," says Sonny. "It was the trust they had in me and the respect I had for them. I think that's my greatest accomplishment."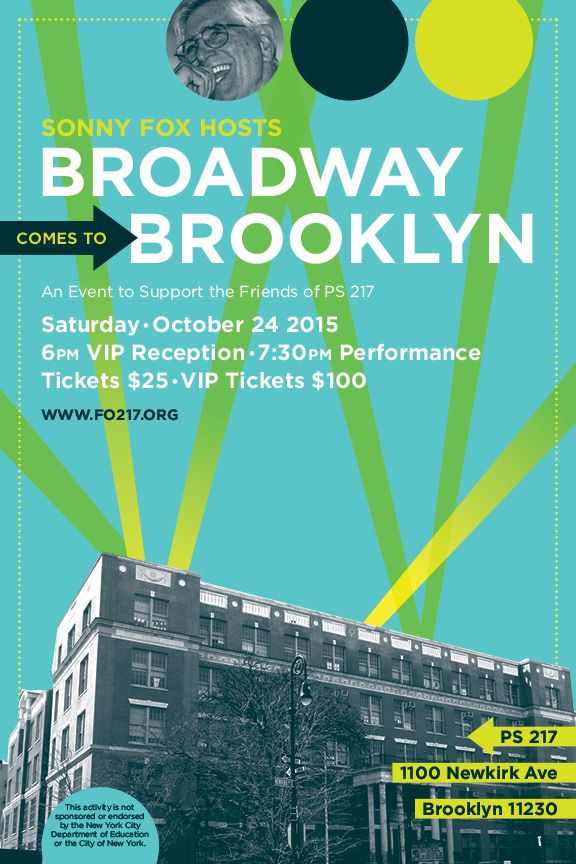 For "Broadway Comes To Brooklyn" on October 24, Sonny will share his stories and personal recollections about some of the great composers and lyricists of the 20th century and the familiar Broadway songs or film scores that they created. To bring these stories to life, he will show excerpts from The Songwriters, the series he produced for CBS Cable. Featured profiles include Alan Jay Lerner, Kander and Ebb, Sheldon Harnick, Yip Harburg, Arthur Schwartz, Charles Strouse, and Burton Lane.
Tickets to the performance cost $25. A limited number of VIP tickets will be available for $100 and will include a private reception with Sonny Fox before the show as well as a signed copy of But You Made the Front Page. Tickets may be purchased through the Friends of PS 217 website.