Neighbor Spotlight: Double High Five, Keep it Alive!
Thank you to our reader Lori Goldkind for suggesting this interview. Know a neighbor you'd like to see recognized in Bklyner? Let us know! We'd love to tell their story too.
MARINE PARK – A good fitness coach has good lungs and stretches the truth a little… And Cathy McDonnell LaCognata, president and sole owner of Training for Warriors Brooklyn, is a very good coach. A peppy woman, whose deep voice and straight spine make her seem towering at 5'7", shouts out to a class of 25, roughly 2:1 female:
"I SAY: LAST SET!! YOU SAY: ???…"
"BEST SET!!" we holla back. Only it isn't the last set. Far from it.
The class looks pretty much like what you'd see stepping off the B9, which runs right past TFW Brooklyn, at 2100 Flatbush Avenue. Drawing from a client base that extends down into Bergen Beach, Mill Basin, and Marine Park, and up to Avenue H, all ages, ethnicities and body types are straining the spandex tonight, two-thirds of the way through a Hurricane class. The Hurricane, the basis of the TFW program, is a workout that founder Martin Rooney developed for his MMA fighters. It's designed to cause a metabolic "disturbance," to create "chaos" in the central nervous system, and it takes 24-48 hours for your body to return to normal. Oof.
"Some people get very hyped up," says Cathy, "some people feel like they're coming down with the flu."
Amber, a Bklyner writer who covers summer camps like zinc oxide on pale noses, has joined me this January evening. Apparently, we've tripped in on the New-Year's-Six-Week Challenge. I'm just challenging myself to get through this one class, but the rest of the warriors are working towards personalized fitness goals, while tracking their progress with weekly weigh-ins and mug shots of their midriffs.
"It's gonna get easier" "Cathy coos encouragingly to a woman tossing a ball endlessly over her head.
"You've been saying that for two years now…" the woman groans, in Sisyphean despair. It may not get easier, but this Amazonia, along the others, is reaching her mountain top, losing weight and gaining muscle.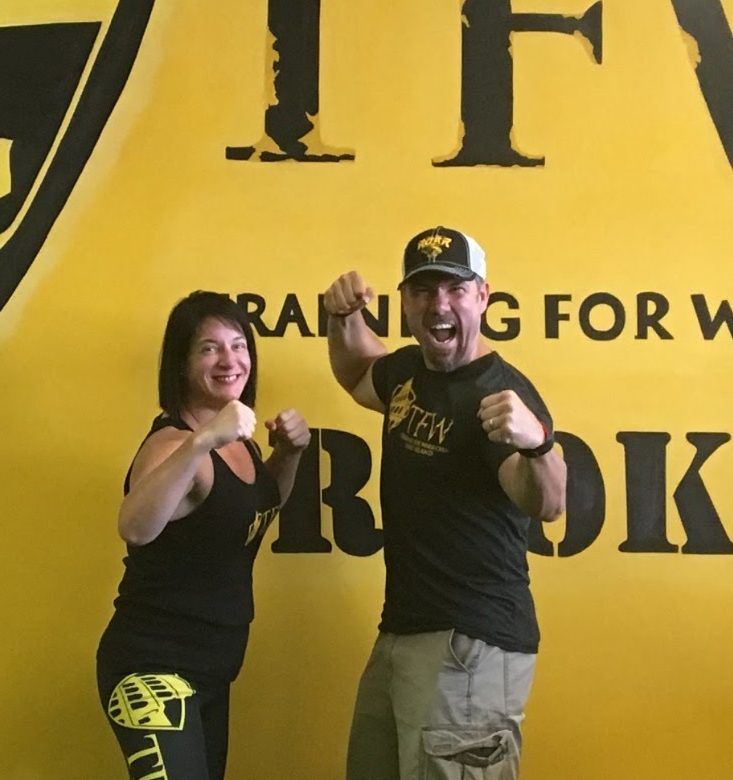 "I do everything that you're gonna do," pledges Cathy, who can bench press her 165 lbs. frame. "I would never ask you to do something that I haven't done myself, because how would I know how that feels? If it doesn't work for me, I don't think it's gonna work for my students, so I tweak it. The workout was designed for the average person and I don't always have average people. I make modifications for different needs…"
Like knee problems. In tonight's class for example, folks with tricky knees are on the low-impact treadmill, or pitching medicine balls overhead. This is how Cathy includes everyone.
"Double High Five, Keep It Alive!!!"  Cathy rallies our flagging selves for the closing activity of the Hurricane class. Divided into four teams, we drive four cylindrical "bobsleds" (big bean bag chairs, but not squishy) across the astro turf. Shockingly, my team wins.
How did you get into this?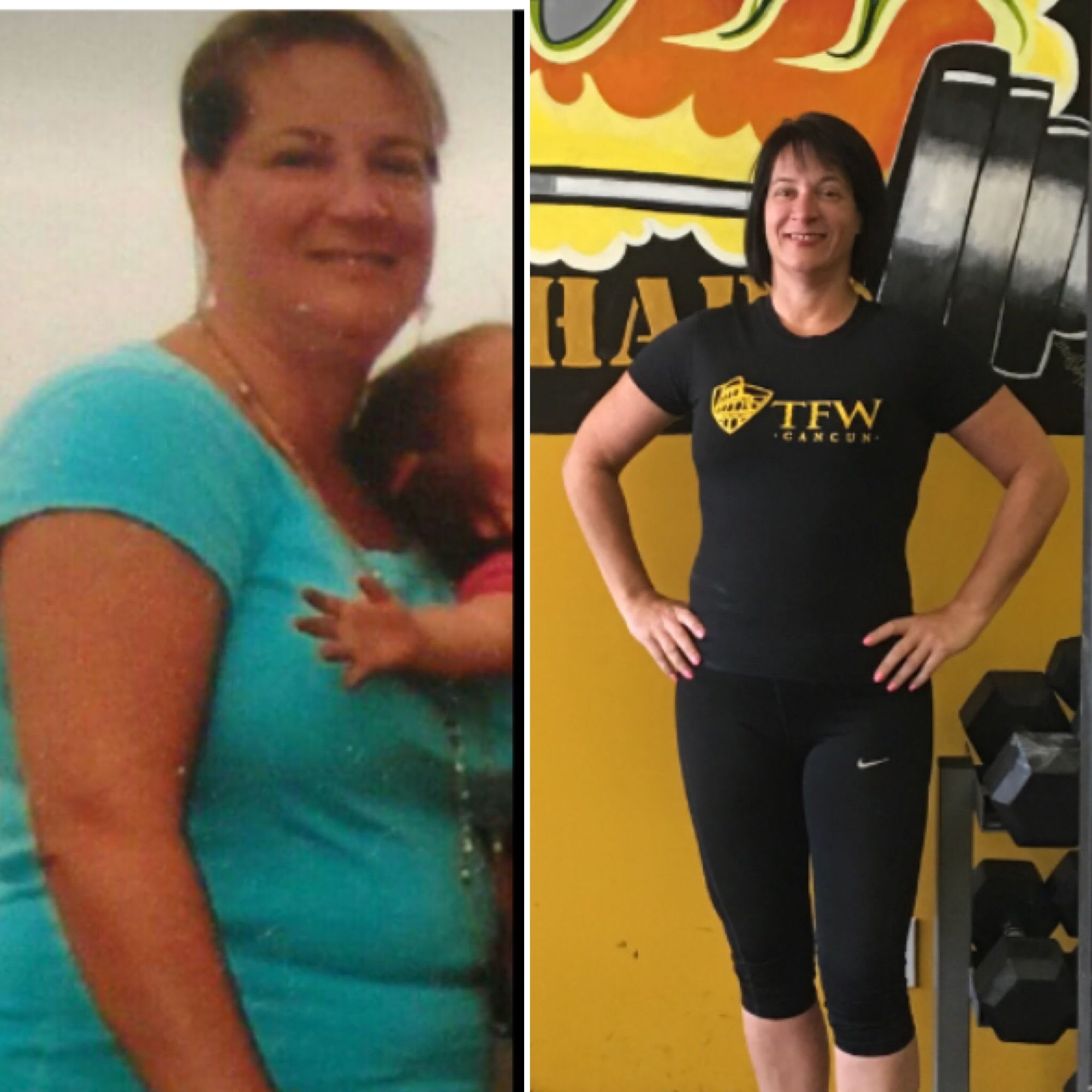 "I looked at myself in a picture from Aruba and I was like: 'Who is that person? I had three babies and I was 220 pounds. It was time. I was forty-two when I fell in love with fitness. The more weight I lost, the more confident I felt, and it felt amazing getting into this with other people. Now I can do this for other people because I get it. I'm pushing fifty but I've never felt better."
Cathy started taking spin lessons at a studio in Far Rockaway, then got certified to become a spin instructor herself. She began working the reception desk at the studio, where she learned the battle ropes of running a fitness biz.
"I said to myself: 'If they can do that, I can do that.' So I left and started Rockaway Fitness with someone else. I was doing the spin and he would do the TRX program. The storm destroyed it all. Three weeks after Sandy we got our electricity back up, but there were no customers…"
TFW Comes to Brooklyn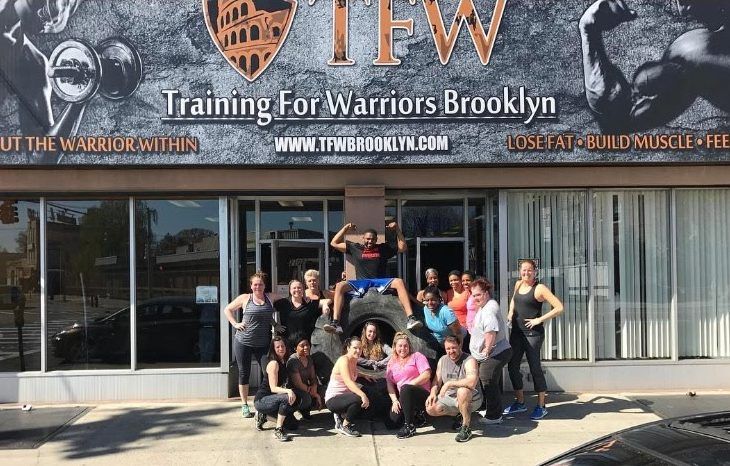 "Then I met Martin Rooney at a seminar and got into strength training, and got certified in TFW," she adds, pointing to straps on the wall.
Martin Rooney, head coach, started Training for Warriors twenty years ago. Now there are 280 around the world; Cathy's 4,000-square-foot facility, which opened in 2013, is the only affiliate in Brooklyn.
"He's a great man," Cathy praises their founder." "Martin is all about creating a fitness system to help people around the world. His background is unique. He started as a physical therapist and trained pro athletes from many major sports. His work with UFC fighters led to bestselling books, and the birth of Training for Warriors. Because of his desire to make an even bigger impact with regular people, he started licensing this fitness program. This is not some boot camp. It's a structured and safe workout. TFW is a philosophy that people are using to improve their lives in thirty countries. So whatever we're doing here today at TFW Brooklyn, thousands of people around the world are doing it too. It's powerful for my students to be part of something much bigger…"
The Format
There's no spinning here, strictly weight training and metabolic conditioning. Ideally, each warrior alternates two strength training sessions with two 45-minute Hurricanes, weekly.
The idea is to get the heart rate up and keep it up. Tonight's class starts off with jumping jacks, which are a lot more fun done together, as we miscount aloud to 90.
We then split up into up into four groups and while one group sprints up the astro turf, the others are down on the mats, crunching and planking with hand weights.
There are two minute water breaks between rounds, but we're not allowed to sit.
"When was the last time you ran as fast as you could?" Cathy asks me.
Panting, I don't answer, but ask another question instead: "Um, how I can cheat here?"
"Oh there's no cheating!" she laughs. "You only cheat yourself. We have a timer, there's no shortcut. But my goal is never to make you crawl out the door. My goal is to make you feel good and do the best you can. That's all we can ever ask of anybody."
"You never want to go back to a resting heart rate. It's different from an aerobic workout where you keep the heart rate consistently high. Here you're going high, low, high. It's HIIT training (High-Intensity Interval Training). This is our version of cardio. We don't do distance. We do short and hard."
A Different Vibe
"We started up here, small. Things got better, we got bigger, got our TFW affiliate, and tried to become something different…  Women are afraid to go to the gym. They're very intimidated and they don't want to go to the weight room."
I'm nodding my head; barbells look painful, even in their resting state.
"Here there's no intimidation," explains Cathy, "We're all different shapes and sizes. We don't care if you have issues, we will find SOMETHING for you to do. There's no better feeling in the world than seeing someone's face when they lose five pounds, or when they lose ONE pound. Or when they complete a Hurricane without feeling wrecked, or they do a chin-up."
"My fear is I'll lose control and a dumbbell will fall on my foot." I say.
"But here you're always guided in class," Cathy reassures. "It's like having personal training in a group setting. That's what we do."
"Like even though we're in the same group, you're not going to be doing what I'm doing." Pete, a TFW coach pipes in. "I have my weight, you have your weight," Pete continues. "You work with someone who is equivalent to you, and everybody works together."
"Some men don't like to be told what to do by a woman," Cathy observes. "Pete was one of my students who decided to become a coach, but some men listen to him more than me, even though I'm more experienced. It is what it is," she smiles.
Raising the Bar on Fundraisers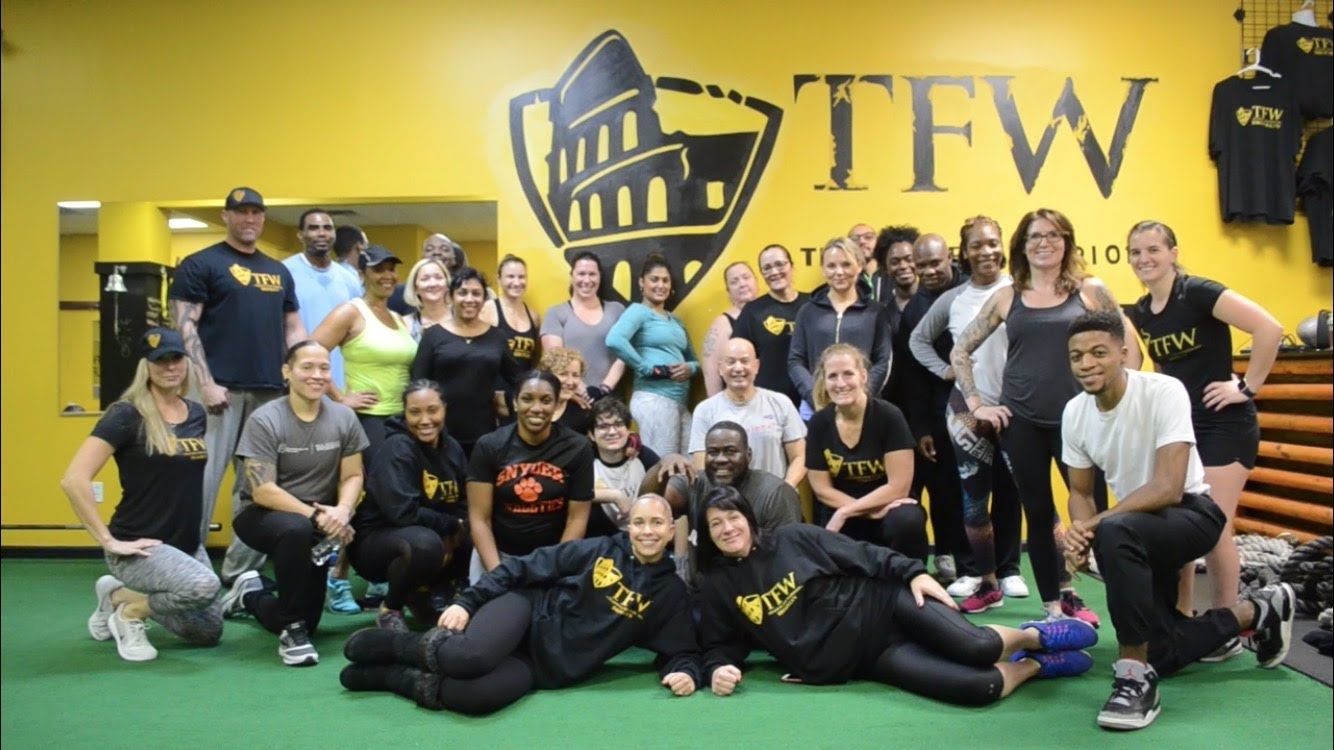 Cathy points to a group photo over the front desk: one warrior woman stands out, radiant and bald.
"We have a gal Alicia, stage four cancer, four children, thirty-seven years old," says Cathy. "She has a TFW affiliate in Huntington Beach.  So TFW, as an affiliateship, raised $100,000 to send her kids to college. We're gonna do another fundraiser to pay for her travel to Mount Sinai here in New York."
TFW Brooklyn has hosted fundraisers for The American Cancer Society's Relay-For-Life, and the New York Bully Crew, a pit bull rescue.
Cathy also held a fundraiser for a local family's child with cancer. "What I like to do is get one of my students to say 'Hey, I got a friend in need.' Something that's personal. We really try to make the fundraising community-based. People want to be part of something. I do a Hurricane class, I ask for a ten or twenty-five dollar donation, and then I give it all to the cause. I sell T-shirts. It makes a big difference."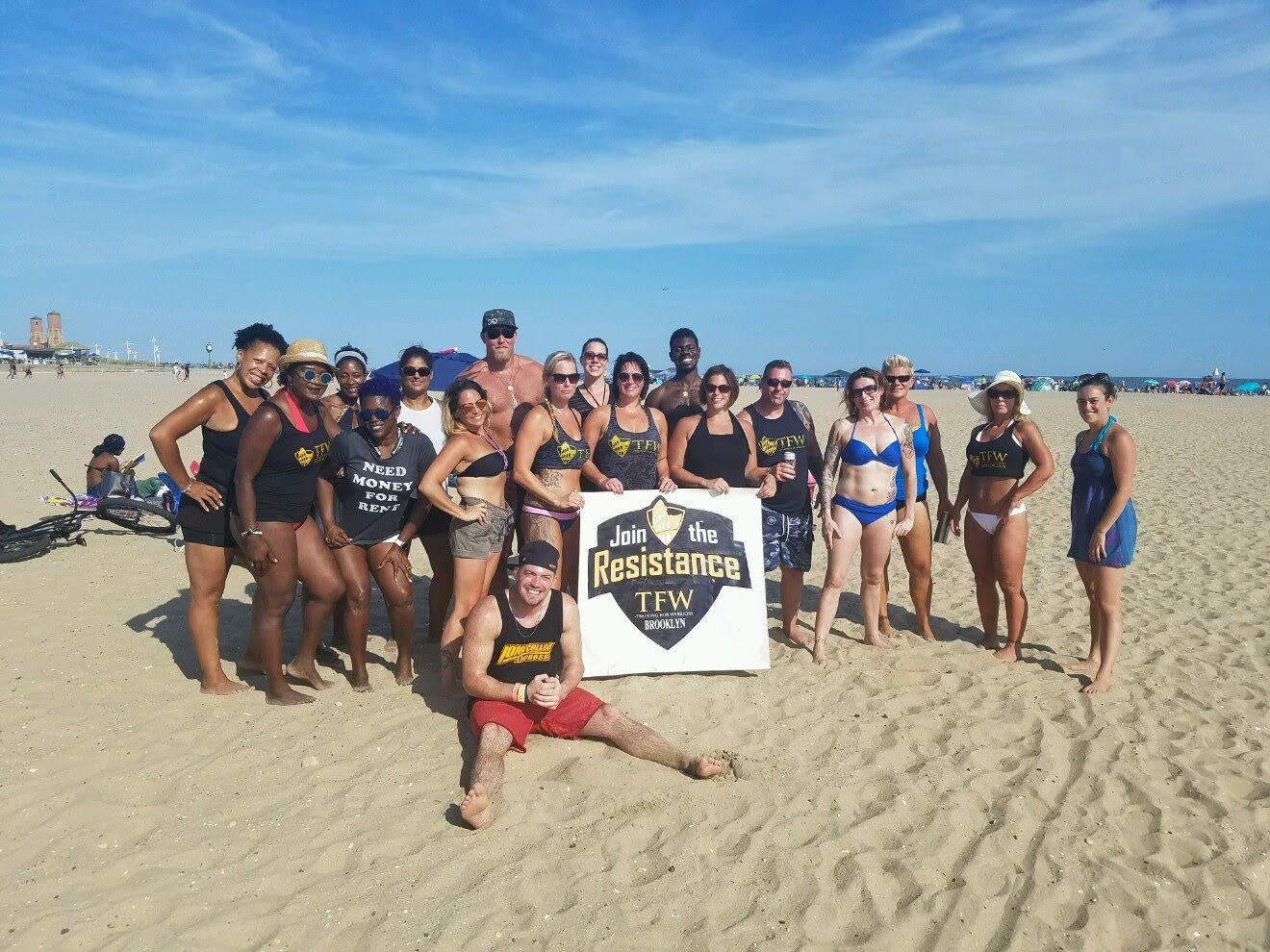 The Legacy
"The program has changed so many lives," says Cathy. "It's saved marriages. I have a whole family that comes. They talk about the gym at the dinner table,  and they're not work-out people."
Cathy's twenty-three-year-old daughter Meghan is training to become TFW certified, her son Thomas participates in fundraisers, and she's hoping to get her oldest, Kayla, who loves to spin, into strength training. "They all see what it can really do for people."
It's 10pm. I'm in bed, showered and spent.  Messenger chimes cheerfully on my iPhone. It's Cathy.
"Great job warrior!"
I smile, clench my fists, jab and hook the air a few times, then reply:
"?? "
Mention Bklyner when you contact TFW Brooklyn and get two metabolic sessions for the price of one (Tuesday, Wednesday or Saturday only.) Offer valid for seven consecutive days.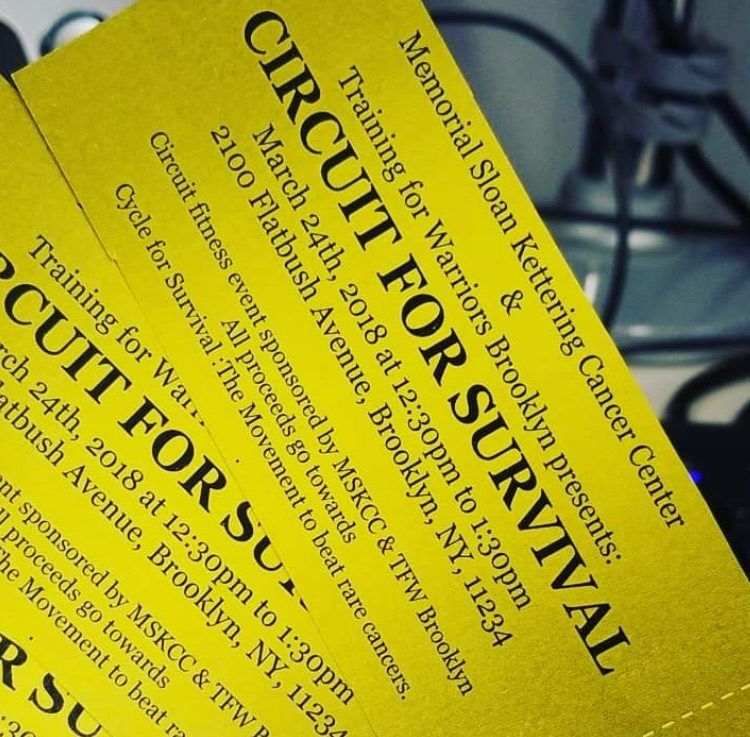 Please consider participating in TFW Brooklyn's next fundraiser class  to help cover travel expenses for TFW Huntington Beach affiliate owner Alicia's ongoing medical treatment in New York: Saturday, March 24th, 12:30-1:30pm $15 suggested donation.