Neighbor Amy Evans To Run New York City Marathon For Marriage Equality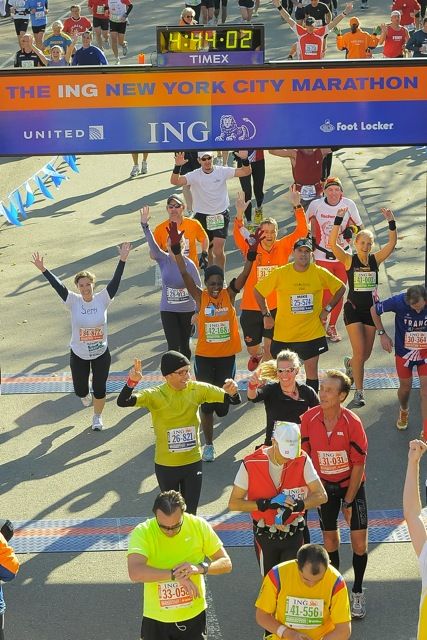 Local building blog 1701 Albemarle recently posted about neighbor Amy Evans, who will be running the 2013 ING New York City Marathon on November 3.
It won't be the first marathon or even the first one in New York for the teacher, writer, world traveler, and 18 month resident of Ditmas Park, but this year, she's doing it a little differently–for the first time, she'll be running to raise money for the Campaign for Southern Equality's We Do project. We asked Amy about her background, the importance of staying strong, and running a race that's meaningful to her.
You mentioned in 1701 Albemarle's post that you're from the South. Whereabouts, and when did you move to NYC/Ditmas Park? What about other places along the way?
I'm originally from Chapel Hill, North Carolina. My parents both worked at UNC, and I grew up hanging out on campus and going to Tarheel basketball games. It was a great place to grow up–very idyllic, but not completely detached from the outside world.
Chapel Hill, next to Asheville, is probably one of the most liberal towns in North Carolina, which made for a strange contradiction. While the rest of the state was out voting for Jesse Helms and attempting to ban abortion, Sonic Youth would be rocking the Cat's Cradle downtown and UNC students would be demonstrating against apartheid in South Africa. Those are the kinds of things I remember growing up.
I didn't go to school in Chapel Hill–I ended up at Oberlin College, which is where I began to think politically about the world and my place in it. After my undergrad, I moved to Berlin with no intention of coming back to the US; I spent about six years there and another year or so in London before finding my way to Brooklyn in 2004.
My first home was in Bedford Stuyvesant. Later I was lucky enough to land in a great co-op building on Albemarle Road and I've been living there for almost a year and a half.
What do you do when you're not running?
I'm a playwright by profession, so when I'm not running, I'm usually working on a piece-in-progress or starting something new. I've been working for many years on a play about Nina Simone, whose musical legacy means a lot to me; I've also recently completed a piece on biotechnology and its impact on the sporting industry.
Writing for theatre isn't exactly a huge money-maker, so I earn my bread teaching English as a Second Language at Fordham and NYU; I started teaching ESL in Berlin as a side-gig and after fifteen years in the classroom, I've finally started to feel as if I know what I'm doing! It's tough balancing everything, but it's fun and I get to be endlessly creative.
What appeals to you about running, especially in such grueling events? What other runs have you done? Were you raising funds during those as well?
I started running when I was in my mid-twenties following my father's cancer diagnosis. At the time it was a way of dealing with the stress, but after a while I found I really enjoyed it, plus I loved how it made me feel.
I remember going to the doctor once for a physical after I'd been running for a couple of years; the doctor put her stethoscope to my back to listen to my heart, and she literally jumped: "Whoa! You've got a strong heartbeat!" When she said that, I thought that's it–I want a strong heart, and if running will do that for me, then I'll keep running.
Maybe it had something to do with watching my dad getting weaker and weaker, but having a strong body had begun to mean a lot to me. I started doing longer and longer distances, and then once managed a 10K with a friend. After that 10K, I started to wonder if I could handle a half-marathon. And after that, the next natural step was a full marathon.
My first marathon I ran in 2009 in Berlin (04:37:27), which is a flat, fast course. At the time Berlin wasn't quite as popular as it is now, so it was easy to just sign up. New York seemed entirely out of reach because everyone wants to do it! But in 2011, the tenth anniversary of my father's death to blood cancer, I decided to raise money for the Multiple Myeloma Research Foundation and attempt the NY Marathon (04:09:24).
That was a great experience; people really came out of the woodwork and were extraordinarily supportive. I decided that as long as I wasn't racing competitively, I might as well try to raise money for charity and do some good. I qualified for this year's marathon through the New York Road Runners' 9 + 1 Program, but I still had the nagging feeling that I needed to be doing something with this opportunity to run.
Then, earlier this spring, I was visiting the CSE website and saw that another supporter had at one time run a marathon on their behalf. I thought, "Perfect! I'm on it," set up my fundraising page, and got started.
How did you initially get involved with the CSE? Why does the We Do campaign, in particular, resonate with you?
I became involved with the Campaign for Southern Equality a little over a year ago. Reverend Jasmine Beach-Ferrara, the executive director of the CSE, is an extraordinary activist and author (a collection of her fiction, called Damn Love, was published this summer). She is also a fellow Chapel Hillian; she and I first met in the sixth grade and remained friends through high school.
As long as I've known her, she's been politically engaged, so I wasn't entirely surprised when I opened the front of page of The Guardian online about a year ago and saw her name in an article about the passing of Amendment 1 in North Carolina banning same-sex unions.
At the time the CSE was gearing up for a series of actions called the We Do campaign; same-sex couples throughout the south have been applying for marriage licenses, knowing that they will be denied. The CSE records each action, and many are posted as videos on their website.
The CSE terms this approach "emphatic resistance": the sheer numbers and persistence of the activists involved illustrate not only the total absurdity of laws that separate people who are ready to commit to one another, but also the fact that these laws are not permanent; they can, and should, be changed.
One of the cases that impressed me the most is of Kurt and Jamie, who applied for a marriage license in the state of Mississippi this summer. They were denied, and the clerk kept explaining, herself close to tears, that she couldn't issue the license 'because of the law.'
The CSE believes that unjust laws hurt everyone – including those people who uphold them – and if we are able to recognize how much our collective humanity is invested in ensuring just laws, we will be inspired to become agents for constructive change and no longer allow ourselves to be beholden to acts of injustice simply "because of the law."
While there is still enormous work to be done in ensuring equal rights for the LGBT community in cities like New York, places like North Carolina and Mississippi are truly the belly of the beast. Mississippi came in last in the polls–rock-bottom last–among the fifty states with the lowest approval rating for same-sex marriage.
That means that targeting states like Mississippi and succeeding in transforming laws and attitudes in those states will have an enormous impact on the national discourse about not only same-sex marriage, but about achieving full rights of LGBT people under federal law. This is important to me because I want to see not only the South but the rest of the country change.
I see a strong connection between the challenges the CSE is facing and the continuing challenges of achieving racial equality and gender parity in this country; in my mind, these issues are all inextricably linked. And when the CSE does succeed–which I'm confident they will–I want to know that I contributed in some tiny way to their efforts.
When you watch the marathon, you see people running for all kinds of excellent causes: cancer research, children's charities, cures for degenerative illnesses. Many of these organizations secure scores of places in marathons and triathlons worldwide and will raise millions for their causes.
The CSE doesn't have that kind of glossy presence; it is a small non-profit compared to these huge foundations, doing unabashedly political work. So this time, when I tell people that every little bit helps, I really mean it–every little bit helps! Supporting the CSE is a chance to have a real impact on a very worthwhile cause.
To help Amy run the race that means the most, check out her fundraising page at the Campaign for Southern Equality.