Nazi Symbol Of Hate Was Drawn On RBG At Subway Station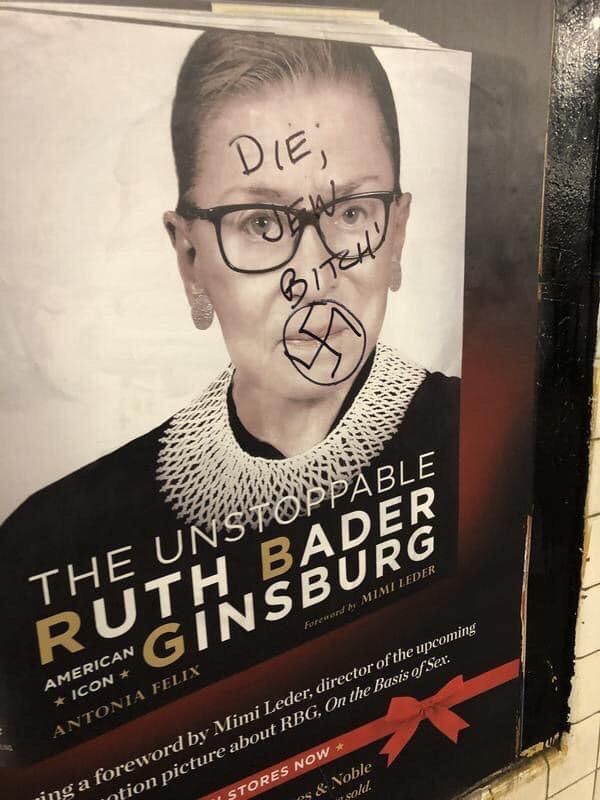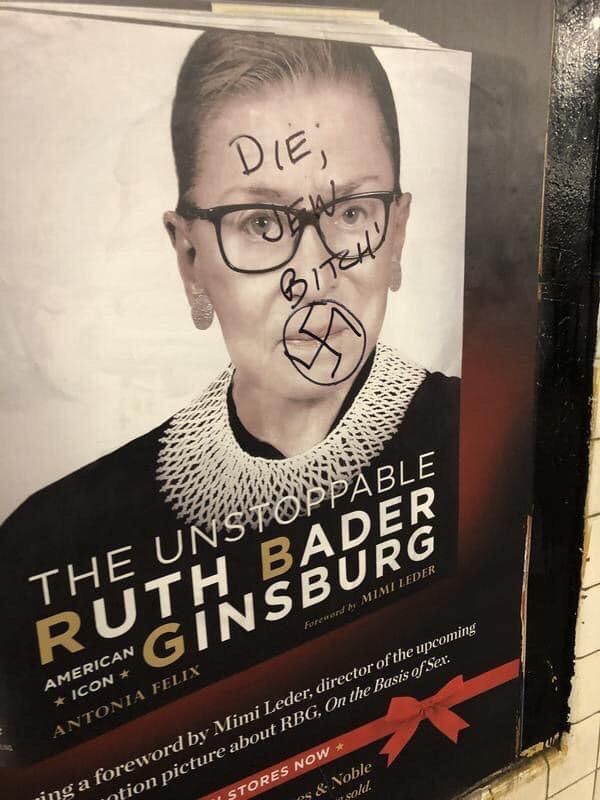 GREENPOINT – Repugnant words and a swastika were drawn over the face of Supreme Court Justice Ruth Bader Ginsburg on "The Unstoppable Ruth Bader Ginsburg: American Icon" book poster at a G Train subway stop.
Yesterday, a woman tweeted the image, which included the words "Die" "Jew" and "Bitch" along with the swastika. She said it was taken at the Nassau Avenue stop on the G Train. The woman did not want her Twitter linked, nor did she want to be named, but she called on City officials and said, "This desecration of the RBG's face with anti-Semitic graffiti found in the NYC Subway system – the city of acceptance and diversity, supposedly."
The MTA responded "We're terribly sorry your friend and our other customers at Nassau Av had to see this abhorrent vandalism. We have zero tolerance for hateful imagery anywhere in our system and will ensure that's removed as soon as NYPD personnel have concluded their investigation."
The NYPD tweeted that the Hate Crimes Task Force was looking into the anti-Semitic act. Mayor Bill de Blasio and Governor Andrew Cuomo also weighed in.
Today, the MTA updated that the graffiti was removed and said, "Again, we regret that our customers were exposed to this hate speech, and thank you for notifying us."
Borough President Eric Adams said the incident was "deeply painful" for the Greenpoint community.
"Hate graffiti targeting #RBG further incites anti-Semitic attacks. I urge the @MTA and @NYPDNews to search any footage available in/around the Nassau St. station to catch the perp of this horrific act," he tweeted.
Council Member Stephen Levin went to Twitter to say, "This is horrifying and unacceptable in our city — and RBG's hometown of Brooklyn. Thank you to @NYCTSubway for responding quickly to this situation."
"I have been in touch with @NYPDnews for action — We have a responsibility to track down this hate and root it out."
This is not an isolated incident in the borough. A few weeks ago, Nazi symbols of hate were drawn on playground equipment at the Brighton Beach Playground. On February 19, a Nazi symbol of hate was drawn on a pole at the Newkirk Subway Station. And let's not forget the two vandals that shattered the front window of the Chabad of Bushwick synagogue.
"This is despicable anti-Semitism targeting a very public Jewish figure," Chair of the NYC Jewish Caucus Chaim Deutsch said. "As Chair of the Jewish Caucus and as the representative of the neighborhood where RBG attended high school, I'm deeply disturbed by this shameful rhetoric. Anti-Semitism is on the rise in New York City, and we must call it out when we see it."