National Grid Restores 30% Of Service To Ocean Pkwy Customers, But 100 More Are Now Without Service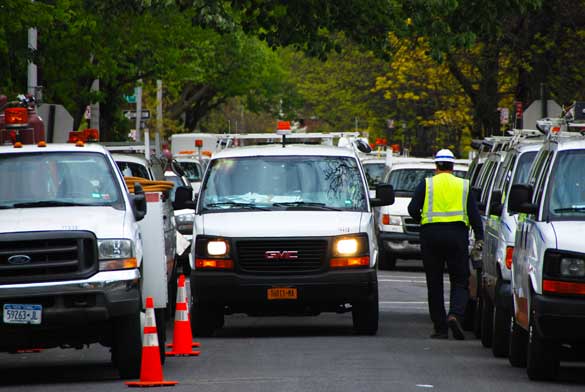 National Grid has resumed service to 30 percent of the Gravesend households that have been without natural gas since Tuesday, when a nearby water main leak caused gas lines to flood. But the company added that an additional 100 customers were impacted after water moved up the line into other parts of the neighborhood yesterday.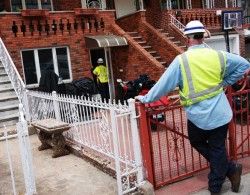 In all, 1,200 households are affected, and more than 350 customers are now back in service. That number was announced last night in a company press release, which also indicated that they expected to restore service to just under half of the affected residents by this morning.
"The cooperation and support of the Gravesend community has been incredible throughout this emergency outage and the restoration effort," said National Grid's Vice President of New York Gas Robert DeMarinis in the press release. "We located a mobile emergency operating center bus along Ocean Parkway and have been working directly with customers and community leaders from within the community. This unfortunate intrusion of water into the gas main has been an inconvenience for our customers, we will continue to do everything we can to restore service safely and as quickly as possible."
Natural gas service to the homes was snarled after a high-pressure water main leak on Ocean Parkway and Avenue U erupted on Tuesday. Thousands of gallons of water gushed into a 12-inch low-pressure National Grid gas main.
The majority of the customers live along Ocean Parkway, from Avenue U to Avenue Z, with additional homes affected on side and cross streets. Sheepshead Bites remains the only news outlet covering the crisis, which is affecting an estimated 3,000 to 5,000 people.
More than 300 National Grid crews have been working around the clock to pump water out of the pipes and resume service to homes. The teams dug more than 85 excavation sites throughout the neighborhood, deploying specialized cameras to detect water in the gas lines. So far, approximately 24,000 gallons of water have been removed from the system.
Once all the water is out, the workers must visit each one of the 1,200 affected homes to turn the gas back on and relight appliances. Residents must be home to answer doors so the teams can do this. If you have any doubt that the person is a National Grid employee, Sheepshead Bites reminds you to request identification.