Nathan's Famous Reopens (UPDATED)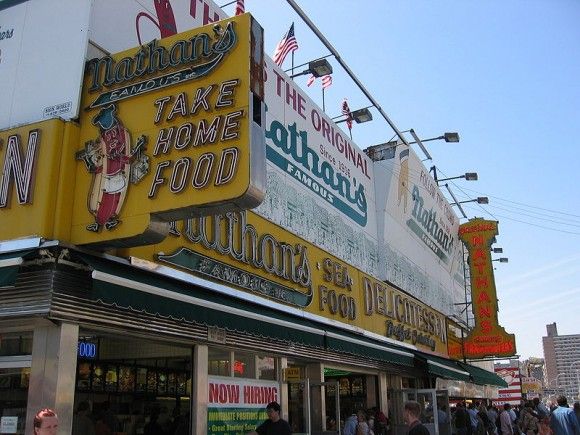 UPDATE (5/22/2013 @ 12:45 a.m.): It turns out that Nathan's famous opened for business the night before we posted this story on Monday, May 20, at 7 p.m., according to a CBS report. Hot dog mode, engaged!
Original Post
The iconic Nathan's Famous (1310 Surf Avenue) has faced a long and sometimes trying path to recovery. Weathering extensive flood damage following Superstorm Sandy and a small fire that broke out on its roof while being repaired, the famous wiener mecca is closer than ever to reopening, hoping to dole out dogs before Memorial Day.
NY1 is reporting that not only are the repairs on Nathan's almost complete, but that they have significantly upgraded their service counters and infrastructure. The changes include a redesigned interior space, a new clam bar that will be serving oysters for the first time in 30 years and an overall modern more modern look.
Nathan's also made the effort to protect themselves against future storms.
"We used to have all of our utilities in the basement, so we brought everything above flood line, so if something should happen again it won't knock us out completely," Bruce Miller, senior director of operations told NY1.
While lamenting that they couldn't recreate the location exactly as it once was, Miller promised that the new Nathan's is working hard at improving what they have.
"You can't go back to the way it used to be 50 years ago. You have to make everything current to code, so Nathan's took the opportunity to not only bring everything up to that level, but also to take an opportunity to provide a better service for our customers," Miller said.
People visiting Coney Island before the Surf Avenue Nathan's reopens can still grab a hot dog at their boardwalk spot, which was quickly rebuilt following the storm.