Nargis Cafe: Pumpkin-Stuffed Manti – The Bite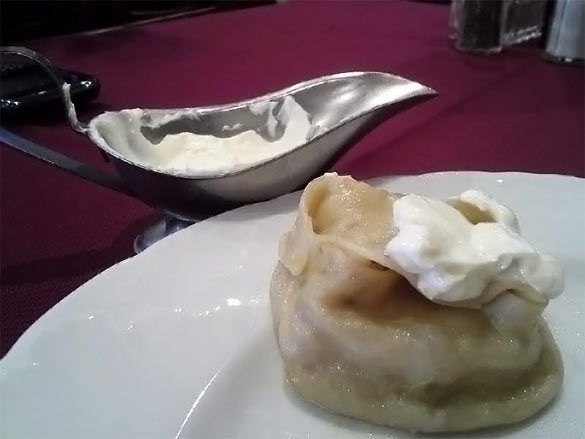 THE BITE: The heat wave broke and temperatures dipped to a chilly low 80s earlier this week, so yesterday I figured, "Hey, fall is here, let's get a taste of it." Judging by today's weather, I was clearly a day off.
What flavor is more autumnal than some spiced pumpkin? Not much. So it was with delight that I sat down at the newly renovated and expanded Nargis Cafe (2818 Coney Island Avenue) and saw a new offering on their specials menu: pumpkin manti. For $7.00 you get four manti stuffed with pumpkin filling, either fried or steamed, and with a side of sour cream.
For those unfamiliar with Uzbek food, manti is essentially a big, fat dumpling. Although it's also found on Turkish, Armenian and other Central Asian menus, the Uzbek variety is usually stuffed with savory lamb or ground beef and wrapped in dough. Believed to have spread across the region by migrating Mongols, manti remains popular in the former states of the Soviet Union – so of course it's a prominent dish at many Sheepshead Bay area restaurants.
Nargis Cafe's pumpkin manti is a departure from the traditional, but blends two other items on their menu – their lamb manti and their pumpkin samsa, both of which are offered year round.
The tender, perfectly steamed lumps arrived on my table with a generous side of fresh sour cream. After smearing a dollop on top, I attempted to eat it as I eat most Asian dumplings: in one big bite, shoving it wholesale into my facehole.
These, folks, are way too big for that. It ended up being three forkfuls or so a piece, stuffed as they are with chunks of pumpkin and minced onion. The two appear to have simmered together over a slow heat, bringing out each of their flavors, and what tasted like a perfect balance of cumin offset any overt sweetness. A touch of fresh black pepper gave it a nice kick and reignited each of three dominant flavors, one by one, as it slid to the back of the throat.
Pumpkin manti didn't last long on my plate, and even though I had four more dishes coming, I found myself spending the rest of my meal longing for another taste.
We hope this becomes a regular item on Nargis' menu so I can get a little reminder of fall all year long. Oh, and it pairs well with another delightful find at Nargis: a grapefruit-flavored Hefeweizen beer they keep on tap, and of which I keep trying to get a growler filled. Cheers! (Or, as an Uzbek might say, Sog'lik uchun!)
Nargis Cafe, 2818 Coney Island Avenue, (718) 872-7888.
The Bite is Sheepshead Bites' weekly column where we explore the foodstuffs of Sheepshead Bay. Each week we check out a different offering from one of the many restaurants, delis, food carts, bakeries, butchers, fishmongers  or grocers in our neighborhood. If it's edible, we'll take a bite.