Nadler Wants To Lower Taxes For Residents Of Big Cities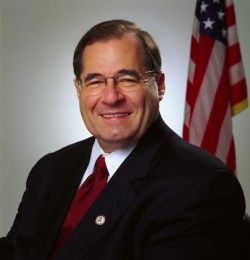 Yesterday was tax day, so Congressmembers Jerrold Nadler, Nita Lowery and Steve Israel used the occasion to announce the re-introduction of the Tax Equity Act, a piece of legislation that would adjust federal tax brackets to reflect the actual cost of living in major American cities, according to a press release.
The argument for the bill comes from the notion that the cost of living in a major metropolitan city is much higher than the cost of living elsewhere. From soaring rents, steadily rising transportation costs, high car insurance premiums and even the cost of a beer, New Yorkers are well acquainted with the reality of the high price of living in a huge urban environment.
Still, despite the extra cost needed for basic necessities like housing, food and transportation, residents of big cities like New York still pay the same tax rates as someone who is living in the middle of nowhere, where things are much cheaper.
Nadler stressed the unfairness of this reality in his remarks on the need for the bill.
"It is common knowledge that a dollar in New York buys you less than a dollar elsewhere," said Nadler.  "The Tax Equity Act is a practical approach to making tax burdens more fair, based on the actual local costs of living in New York, Houston, Miami, or wherever.  The goal is simply to ensure that hard-working New Yorkers and others – the vast majority of whom are not wealthy – are treated fairly by the income tax system."