Myrtle Avenue Businesses Need Our Support During The Plaza Construction Period
You may have noticed that Myrtle Avenue traffic between Washington and Classon Avenues is moving more slowly today. That's because eastbound traffic was halted today — and will remain stopped through July — in order to allow construction crews to work full steam ahead on the Myrtle Avenue Pedestrian Plaza.
The impact might take some getting used to, not only for bus riders (eastbound B54 bus service is being rerouted) and drivers, but also for the business owners who occupy the six-block stretch of Myrtle that is affected.
There are two things that will hopefully ensure that customers continue to shop at these local businesses: (1) the fact that westbound B54 service and vehicle traffic remains open and (2) a new shopping and eating campaign by the local merchants group, the Myrtle Avenue Brooklyn Partnership (MARP).
"We want to lessen the impact that construction has on our business community and ensure that all of our businesses are around to enjoy the finished Myrtle Avenue Plaza," explained Meredith Phillips Almeida, executive director of MARP. "Many of our businesses have served the neighborhood for decades. To this end, we are launching a marketing campaign we hope will help draw more foot traffic to the area, especially when the construction begins."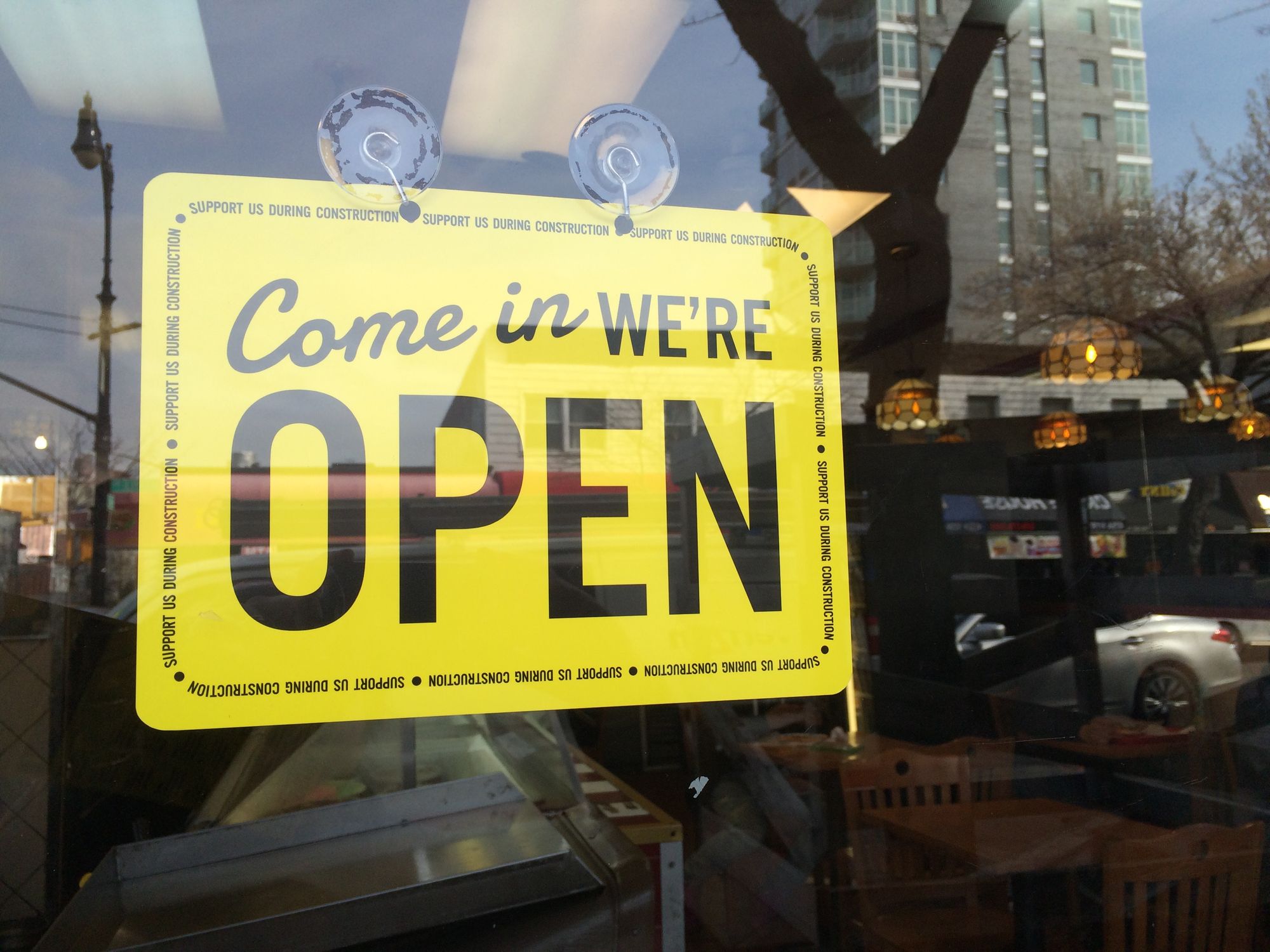 The campaign is titled "EAT DRINK SHOP [HERE]" and features bright yellow signage that will feature prominently in doors and windows of affected local businesses, such as Liberty Pizza, Brewklyn Grind, Corkscrew Wines, Soco, Emerson Bar, Bergen Bagel on Myrtle, Wray's, The Joint, Moving With Grace, and Castro's — 70 businesses will be participating.
In addition to the signs, there will also be yellow street sandwich boards with rack cards listing shopping and eating info, plus drink coasters and coffee cup sleeves.
"We hope that all of these pieces will remind residents and shoppers the importance of their support to local businesses during this critical construction phase," said Almeida.
Of course, there will also be deals. A "Tasty Tuesdays" promotion will be offered at many businesses; deals include two tacos for $10 at Castro's, $1 PBRs at the Emerson Bar, and 10% off lunch orders at Soco. A bar crawl is in the works and construction workers are encouraged to frequent local businesses that offer "Hard Hat Specials."
Ultimately, it comes down to us, though. Pick your favorite business(es) "to support consistently until the end of construction" and make a point of stopping into as many restaurants and salons and stores as you can shop at over the next few months.
And as MARP notes, "order food by phone instead of using online services" like GrubHub or Seamless because that will ensure they keep as much of the profit as possible, instead of having to pay out between 12.5-20 percent of sales to the online delivery services. "Ordering by phone helps keep all of your money in the neighborhood and fully supports our independently owned restaurants," they wrote in a statement.