Muslim Woman Waiting 58 Months For Oath Ceremony That Was Scheduled And Then Canceled For Reasons Unknown
DITMAS PARK – A Brooklyn woman has been waiting for her naturalization ceremony for about five years. It was scheduled and then canceled, with no reason provided. Now, her attorney and the Council on American-Islamic Relations-NY (CAIR-NY)— the most prominent Muslim civil rights advocacy group– are suing the Department of Homeland Security and the United States Citizenship and Immigration Services (USCIS).
Rudina Cinari, 34, is a Muslim woman who immigrated to America from Albania in 2009, and currently lives in Ditmas Park. Back in 2009, Cinari decided to enter the Green Card lottery – just for fun, as her friends had been trying for years. A few months later, she got a response in the mail telling her she was selected.
"I had never been away from my family, at least not in another country. I was scared and happy at the same time," Cinari told Bklyner. Her husband was already in America on a student's visa.
"Here is where we created our family, where we started everything. Here is where we matured and had our two children," she said about America. "Here is where I was free to cover my head and at the same time not fear to be rejected out of discrimination. Here is where I started feeling home."
On July 1, 2014, she filed a naturalization application, as she had satisfied all the requirements for becoming a naturalized citizen. On November 17, 2014, the USCIS conducted Cinari's naturalization interview. At the interview, she was told that she passed her examination and should wait for a letter in the mail regarding her naturalization oath ceremony.
"The Oath of Allegiance to the United States is a sworn declaration that every citizenship applicant must recite during a formal ceremony in order to become a naturalized American citizen."
Around November 21, 2014, Cinari received a letter in the mail informing her that her oath ceremony was scheduled for December 17, 2014. Cinari was ecstatic. But, on November 24, 2014, she received another letter in the mail from USCIS informing her that her oath ceremony was canceled due to "unforeseen circumstances."
"This whole process makes me feel anxious," Cinari said. "Coming from a post-communist country where we never questioned why. I feel I never learned how to stand up for myself. I regret now not doing something about this earlier. Getting that letter had my whole family in tears. Not knowing why it was canceled had me feel unwelcomed. I felt anxious thinking and overthinking why was I never being rescheduled."
"What was it that I had done wrong? I had been giving back to my community, trying to be a good neighbor, and trying to be a good mother," Cinari asked.
Ahmed Mohamed, the Litigation Director at CAIR-NY, told Bklyner that Cinari immediately reached out to USCIS requesting reasons and answers regarding the cancelation. She was told to call back in six months. In six months, she called back and was told the same thing. They also told her that they were conducting "security checks." But according to Mohamed, that makes no sense.
"The important thing to note is that before an individual can be scheduled for the oath ceremony, a background check must already have been done and approved," Mohamed said. "Since she had gotten the letter with her oath ceremony scheduled, that means her background and security checks were all approved. You don't schedule an oath ceremony, which is a formal process, and then conduct a background check."
"It seems like they just reopened her application and decided they were going to do the process over again and not tell us anything," he said.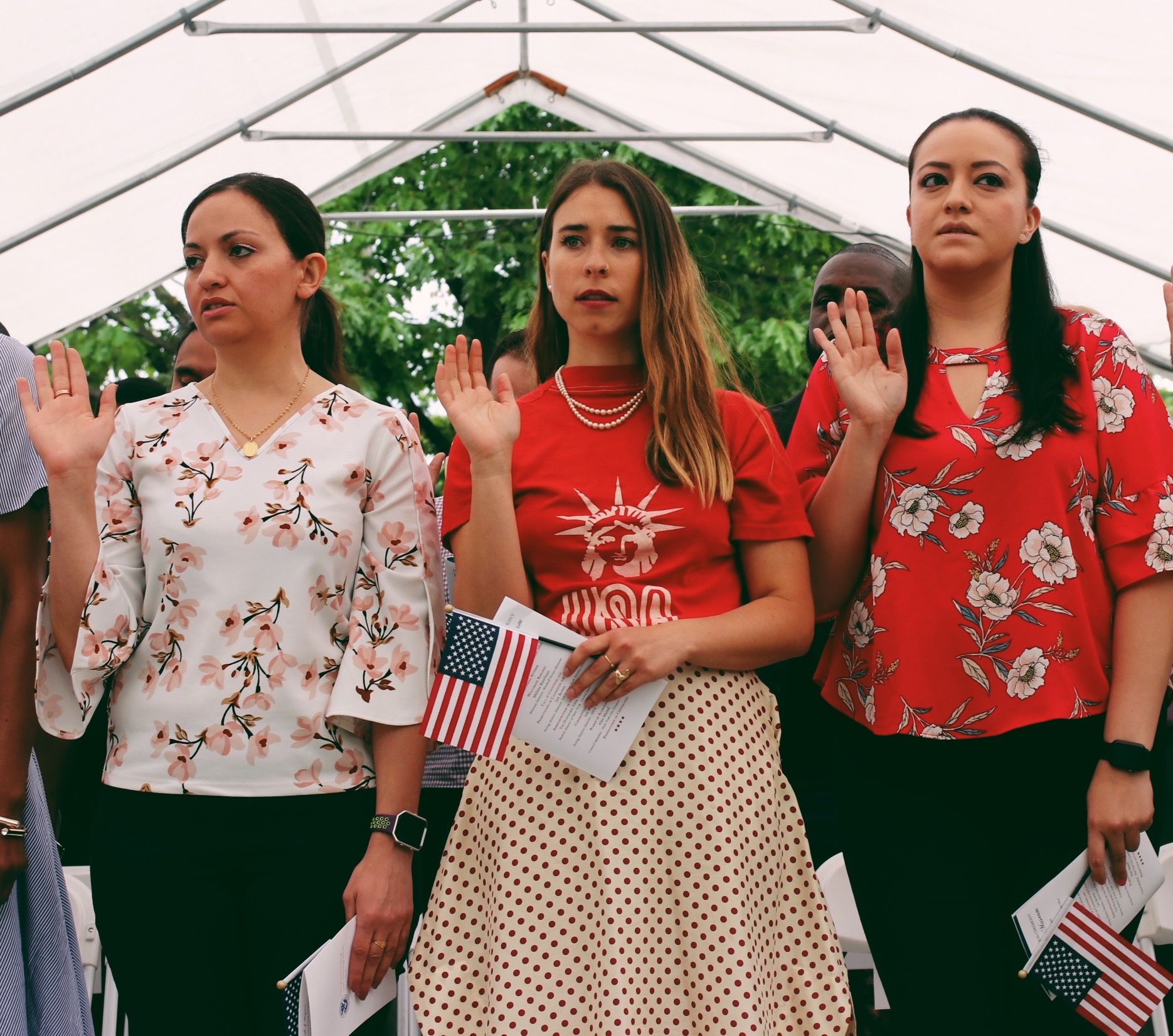 Fifty-eight months have passed and Cinari's oath ceremony has still not been scheduled. Mohamed explained that this type of delay is extremely long and unheard of. Often times, people's applications are halted because of reasons like sending money to their mothers in Yemen. To re-open an application, the law requires the USCIS to notify the person along with the reasons. Neither took place in Cinari's case.
"If it just so happened that information was brought up to their attention after they granted application, they can't use that information," Mohamed explained. "In this case, none of the steps were followed, and she was provided no reasons. The last official step that was taken was to grant her application."
Mohamed said that delays for naturalization applications have been happening for many years.
"It's staggering. It's an unfair process and shows how difficult the naturalization process is, especially to Muslim Americans who are more likely to be individuals who are traveling to the Middle East, to Asia, where the government might consider them to be security concerns."
Attorney Mohammad Saleem agreed and said, "Unreasonable delays occur too often to our Muslim clients, and we do not hesitate to hold USCIS accountable for their flagrant abuse of the naturalization process."
But a 1,764-day delay is uncalled for. Cinari is not able to access the privileges that come with being a citizen; the biggest one being voting.
"On Election Day I would see people wearing their 'I voted' sticker and I [wondered] when will my voice make a difference?" Cinari asked. "When will I be able to walk in the streets of NYC and have that sticker?"
This is all why CAIR-NY and Davis, Ndanusa, Ikhlas & Saleem LLP are suing the USCIS. Based on the lawsuit, the government will have about two to three months to respond. Otherwise, the parties will ask the court to make a decision and issue an order compelling the USCIS to schedule the oath ceremony.
"A 58-month delay in re-scheduling an oath ceremony is preposterous and represents an egregious abuse of power by USCIS," Mohamed said. "This case is a representation of what is wrong with our naturalization process and is only a sample of the issues faced by Muslim Americans when seeking to become U.S. citizens. Ms. Cinari has been unjustly deprived of her rights and the benefits that come with being a U.S. citizen. She dreams of one day casting a ballot in an election, and we intend on making that a reality."