Muni-Meter Installations Throughout Gravesend, Sheepshead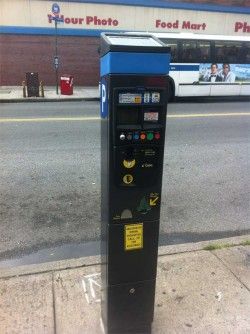 Reader Randy Contello tipped us off after he noticed several bases of muni-meter parking spots installed last week on Avenue U from East 16th Street to East 21st Street.
Now, the muni-meters are fully installed and running.
The new meters are part of the Department of Transportation's plan of replacing all single-space meters throughout the city with the muni-meters.
The installation work for our area includes the following locations:
Avenue U from Ocean Parkway to Gerritsen Avenue
Coney Island Avenue from Avenue Z to Hutchinson Court
Nostrand Avenue from Avenue U to Kings Highway
Sections of East 12th to East 29th Streets, Haring Street, Desmond Court, Dunne Court, Avenue Z, and Gravesend Neck Road
The work is set to be completed in December.
The DOT states that, "Muni-meters have several advantages over single-space parking meters, include the convenience of a pay-and-display system, the reduction of unnecessary sidewalk encumbrances, and additional capacity for parked cars in the same curb space." Whether or not this helps or hurts businesses is debatable.
"Yay for hell coming to the area with the start of muni-meters," says Contello.
Recently, local pols introduced a bill that would enabled muni-meter parking have payment roll-over ability. No word yet on the bill's passing.
UPDATE (5:37 p.m.): Randy informs us that it's only the north side of Avenue U that currently has operating muni-meters. The south side has spray-painted marks indicating the locations for installation. Fill us in and let us know about progress at the other locations listed above!