Much Ado, Nothing Changes – Kings County Democratic Committee put on a show last night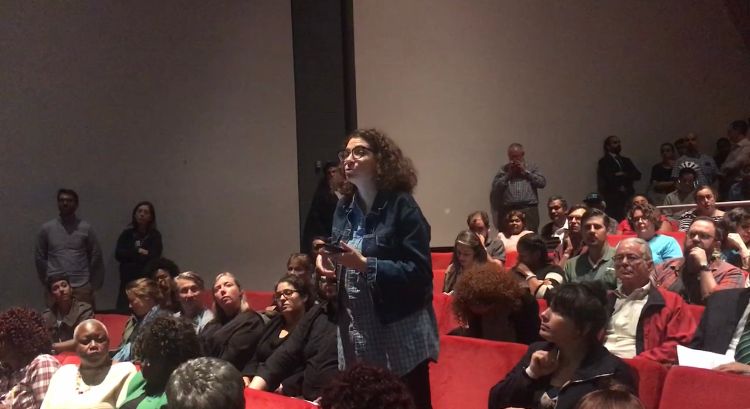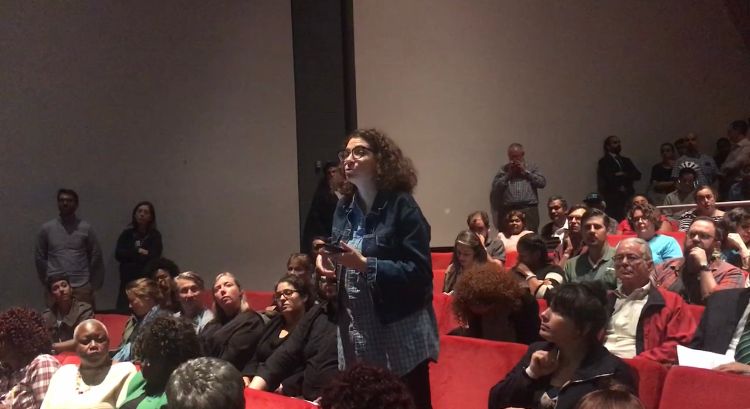 Hundreds of people showed up to see "democracy in action" Thursday night at the Democratic Kings County Committee meeting but instead left more confused and with the same old, same old, including the re-election of County Chair Frank Seddio.
For more than a year, the reform coalition worked to end "backroom" policy making and an exclusionary voting process. Their efforts resulted in an unprecedented showing of proxy holders, press and spectators at the 2018-2019 Kings County Committee meeting.
In the end, the spectacle at the Performing Center at Kingsborough Community College showed just how little the establishment of the Kings County Democratic Party has been affected by the change taking place in the Democratic Party.
"We wanted people to be clear about who they should be voting for," said Jessica Thurston, Director of Communications for New Kings Democrats.
"With our coalition partners — other progressive reformers in Brooklyn — we wanted to present new, non-District Leader candidates for the 13 Officer positions of the Executive Committee. Even though that vote was stopped by County, we are proud to have made the point that these positions should be open and debated by the full membership."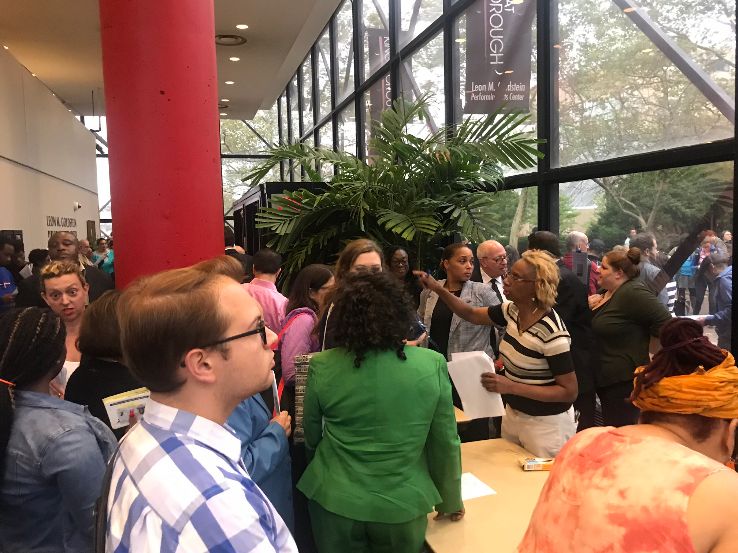 County Committee members vote on judicial and special election nominations and ultimately the executive chair and committee, which dating back to Tammany Hall, has been known to wield great power in some of the most crucial county-wide political decisions.
Seddio presented more than 500 proxies (a number which changed throughout the evening) to The Reform Coalition's 130. There were 1,370 people in attendance by person or by proxy, according to meeting chair Martin Connor. None of the information, however, is listed on the Brooklyn Democratic Party's website – how many members, how many proxies and no one counted the number of people present, one of the questionable practices upheld by the Kings County Democratic Party.
Here are some more of those practices that sparked the mayhem in Thursday's meeting:
While committee members made motions from the floor, floor microphones weren't provided at the meeting.
The meeting chair — on more than one occasion — announced an inconsistent vote count.
Judicial nominations held behind a curtain while several hundred people waited in an auditorium for the results.
No candidates for the executive committee were allowed to address the audience.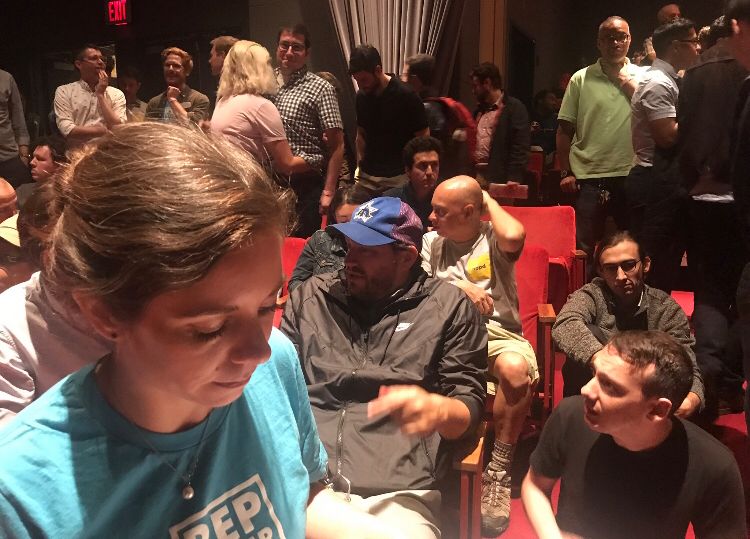 No matter the outcome, both establishment and reform Dems were pleased with the large turnout and interest in what has been in the past a process overlooked by the general public.
"It's Democracy in action," Joe Bova told Bklyner about the large turnout at this year's meeting "Fifty years ago this was me," he said, adding that Democrats should never lose sight of the ultimate goal to win against Republicans.
The meeting first went off the rails when Lewis Fiddler made a motion, from the floor, to support a credentials committee which determines who is eligible to vote — a normal practice in Robert's Rules parliamentary procedure.
Many in the 700-seat auditorium did not hear the motion and yelled for clarity. Meeting Chair Connor then went on to give a stern warning as to why committee members could not vote more than once — seemingly misinterpreting the audience's request.
On a less combative note, Assemblyman Robert Carroll drove a burst of cheers when he proposed two amendments, one of which included that the proxy cards state that committee members are giving up their voting power and can rescind them via another proxy or by appearing in person and that the member can dictate how the proxy can be used.
The second measure proposed by Carroll would require County Committee members to authorize their proxies only to members within their respective district.
It is common for proxy holders to authorize Democratic Party King, Seddio, to vote their proxy.
What seemed to be a brief moment of victory was followed by a fiery speech from Assemblyman Charles Barron who — in his verbal bashing of Seddio and the County Committee's meeting procedures — said he and his wife City Councilwoman Inez Barron would not be participating in the evening's "sham of a democracy".
"How can we sit here today with 500-some-odd of you sitting here and Frank Seddio is sitting with more proxies than there are people here," he said to a crowd which cheered in support. "You might as well go home."
"We cannot allow a process to go forward where one person has more votes than everybody sitting up here," Barron added.
His remarks were also met with jeers from District Leader David Schwartz, who screamed that Barron is an anti-Semite repeatedly from the back of the room.
The final resolution of the night came as Connors made a motion to adjourn the County Committee meeting and have the new — but not-so-new — executive committee vote on the executive board.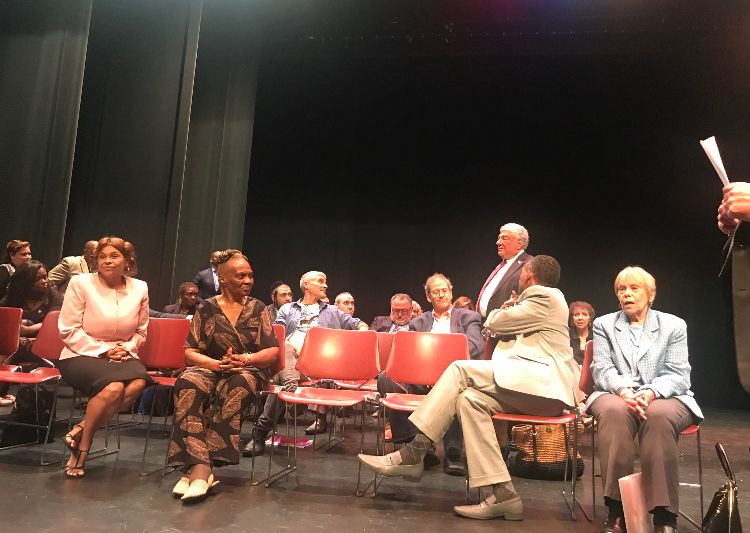 The Democratic Executive Committee and Officers for the 2018-2019 are as follows:
Chair of Exec Committee – Frank Seddio
Vice Chair of Exec Committee – Annette Robinson
Secretary of Exec Committee – Arelis Martinez
Officers:
Chair – Joe Bova
1st Vice Chair – Dilia Schack
2nd vice chair – Melba Brown
3rd vice chair – Josh Skaller
4th vice chair – Felix Ortiz
5th vice chair – Lori Citron Knipel
6th vice chair – Darma Diaz
Secretary – Shirley Patterson
1st asst secretary – Nancy Tong
2nd asst secretary – Rodneyse Bichotte
Treasurer – Darlene Mealy
Asst Treasurer – Sue Ann Partnow
Sgt at Arms – Anthony Jones
In all, very little change.