MTA To Study Verrazano Bike Path Option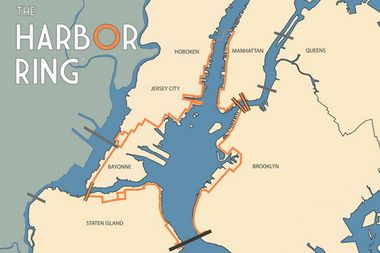 New York City bicycling enthusiasts have for years dreamed of creating a "harbor ring" that would link parts of New York and parts of New Jersey with an interconnected bike path. So far, there is a way to bike through Manhattan, Hoboken, Jersey City, Bayonne and Staten Island, but the trail runs dead at the Verrazano-Narrows Bridge. Recently, we reported on a petition that would seek to turn allow bike access on the Verrazano and now the MTA has responded that some day in the future they might allow for a bike path on the bridge, according to a report by SI Live.
The petition at harborring.org hopes to link their 50-mile bike path on the year of the Verrazano's 50th anniversary coming up in 2014. While there are no plans to develop a path anytime soon, MTA spokesperson Judi Glave said that a study will be conducted on the proposed plan.
"The inclusion of a bicycle/pedestrian path at the Verrazano-Narrows is not part of the current capital plan," SI Live reported Glave saying. "A feasibility study, addressing a host of issues including cost, structural issues, operational issues and impact on the surrounding neighborhoods would have to be conducted."
If and when this study gets completed will probably be past the Verrazano's 50th anniversary date. Still, for bicycle lovers long dreaming of blazing an interconnected trail around the city, this is welcome news.