MTA Caught With Their Pants Down: Part I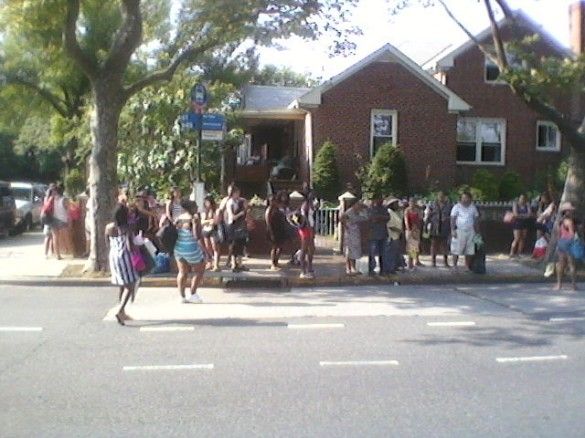 THE COMMUTE: Regular readers of this column know that my favorite subject is bus service, especially in Brooklyn. I particularly like to focus on subjects that virtually no one else pays attention to such as service to the area's beaches. I've written about this subject several times before. Having ridden the B49 since the 1960s to go to Manhattan Beach, and constantly witnessing service irregularities dating back to then, I first attempted to get the MTA to pay attention to this problem in 1982 when I was director of the Brooklyn Transit Service Sufficiency Study, since irregular or poor service not only affects beachgoers, but it disrupts service along the entire route for all passengers.
Historical Perspective
Beach service is much improved today than it was in 1981 when I documented 90-minute waits on the B49 in front of El Greco. Bus after bus would not stop because they were packed with beachgoers. At that time, the MTA had no idea at all as to how many of its passengers used buses to access the beaches, and the grossly inadequate service reflected that. Passenger data was primarily collected for rush hours and midday weekdays only, with much it being fictitious. Dispatchers recorded times buses were supposed to arrive, instead of actual times, to make it appear they were doing a good job. They also were hesitant to get drivers in trouble for violating rules since they themselves had been promoted from that title and were friendly with their former co-workers. Some of that changed in 1985 when NYCT President David Gunn hired part-time traffic checkers to provide regular passenger counts on all routes to better match service to demand.
Beach Service On The B1 And B49 Today
The Manhattan Beach Community Group and Manhattan Beach Neighborhood Association both started paying attention to bus service in 2010 when a sudden spring thunderstorm left thousands stranded on the beach on Memorial Day, and after gunshots and a killing on Brighton Beach caused the police to direct beachgoers to Manhattan Beach, severely overloading it. Those groups' main concerns were that the MTA get the visitors out of their neighborhood in the quickest manner possible. The MTA made assurances that they would address the situation.
It was no secret that last Wednesday and Thursday's temperatures would reach the mid- to upper- 90s. The weather forecasters were predicting it for days. Years ago, the MTA would listen to the weather predictions and schedule extra beach service on routes serving the beaches on very hot days, in addition to the already beefed up summer schedules for beach routes. Today, most beach routes receive the same amount of service whether the temperature is in the 60s and raining or if it is sunny and near 100 degrees. Extra service is no longer provided, except for Orchard Beach in the Bronx and Riis Park, because the base service is higher and the emphasis today is on minimizing overtime. Although 90-minute waits are a thing of the past, 30- to 45-minute waits are still quite common, since the emphasis is not to provide reliable and adequate service.
Providing the same level of service, regardless of the weather, delays everyone. The higher demand on beach routes on extra hot days plays havoc with service reliability, as I witnessed on Thursday. After spending a few relaxing hours at Manhattan Beach, I noticed a large crowd forming for the B1 and B49 buses at Falmouth Street at 5:00 p.m. (see photo above). There were about 30 people waiting, which meant that another 40 were waiting at Hastings Street and Jaffrey Street, combined. I was curious to see when the next bus would arrive so I waited. What I saw was so appalling, I stayed until 6:45 p.m., after first quickly going home to change and shower.
Passengers routinely waited 20 minutes for a bus with some waits exceeding 35 minutes. At Falmouth Street, they waited from 5:58 p.m. to 6:25 p.m. for the B1 and from 4:50 p.m. to 5:22 p.m. and again from 6:10 p.m. to 6:45 p.m. for the B49. The average B1 wait between 5:00 p.m. and 6:45 p.m. was eight and a quarter minutes, although the schedule calls for a bus every four minutes. The average B49 wait was 10.39 minutes, when the schedule calls for an average wait of four and a half minutes.
This was not a weekend, but a weekday rush hour, in which buses are supposed to operate every 10 minutes, or more frequently, on each route. On the B1 from about 5:11 p.m. to 5:31 p.m., buses are scheduled to arrive at Falmouth Street every five minutes. Two B1 buses arrived at 5:10 p.m. and the 5:16 p.m. and 5:21 p.m. buses were exactly on time. That's where the good news ends. The 5:26 p.m. bus was 15 minutes late and arrived at 5:41 p.m. Then one B1 bus arrived at 5:49 p.m., and two more at 5:51 p.m.
Now I was getting curious, because last week I wrote that B3s were arriving and leaving from the first stop at Ulmer Park Depot already bunched together, and chastised the MTA for not having a dispatcher on duty. So I decided to walk to the first stop of the B1 and B49 outside Kingsborough College to see if a dispatcher was stationed there. There, indeed, was one and buses were still leaving the terminal bunched, not on one but on three occasions during the hour and three quarters I was watching them. I couldn't speak to him because every time I checked, he was on his radio.
What Was Causing The Problems
Most bus delays are due to traffic conditions beyond the MTA's control. However, from what I could determine, the Thursday delays on the B1 and B49 were caused by poor scheduling, poor dispatching and excessive passenger loads — all within the control of the MTA. The B1 is scheduled to travel from Kingsborough College to the Brighton Beach subway station in seven minutes. The B49 is scheduled to travel to Sheepshead Bay Road and Emmons Avenue in six minutes. Those times are quite adequate when patronage is light. However, when students are exiting from the college, five minutes could be spent just loading the college students, so how could the buses arrive at their next time point in only one or two minutes? Clearly, it is not possible. Taking five minutes to pick up a full busload of passengers would already make them five minutes late.
Similarly, on heavy beach days, such as Wednesday and Thursday of last week, buses can easily use up five or six minutes just to pick up beach goers returning from the beach. When that happens it is not possible for the bus operator to make the next time point despite his or her best attempt. Once the bus is five minutes late, right off the bat, it easily loses another five slowing down to pick up additional passengers, or bypasses stops altogether, slowing down the following bus. If no corrective action is taken, and it seems little was taken, excessive waits are unavoidable.
Witness what happened with bus #5188 on the B49. It left the Mackenzie Street Terminal at 6:40 p.m. but did not arrive at Falmouth Street until 6:45 p.m. because it had to first spend several minutes picking up passengers at Jaffrey Street and Hastings Street. It left Falmouth at 6:46 p.m. — the time it was due at Sheepshead Bay Road and Emmons Avenue. The two buses before it were missing, and the B49 just ahead of it, bus # 4596, left Mackenzie Terminal "Not in Service" at 6:35 p.m. That meant that Falmouth Street passengers waited 35 minutes for a bus.
I was able to walk the distance from the terminal to Falmouth Street faster than the bus. When it finally pulled out of Falmouth, 36 standees, or more than 75 passengers, were aboard.
Most likely, it did not stop again until it reached the train station, and that would mean that passengers waiting at West End Avenue and beyond had to wait even longer for a bus — perhaps longer than 45 minutes, instead of the 10 minutes scheduled!
Tomorrow: Other irregularities I witnessed and why the MTA was caught with their pants down.
The Commute is a weekly feature highlighting news and information about the city's mass transit system and transportation infrastructure. It is written by Allan Rosen, a Manhattan Beach resident and former Director of MTA/NYC Transit Bus Planning (1981).
Disclaimer: The above is an opinion column and may not represent the thoughts or position of Sheepshead Bites. Based upon their expertise in their respective fields, our columnists are responsible for fact-checking their own work, and their submissions are edited only for length, grammar and clarity. If you would like to submit an opinion piece or become a regularly featured contributor, please e-mail nberke [at] sheepsheadbites [dot] com.