Mother, Daughter Stabbed To Death On East 13th Street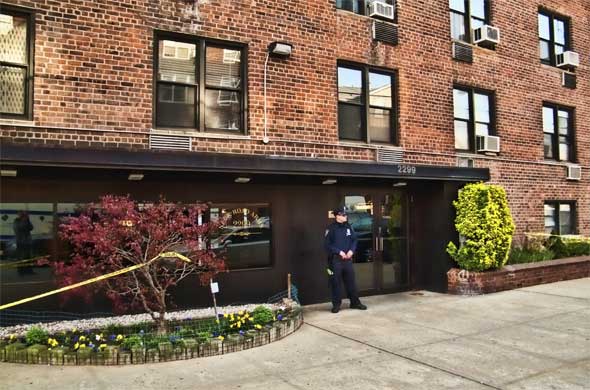 Originally posted: 9:30 a.m.
Last updated: 9:50 a.m.
Police stumbled upon the grisly murder scene of a mother and daughter late last night, both having suffered multiple stab wounds to the face and torso.
Early reports of the incident say officers were following up on a report of a missing 27-year-old woman on Sunday, and they discovered the double homicide when they visited her home. Both Larisa Prikhodko, 27, and her mom Tatyana Prikhodko, 56, lay slain in the apartment at 2299 East 13th Street, just off of Gravesend Neck Road. One of the victims was found near the front door, and the other in a bedroom, the Daily News reports.
Police cordoned off the apartment and began canvassing the area. One neighbor told the New York Post that, shortly after midnight, the superintendant knocked on her door and told her to stay in her apartment.
"I see so many policemen and detectives here," the woman told the Post. "It must be something bad."
Although it's not clear how long the two have been dead, the missing persons report appears to have come from someone who was supposed to meet the younger woman Sunday evening. She didn't show up, leading to the report, according to the Daily News.
Larisa had a 2-year-old son and worked as a nurse or nurse's assistant.
"She was living with her mom and they weren't sending the son to day care because they took turns caring for him," a neighbor told the Daily News. "They always went to the playground. The baby was well taken care of."
Police have not yet made any indication that they have a suspect in the case, and noted that there was no sign of forced entry.
These account for the fifth and sixth murders in the first four months of 2011, up from zero last year.