Mosque Plans Approved, Construction To Begin Soon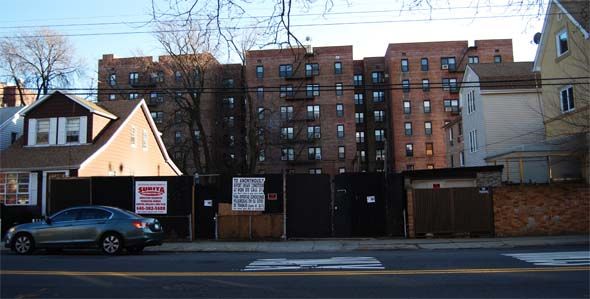 Building plans for a Muslim American Society-run mosque on Voorhies Avenue have been approved by city officials, clearing the way for construction to begin immediately.
The approved plans detail a 35-foot-tall three-story building with a cellar, fitting 121 people inside two worship rooms, a library and classrooms. The brick building at 2812 Voorhies Avenue will not include a roof extension as originally requested, presumably for a minaret, after the Department of Building nixed those plans a year ago. There will be no parking on the property.
With bureaucratic holdups out of the way, mosque organizers are looking to get to work right away.
"We're looking for a contractor, and there's still some business to take care of," said Ibrahim Anse, the project's architect. "Once we find a contractor … it's going to be a couple of weeks. Maybe by the end of the month [we'll begin construction]."
But opponents are still vowing to keep fighting to throw the brakes on the project.
"We're going to keep fighting it," Alex Tenenbaum, spokesman for Bay People, told the Daily News. "We will keep opposing the project for the same reasons we opposed it from the very beginning."
Those issues are concerns about traffic, noise and parking disrupting life on the otherwise quiet – and narrow – Voorhies Avenue. To handle those concerns, mosque planners have promised not to broadcast calls to prayer externally, and that the small facility is being created to serve local families who will walk there.
Opponents have also expressed outrage at the backing organization – Muslim American Society – who they say support radical Islamic groups abroad, including Hamas and Hizbollah. The FBI has stated there is "no indication whatsoever the Muslim American Society is affiliated with any organization that threatens our national security."
Regardless, Anse said he's not too concerned about a challenge holding up the process, though he did say the organizers remain open-minded to their neighbors' concerns.
"If they have anything to talk about, we extended our hands, we've been extending our hands even though we have approval," he said.
*This article originally indicated the building would fit 141 people. That was a mistake – the correct number is 121. Apologies for any confusion this may have caused.