Mosque Fence Vandalized After Bin Laden's Death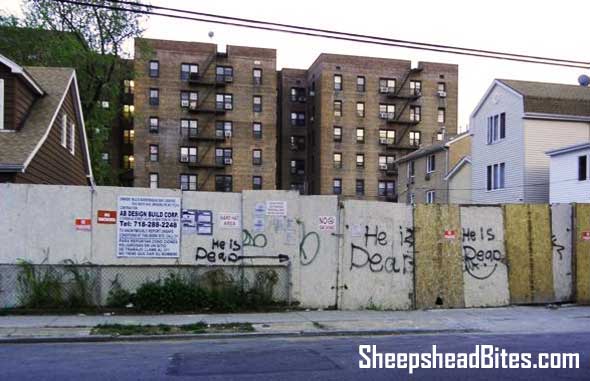 The construction fencing around the site of the proposed Voorhies Avenue mosque is sporting some new decorations: graffiti reading "He is dead" and happy faces.
The vandalism is believed to be in reference to the recent killing of Osama bin Laden. Organizers behind the proposed mosque and Islamic cultural center at 2812 Voorhies Avenue confirmed that the fencing was defaced after bin Laden was killed, calling it a "hateful act" for likening local Muslims to the fanatics that murdered thousands on September 11, 2001.
"That was graffiti from a person who looks at the world in the wrong way," said Ibrahim Anse, a member of the committee overseeing the construction. "Osama bin Laden is dead, and we as Muslim Americans suffered from him and his act" as much as anyone else. "It is a relief for us as Muslims [that bin Laden has been] killed, which he deserves," he added.
The vandalism has been reported to authorities.
The proposed mosque has received no quarter from neighbors who oppose the construction. While some base their arguments in zoning and quality of life issues, there's been no shortage of those who believe the backing organization – Muslim American Society – has ties to radical Islam and terrorism, with some agreeing with one neighbor who said, "Most of them are terrorists." Protesters have attended events carrying signs that show Arabs burning American flags, and the opponents chant against topics relating to Hamas, jihad and sharia.
The FBI has said they have "no indication whatsoever the Muslim American Society is affiliated with any organization that threatens our national security." The main opposition group, Bay People, has itself said they seek to halt the project based on zoning arguments. They've previously told Sheepshead Bites that concerns about radical Islam are secondary and not the focus of the group, but speakers from the Brooklyn Tea Party and anti-Islam crusaders like Pamela Geller continue to speak about "security" concerns under the Bay People banner at protests.