Morning Mug: Up In Flames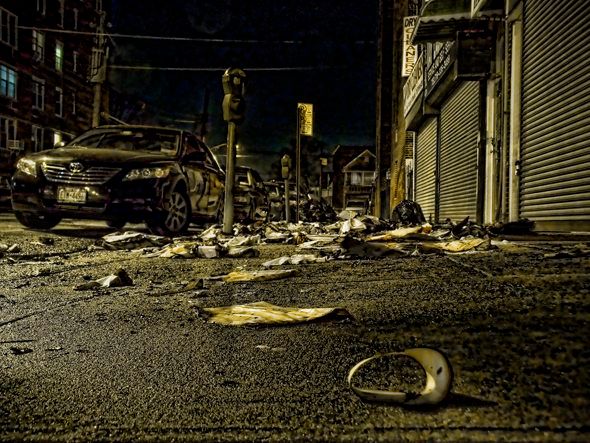 I tried to come up with a witty title for what happens when you cross the "Morning Mug" with "Spot News," but all I could come up with was "Morning Spews." In any event, here is what the photographer of the above image had to say:
Last night (Ed. – Tuesday) at around 10 pm on Neck Road there was a small garbage fire that threatened to turn into a larger conflagration. It was right beside a parked car so it could have been worse. This fire happened in front of the Printing shop at 1221 Neck Road  (Ed. – the address is 1219). I called 911 and the FDNY was on the scene within 5 minutes of my call. This photo, which required a bit of creativity so I could get the long exposure, was taken in the aftermath of this event. I do wonder why the firemen didn't clean up this debris afterwards. Is it going to be the responsibility of the store owner or the landlord of the building? What I do sometimes to get something interesting for either the Morning Mug or a news story.
Yes! Yes! Yes! Thank you thank you thank you! Do not, for a second, think it is not appreciated. Extra props for the creative angle / excellent composition / long exposure — a triple threat.
We are told that, "As of this morning someone cleaned up the mess." I guess that means we will never know the answer to whose responsibility it is. Ah, well. Just so long as no one got hurt.
Photo by PayPaul