More Trouble For Senator Sampson As Taxpayer Funds Earmarked For Charity Vanish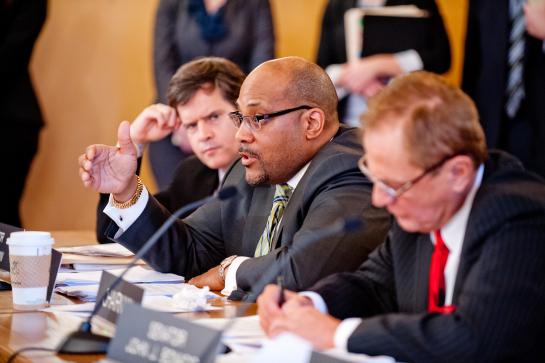 The troubles for State Senator John Sampson keep mounting. Sampson, who has been accused of accepting bribes and threatening witnesses who might testify against him, now has state officials wondering where more than $39,000 in taxpayer money earmarked for a Brooklyn charity has gone.
Times Union is reporting that Sampson, who represents parts of Sheepshead Bay, funneled $39,560 to a charity that was supposed to train inner city youths the inner workings of a digital radio station. The radio station, "One Caribbean Radio," is owned by Edmon Braithwaite and broadcasts to the more than three million Caribbean New Yorkers.
When One Caribbean Radio received the grant, they failed in documenting the spending of the money in question. Officials are accusing Sampson and Braithwaite of investing the money in a Bedford-Stuyvesant liquor store named Good Wine and Spirits.
In his defense, Sampson said he had relinquished his ownership stake in the liquor store earlier in the year and that law enforcement officials weren't interested in the matter.
Despite this, the State Liquor Authority refused to issue details on the liquor store, telling Times Union that, "disclosure of the information and documents requested would interfere with an ongoing investigation."