More Open Streets Coming To Brooklyn This Week, One Block At A Time, In Areas With Few Cases Of COVID19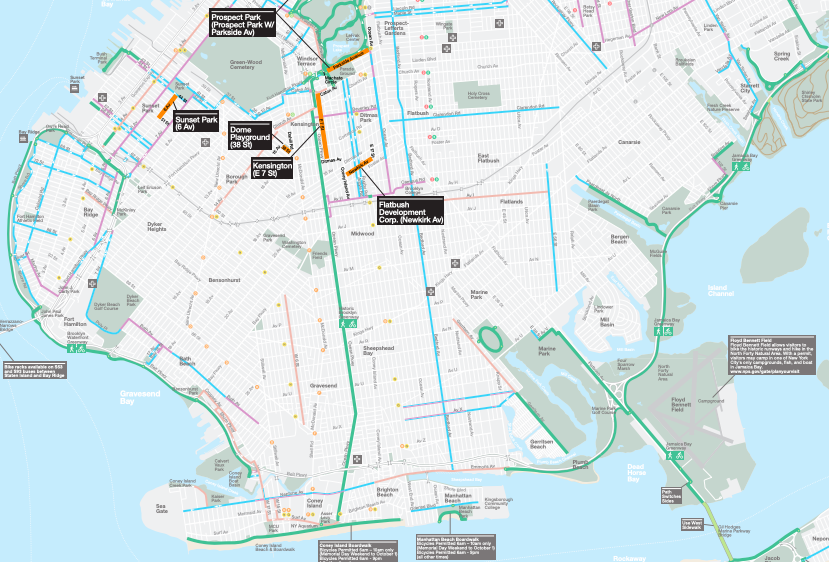 This morning Mayor Bill de Blasio announced the next installment of open streets, one short block at a time, and concentrated in the neighborhoods least hit by the coronavirus, from what we can tell.
Here are the neighborhoods with the most confirmed coronavirus cases by zipcode as of today – heavily concentrated south and east of Prospect Park: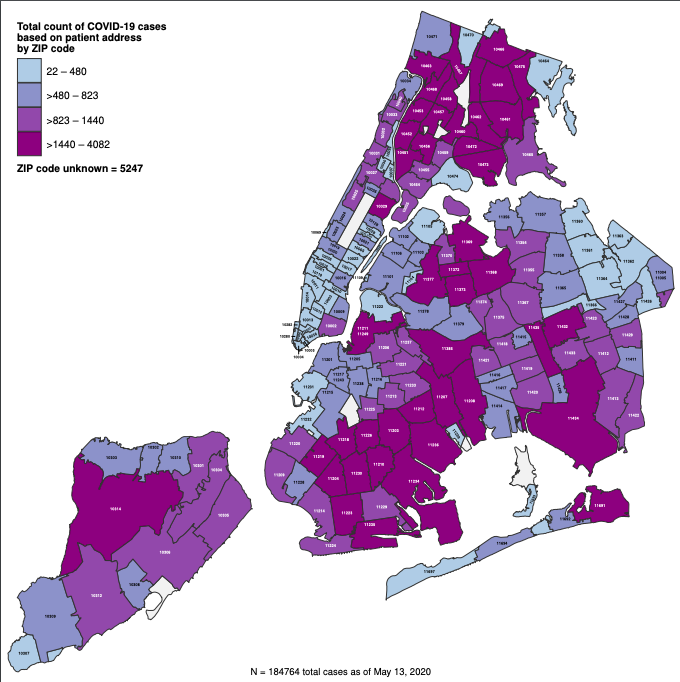 And here is how Carroll Gardens and Downtown compare to Bed-Stuy, Crown Heights, and Brownsville when it comes to prioritizing open streets: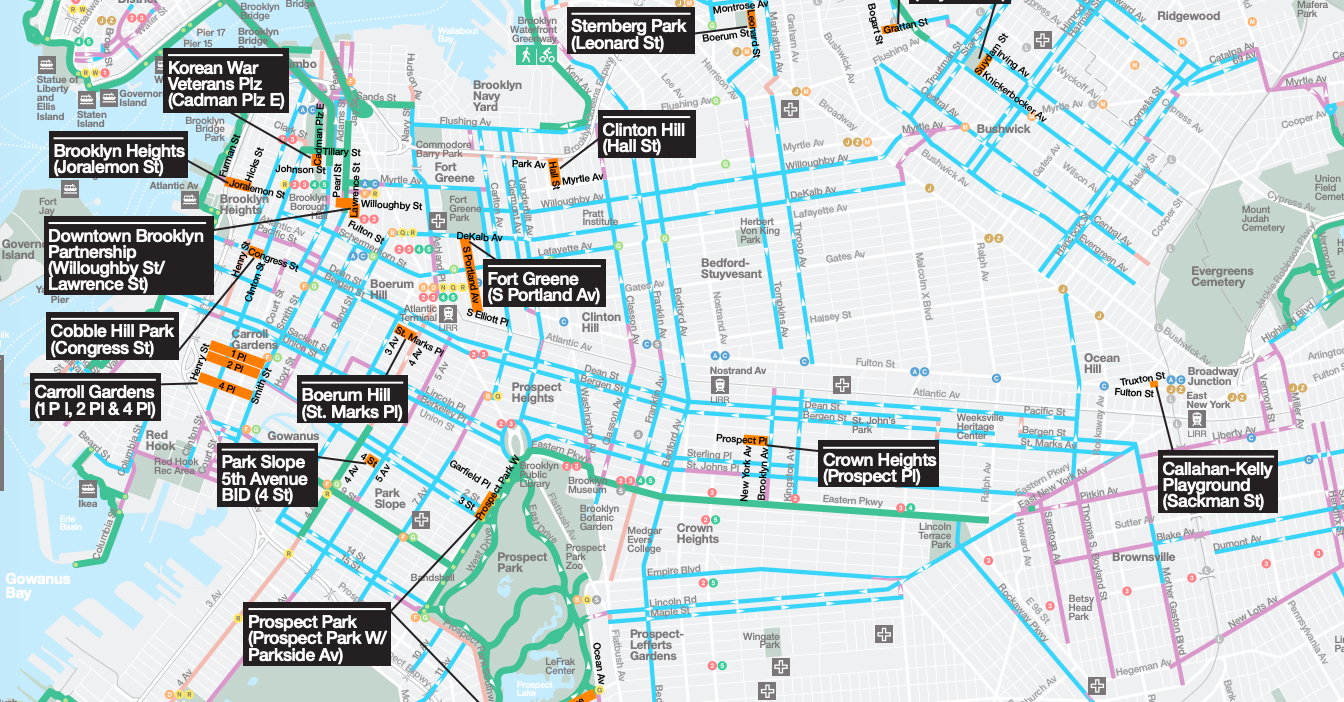 Two notable additions south of Prospect Park are the closure of Newkirk Avenue on Tuesday and Thursday afternoons, and closure of East 7th Street between Caton and Ditmas, and 6th Avenue between 44th and 51st Streets in Sunset Park.  Boro Park – got the short block by Dome Playground.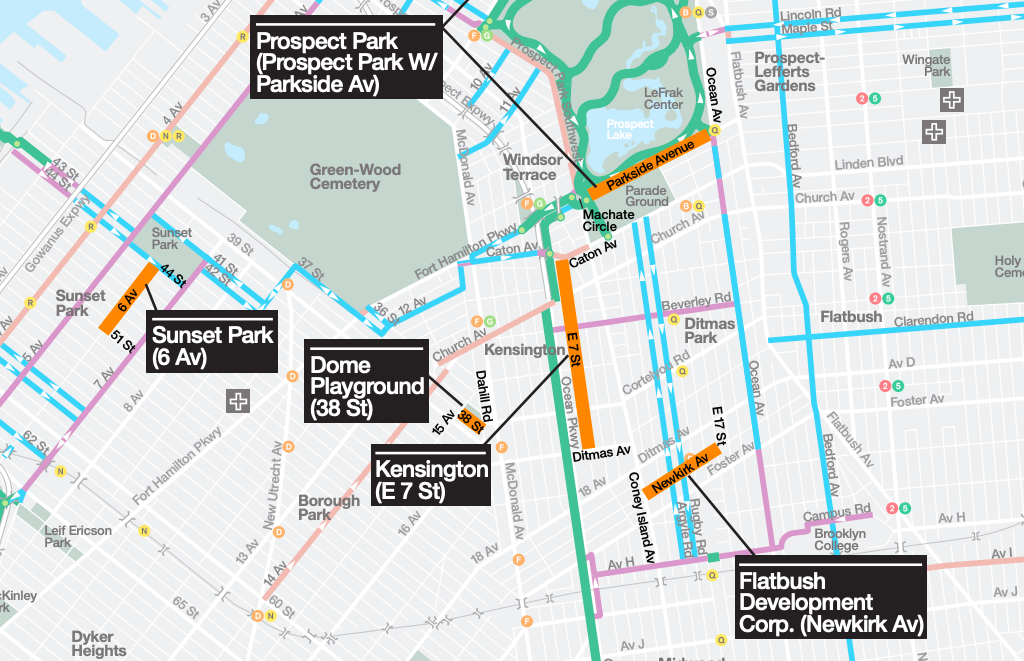 East Flatbush  – nothing. Bay Ridge, Bensonhurst, Gravesend, East New York, Canarsie, Flatlands, Midwood, Sheepshead Bay – nothing.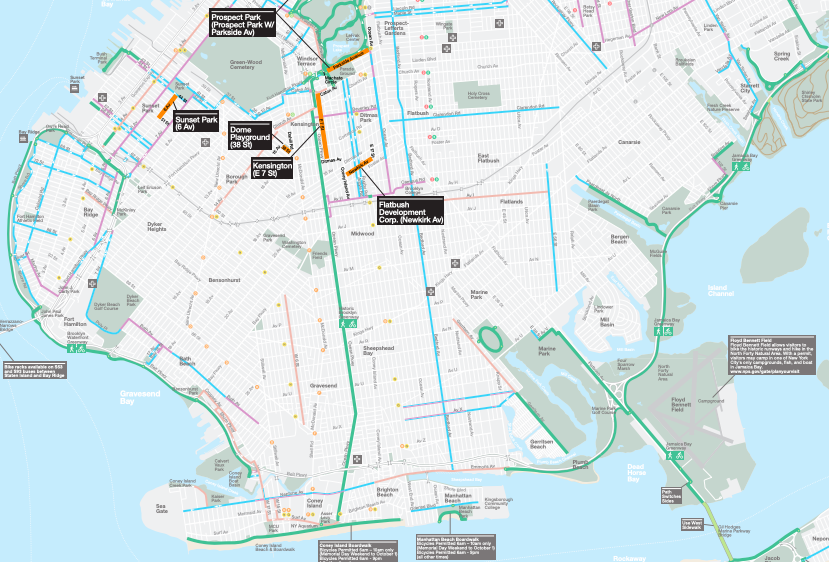 Williamsburg is getting a little more open space: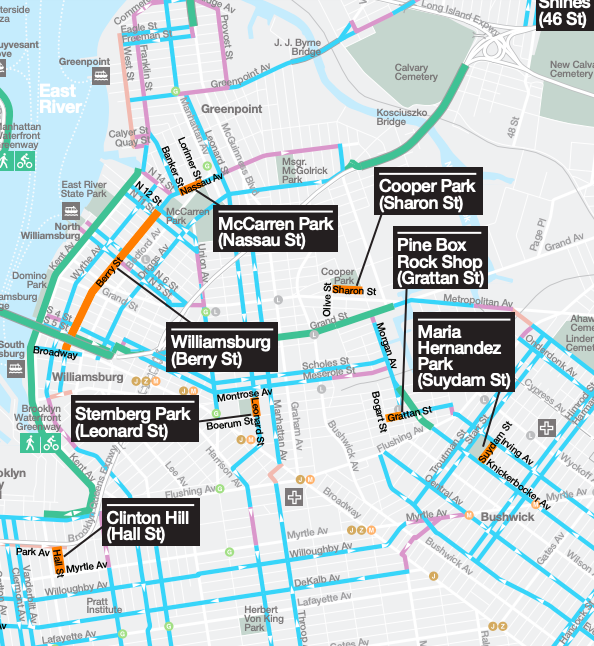 Members of the public and organizations wishing to have other New York City streets considered for the Open Streets program may fill out an online survey – and should.
| Open Street | From | To | Type | Park/Area/Partner |
| --- | --- | --- | --- | --- |
| 1st Place | Smith Street | Henry Street | Full Block | Carroll Gardens |
| 2nd Place | Smith Street | Henry Street | Full Block | Carroll Gardens |
| 38th Street | Dahill Road | 15th Avenue | Full Block | Dome Playground/Kensington |
| 4th Avenue | 1st Street | Flatbush Avenue | Protected Bike Lane | Boerum Hill |
| 4th Place | Smith Street | Henry Street | Full Block | Carroll Gardens |
| 4th Street | 5th Avenue | 4th Avenue | Full Block 10am-6pm | Park Slope 5th Ave BID |
| 6th Avenue | 44th Street | 51st Street | Full Block | Sunset Park |
| Ashland Place/Navy Street | Hanson Place | Sands Street | Protected Bike Lane | Clinton Hill |
| Berry Street | North 12th Street | Broadway | Full Block | Williamsburg |
| Cadman Plaza East | Johnson Street | Tillary Street | Full Block | Korean War Veterans Plaza/Brooklyn Heights |
| Congress Street | Clinton Street | Henry Street | Full Block | Cobble Hill Park/Cobble Hill |
| East 7th Street | Caton Avenue | Ditmas Avenue | Full Block | Kensington |
| Flatbush Avenue | Grand Army Plaza | Ocean Avenue | Protected Bike Lane | Prospect Park |
| Grattan Street | Morgan Avenue | Bogart Street | Full Block Wednesday-Sunday 10am-8pm | Pine Box Rock Shop/Bushwick |
| Hall Street | Park Avenue | Myrtle Avenue | Full Block | Clinton Hill |
| Joralemon Street | Hicks Street | Furman Street | Full Block | Brooklyn Heights |
| Lawrence Street | Fulton Street | Willoughby Street | Full Block 10am-6pm | Downtown Brooklyn Partnership |
| Leonard Street | Montrose Avenue | Boerum Street | Full Block | Sternberg Park/Bushwick |
| Nassau Avenue | Banker Street | Lorimer Street | Full Block | McCarren Park/Greenpoint |
| Newkirk Avenue | Coney Island Avenue | East 17th Street | Full Block Tuesday & Thursday 3pm-7pm | Flatbush Development Corporation |
| Parkside Avenue | Park Circle | Ocean Avenue | Full Block | Prospect Park |
| Prospect Park West | 3rd Street | Garfield Place | Full Block | Prospect Park |
| Prospect Place | New York Avenue | Brooklyn Avenue | Full Block | Crown Heights |
| Sackman Street | Truxton Street | Fulton Street | Full Block | Callahan-Kelly Playground |
| Sharon Street | Morgan Avenue | Olive Street | Full Block | Cooper Park/Williamsburg |
| South Portland Avenue | South Elliot Street | Dekalb Avenue | Full Block | Fort Greene |
| St. Marks Place | 3rd Avenue | 4th Avenue | Full Block | Boerum Hill |
| Suydam Street | Knickerbocker Avenue | Irving Avenue | Full Block | Maria Hernandez Park/Bushwick |
| Willoughby Street | Pearl Street | Lawrence Street | Full Block 10am-6pm | Downtown Brooklyn Partnership |