More Anti-Semitic Graffiti Found In Midwood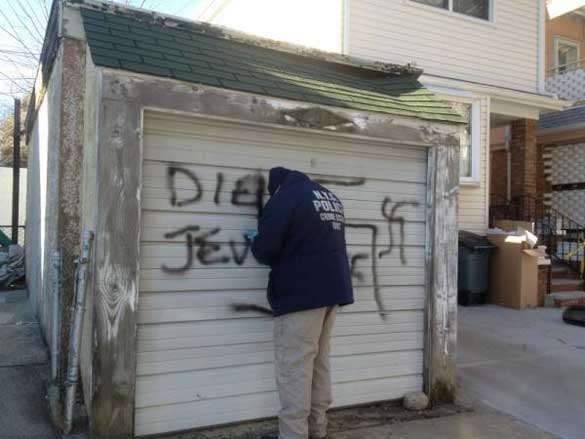 Investigators from the NYPD's Hate Crimes Unit are busy following up on yet another anti-Semitic incident in Midwood, after homeowners found their garage had been spray-painted with the words "Die Jews" and several swastikas.
The graffiti was found Sunday morning on the East 5th Street home's garage, and two more swastikas were found on the door of an apartment building across the street.
It's the latest in a rash of anti-Semitic incidents plaguing Brooklyn's Orthodox Jewish neighborhoods. The vandalism occurred less than a week after pro-Hitler graffiti was uncovered in Borough Park, and just two months after several cars were found torched in Midwood with anti-Semitic messages scrawled nearby.
"Almost every day, there seems to be another incident reported," Assemblyman Dov Hikind said in a statement. "The police have hardly made an arrest in any of these cases. I am calling on the NYPD to use every resource available to apprehend the person(s) responsible for these heinous acts so that people in the community can once again have peace of mind."
UPDATE (10:34 a.m.): According to a statement put out by Assemblyman Steven Cymbrowitz, graffiti was also found on a yeshiva around the corner. Here's Cymbrowitz's statement:
"I am appalled that our community has, once again, been subjected to another depraved act of anti-Semitic vandalism, this time defacing the Yeshiva of Brooklyn Boys School on Ocean Parkway as well as a garage around the corner on East Fifth Street. This pestilence of anti-Jewish graffiti plaguing our city — home to the nation's largest population of Holocaust survivors — is unacceptable, and must be strongly condemned not only by the Jewish community, but by all people everywhere. It is imperative that we never stop speaking out against these sickening crimes, and show the individuals who commit these acts that there is no place for them or their hate-filled messages in civilized society."