Modernizing Brooklyn's Gas Stations With Sustainable Fuel Options
On Tuesday, July 11, Brooklyn Borough President Eric Adams unveiled Fueling Brooklyn's Future: Refueling Needs in a Resiliency Era, a report detailing his plans for modernizing Brooklyn's gas stations with sustainable fueling options.
The announcement took place at the Whole Foods in Gowanus by the electric vehicle charging stations in the supermarket's parking lot. Adams drove to the press event in a Toyota Mirai which is powered by hydrogen fuel cell technology. While there are only three of these models currently on the market, Adams noted that none of them would be easily operable in New York City due to the lack of appropriate fueling stations, a press release for the event states.
There are currently only 60 charging stations for electric cars throughout Brooklyn, according to Adams' report, with most located outside of central and southern Brooklyn neighborhoods, where there is a higher concentration of car owners.
According to Adams' office, since Superstorm Sandy in 2012, nine gas stations have closed in Brooklyn, with two more slated to close soon, and another twelve at risk of closing in the coming years—including stations in Bushwick, Clinton Hill, Downtown Brooklyn, Greenpoint, Midwood, Sheepshead Bay, and Sunset Park. With land values increasing, gas stations are being replaced by more profitable residential, commercial, or hotel developments, the report states.
To prevent existing gas stations from shutting down, Adams suggests that fueling stations adapt by incorporating resilient power-generating measures and alternate fuel technologies into station redesign.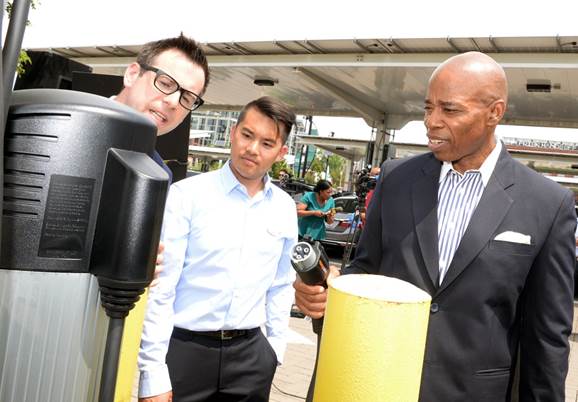 Adams recommends that Empire State Development (ESD) and New York City Economic Development Corporation (NYCEDC) create incentives for business owners to retrofit existing gas stations with new electric vehicle, hydrogen, and compressed natural gas (CNG) stations.
Adams also recommends that Governor Andrew Cuomo's Fuel NY Initiative be expanded to provide backup power supply at all fueling stations in the borough, using green energy such as solar panels or wind-power—sources that are not reliant on the main power grid—to operate generators.
The Brooklyn Borough President also announced that he would commit capital funding into the installation of electric vehicle charging stations around Brooklyn.