MoCADA Mural Reminds Brooklynites To 'Take It Easy'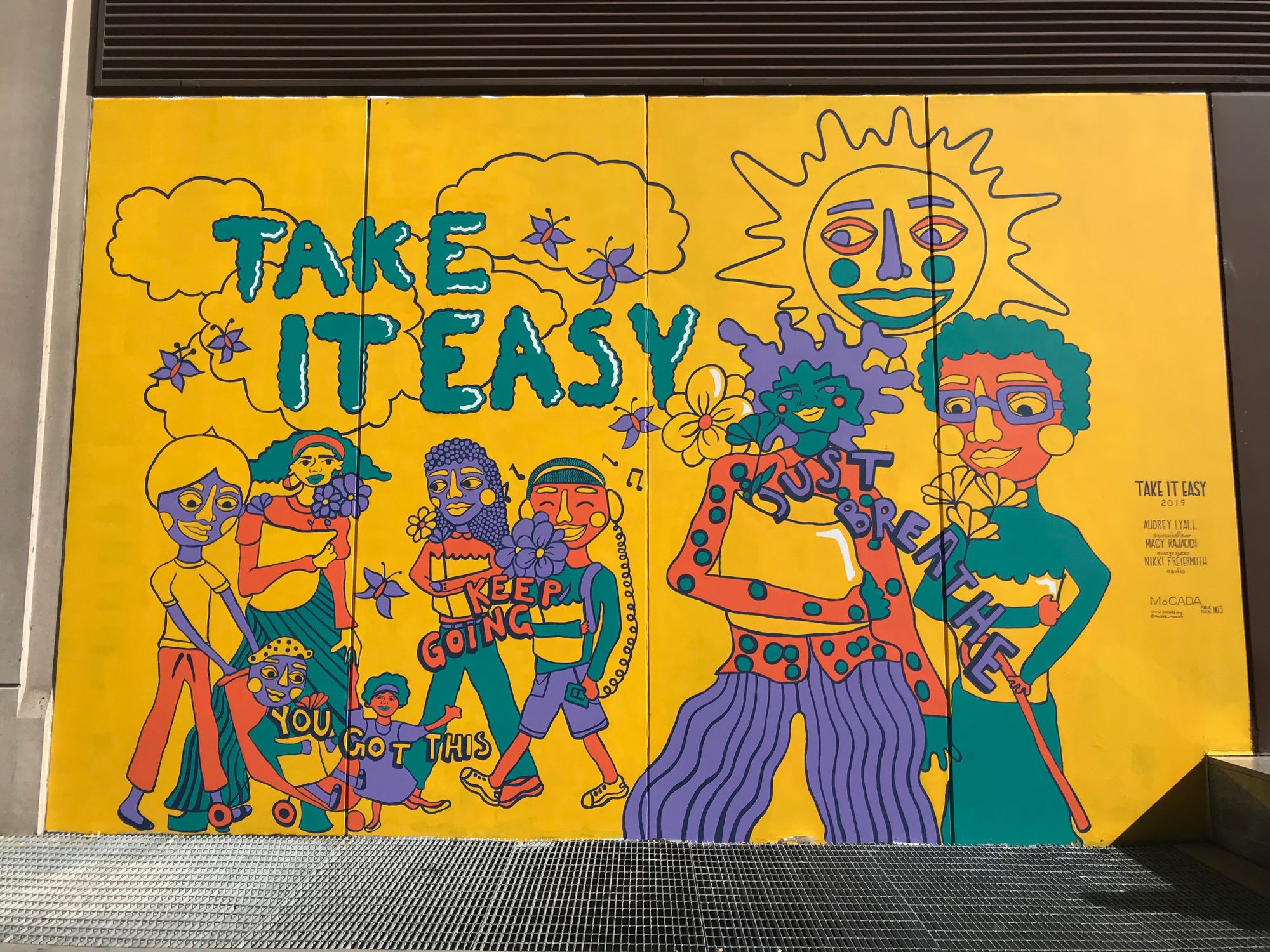 FORT GREENE – The Museum of Contemporary African Diasporan Arts (MoCADA) unveiled a new mural Saturday on Fort Greene Place across from the Atlantic Terminal Mall.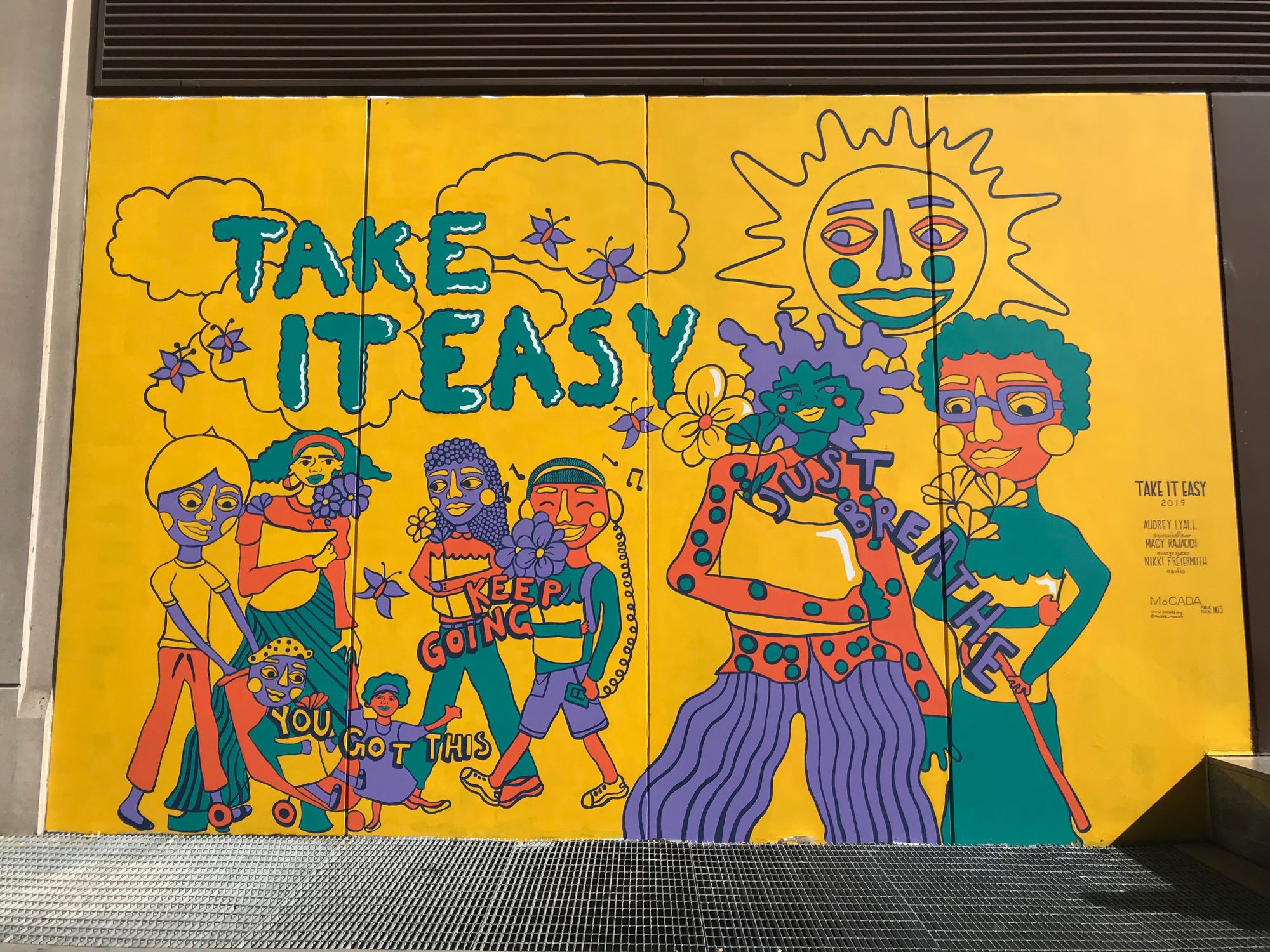 Titled Take It Easy, the artwork features a cast of colorful characters representing neighbors and shoppers juxtaposed with inspiring text advising passersby to: "Take It Easy"; "Keep Going"; "You Got This"; and "Just Breathe."
"We're trying to create art that's very positive, very motivating, very bright, colorful," explained Audrey Lyall, head of Community Programming & Events for MoCADA, "things that people can pass by and feel like they see themselves in it but to also feel motivated to just keep going with their day."
"Our whole goal is to uplift the community, especially in places like this, it's very busy. There's the mall, the trains, people coming back from work, shopping," added Nikki Freyermuth, who along with Lyall and Macy Rajacich designed and painted the mural. "We wanted something that people can pass and just remember to take it easy and to chill out."
This is the third mural in an ambitious program to honor the museum's 20th anniversary by painting 20 murals across the city.  "For the last 20 years MoCADA has been very central to the community of Fort Greene in terms of giving a platform to artists, so one thing that was really important for us, for our 20th anniversary, was creating these public art pieces," said Amy Andrieux, MoCADA's Executive Director. They hope to have all 20 works completed by December 2020.
The first mural of the series, Spread Love, was completed earlier this year just steps away from Take It Easy. "We made it a community project," said Andrieux. "We invited the community to come out and help us paint with Patrick Dougher, who is the artist." Atlantic Terminal Mall owner Madison International Realty commissioned both MoCADA murals, "Take it Easy" and "Spread Love" created earlier by Dougher.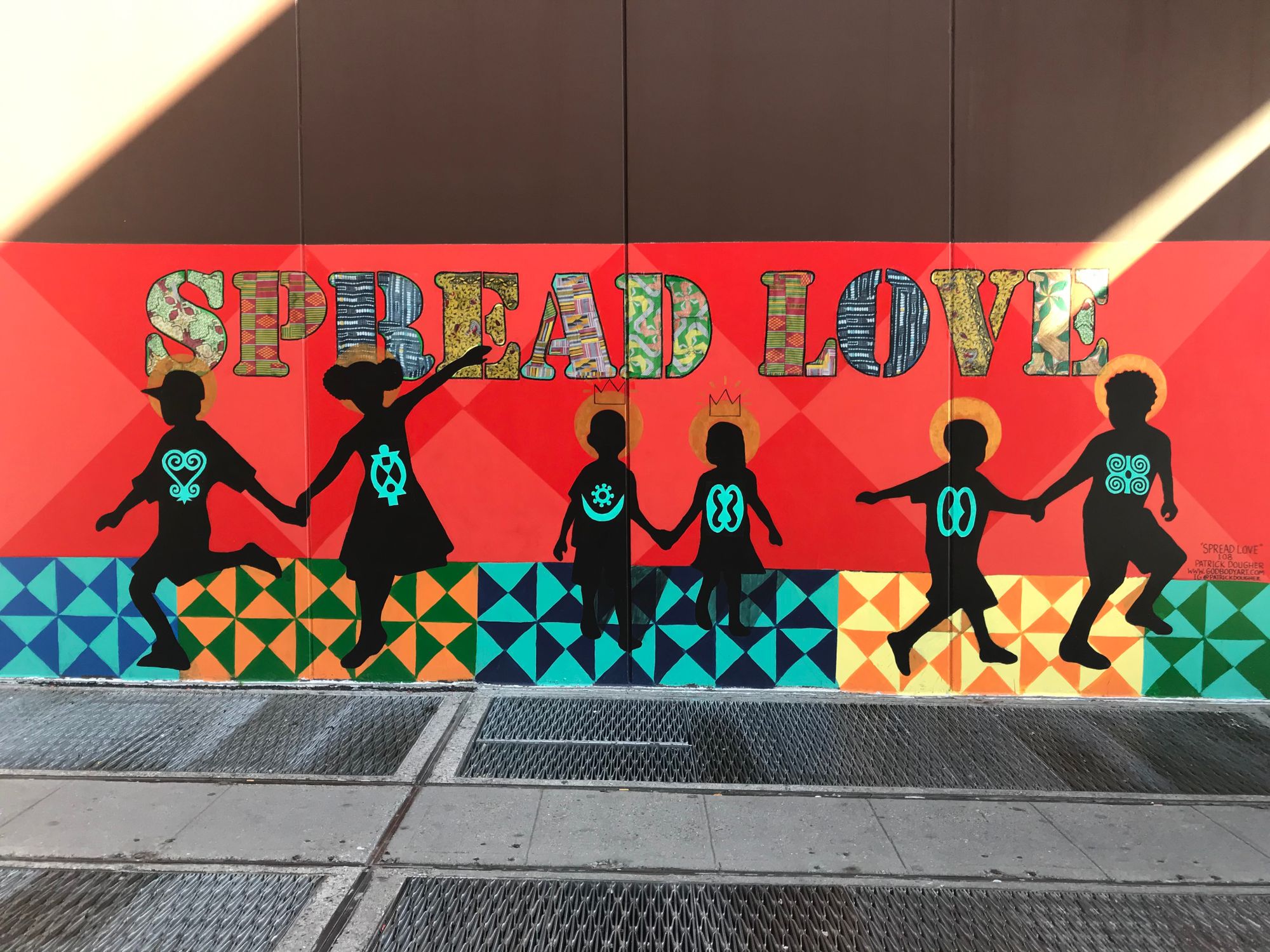 Brooklyn-based artist Dougher designed Spread Love which features the silhouettes of six children emblazoned with Adinkra symbols. "We give platform to artists of African descent, for the most part, so we wanted to do a piece that was representative of that community first, hence the Adinkra symbols on the children," Andrieux explained, "but we also wanted to give all the children one look, to show this sort of unity. Beyond that, what was important for us was to always have that connection back to Brooklyn, hence 'Spread Love,' it's the Brooklyn way."
To see more of Dougher's work, be sure to visit MoCADA where the artist will be featured in a new exhibition running November 8 through December 22.
The second project of the museum's mural initiative was the restoration of the Do Or Die mural in Bed-Stuy for Spike Lee's annual summer block party. "We wanted to start at home first—our stomping ground—Bed-Stuy and Fort Greene, but we definitely want to expand out to the other boroughs," Andrieux said of the program.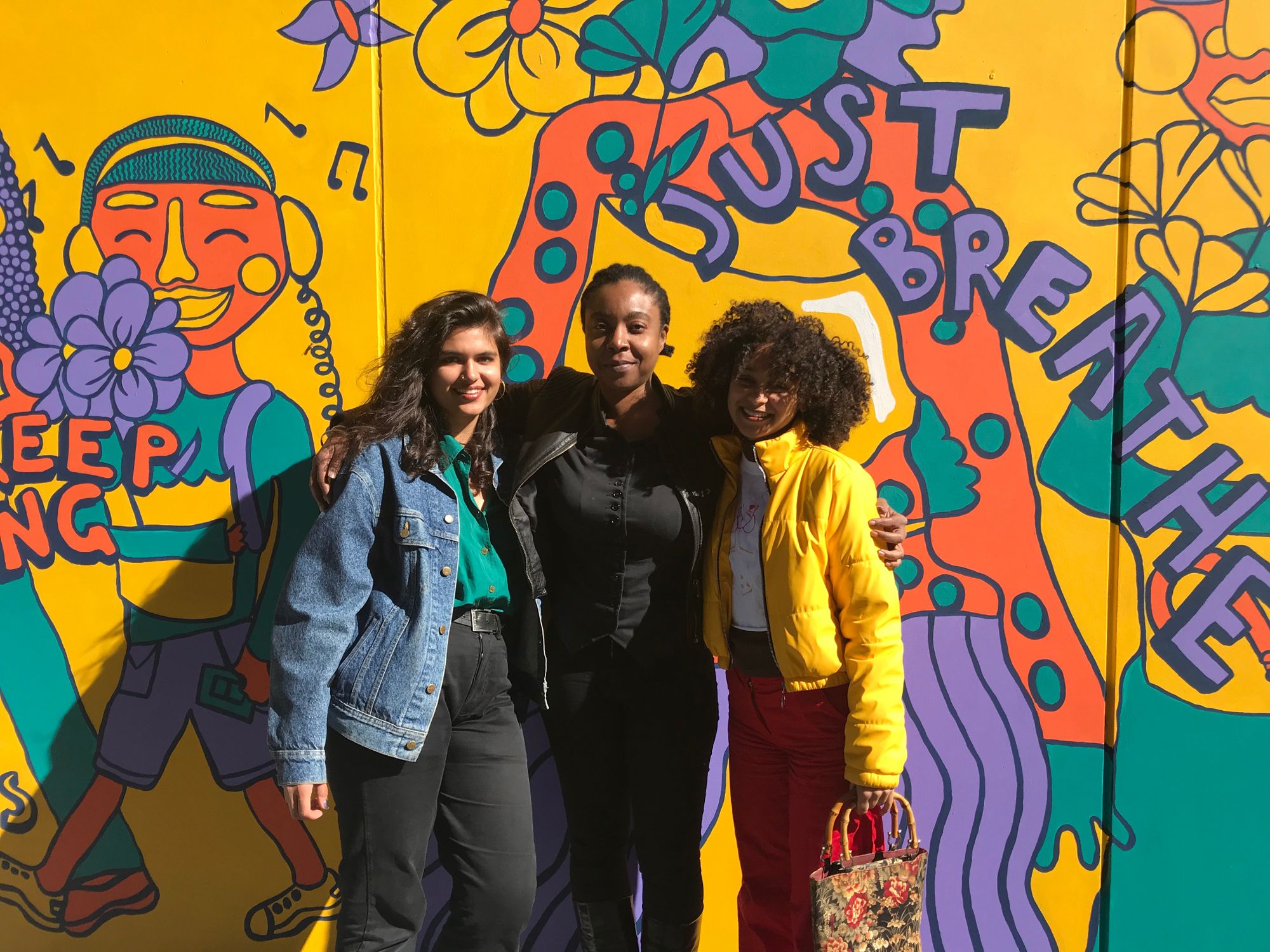 The three MoCADA employees—each an artist—painted the latest mural over five days. "Even while we were painting it, the amount of support we got from the community was incredible," noted Freyermuth," people really need this." As she said this, performance artist Gee Benjamin stopped to admire the artwork.
Benjamin lives nearby and was busy running errands Saturday morning, going to the Atlantic Terminal Mall to pick up supplies for a show later that evening. "I think it's amazing…this is exactly what I needed at this moment, right now, because I'm rushing to the mall…and I'm rushing back home and then I see this. It says, 'Take it easy,' 'Just Breathe,'" Benjamin said. She added that it reminded her of the 4-7-8 breathing technique she often uses to relax or reset.
"I'm very proud of this, especially since it's inclusive. You can tell it's for everybody, not just for one ethnic group," Benjamin continued. "It's for Brooklyn, it's for everybody!"