Mill Basin: Hostage Situation – Ave N & East 48th Street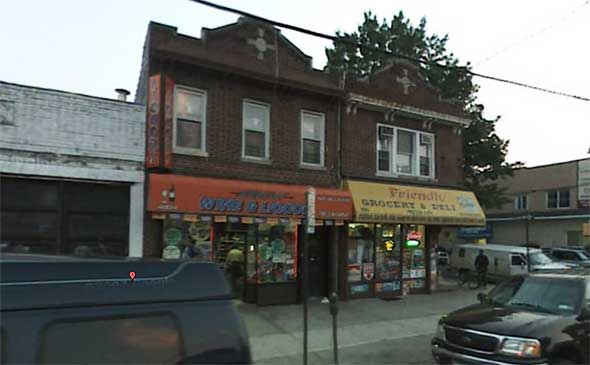 UPDATE (5:56 p.m.): It appears both gunmen have surrendered to authorities. Flatbush Scoop is reporting that, contrary to earlier reports, no one was shot, though shots were fired.
UPDATE (3:55 p.m.): Looks like our reader was spot on. The New York Post is reporting:
The hostages were eventually freed unharmed.
Hostage negotiators and heavily-armed cops surrounded the store in the hopes of convincing the men to surrender.
UPDATE (3:45 p.m.): A Sheepshead Bites reader and employee of a business near the scene tells us that one hostage has been released, but that the situation is still ongoing. Meanwhile, the New York Times is reporting the following:
Two armed assailants are believed to have taken the owner of a Brooklyn wine shop hostage inside his store on Wednesday afternoon, the police said.
… "They are inside with who we believe to be the proprietor of the store," Mr. Browne said.
Officers from the 63rd Precinct went to the store shortly before 2 p.m., after hearing that two people were attempting a robbery, the police said.
When officers arrived, "they heard a shot fired from inside the store," Mr. Browne said.
UPDATE (3:21 p.m.): MSNBC is reporting the following:
Officials believe two armed suspects are inside holding the owner hostage.
The first officers on scene reported hearing a gunshot, then retreated and called for emergency service units to respond.
UPDATE (3:05 p.m.): Flatbush Scoop is reporting the following [3:27 – FS has removed their post – unclear why]:
Two armed men tried robbing a liquor store on Avenue N and East 46th Street, and have taken people hostage. Shots have been fired by the suspects, and sources tell FlatbushScoop.com that one person has been shot.
… FlatbushScoop.com has not been able to verify the condition of the person shot.
Original post (2:55 p.m.):
We've received word that a serious hostage situation has broken out in Mill Basin, at 4804 Avenue N, near East 48th Street, in the 63rd Precinct.
Hostage negotiation teams, along with a slew of other NYPD units, have converged on the area and formed a two-block perimeter. The situation broke out around 1:40 p.m. today.
One of our Facebook readers reports that the incident is in Arrow Wine & Liquor, the liquor store pictured above. Another reader says shots may have been fired, but this is still unconfirmed. Please avoid the area.
More details forthcoming.
This is a breaking news story and may contain inaccuracies. We will provide more information as it becomes available.