Midweek Schedule Roundup: Go On A Date, See Some Literary Debutantes, Get A Free Helmet,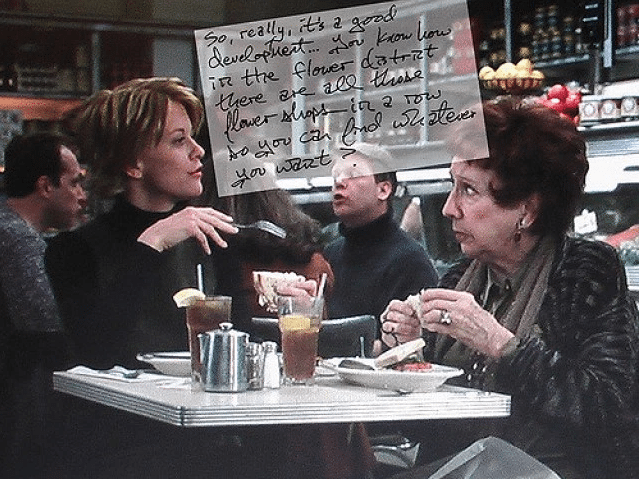 Below you'll find information on events through the week in Fort Greene and Clinton Hill. Check back Thursday to see what's scheduled this weekend!
Submit your event listing to our BROOKLYN-WIDE CALENDAR.
WEDNESDAY, MAY 4
BAMcafé Live: You've Got Mail & How a French Nobleman Got a Wife through the New York Herald
When: Wednesday 7:30pm
Where: Peter Jay Sharp Building at 30 Lafayette Avenue
What: A pair of classics married together make for a fun midweek date option. Tickets are $14, but Tom Hanks and Meg Ryan's chemistry on the big screen is priceless.
Trivia Night
When: Wednesdays from 8-11pm
Where: Putnam's Pub at 419 Myrtle Avenue
What: Weekly trivia competition to win gift cards of $100 to Putnam's. Beer specials all night.
How much: Free
THURSDAY, MAY 5
Greenlight One Story Debutantes
When: Thursday, May 5 at 7:30 pm.
Where: 686 Fulton street
What: Come honor authors who published their first books in the past year. There's a wine reception, but more importantly, Brian Booker, author of Are You Here For What I'm Here For?, Kim Brooks, author of The Houseguest, Matthew Cheney, author of Blood: Stories, Charles Haverty, author of Excommunicados, Naomi Williams, author of Landfalls, Cote Smith, author of Hurt People, Hosted by One Story founding editor Hannah Tinti will all be on hand.
Free Bike Helmets
When: Thursday, May 5 from 3:30pm to 6:30pm
Where: Central Library at 10 Grand Army Plaza
What: Free helmets will be available on Thursday as supplies last. The Department of Transportation's new Vision Zero helmets will also be available!
DIY: Folded Paper Jewelry
When: Thursday, May 5 at 4pm
Where: Clinton Hill Library at 380 Washington Avenue
What: For the Etsy-lover in all of us, turn old books and magazines into eco-friendly jewelry.