Middle Schoolers Bring Poems to Life on Fourth Street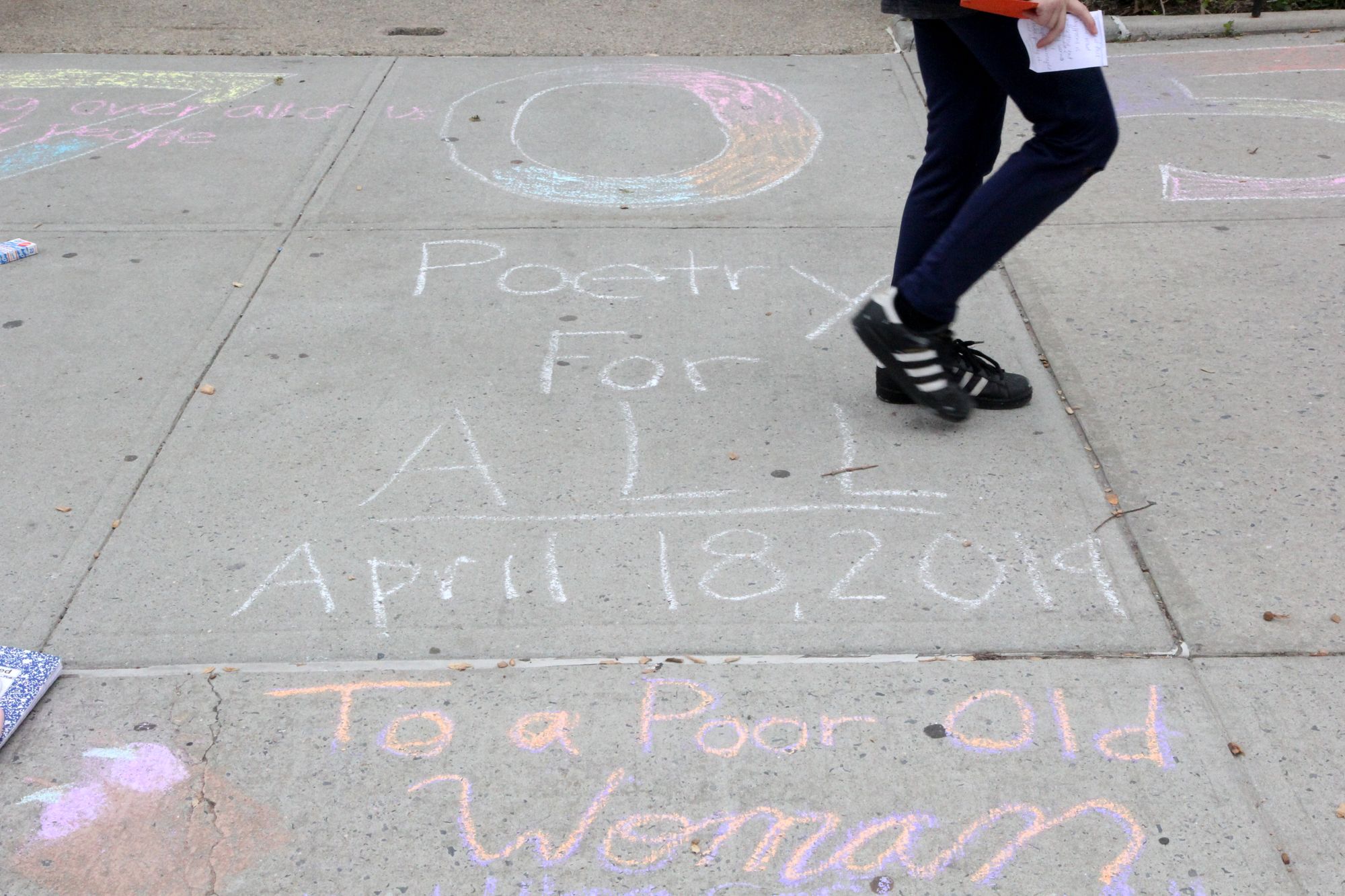 PARK SLOPE – Thursday, April 18, was National Poem in Your Pocket Day, but one group of seventh graders took their poems out of their pockets and onto the streets. Class 705 at M.S. 51 filled a block with colorful chalk illustrations of verse by writers ranging from William Carlos Williams to Kendrick Lamar.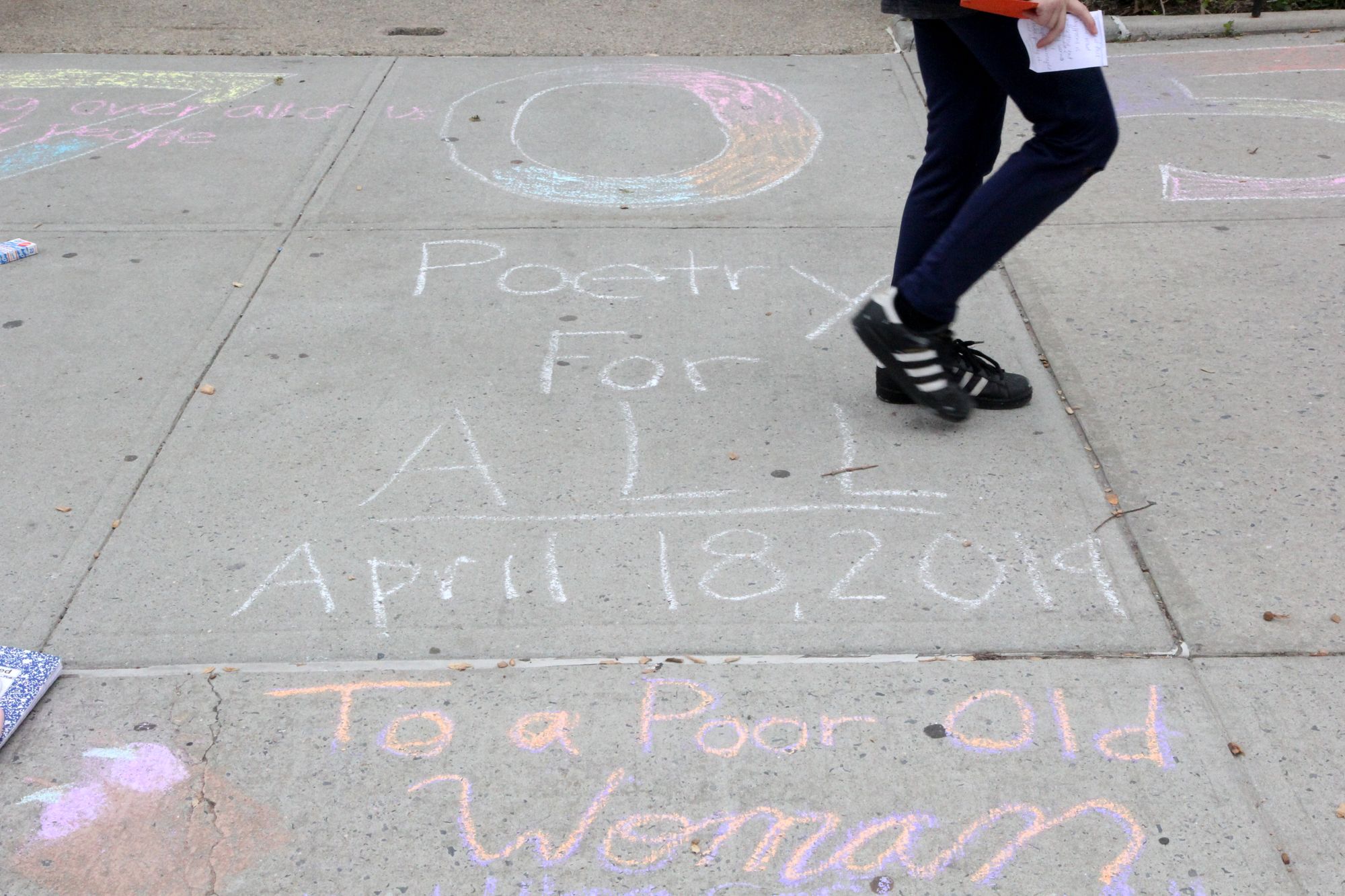 April was established as National Poetry Month by the Academy of American Poets in 1996 and since then, has inspired teachers across the country to get students excited about poetry. At William Alexander Middle School (M.S. 51), English Language Arts teacher Ryan Michele Woods hand-picked poems for her students to turn into an outdoor chalk mural for the neighborhood to enjoy. She sees it as a way for her students to bring some light to a dismal political moment.
"When Ms. Woods told us we were doing poetry for our next unit everyone groaned, but then she kind of taught us to like it," said Nathan Blum, one of her students.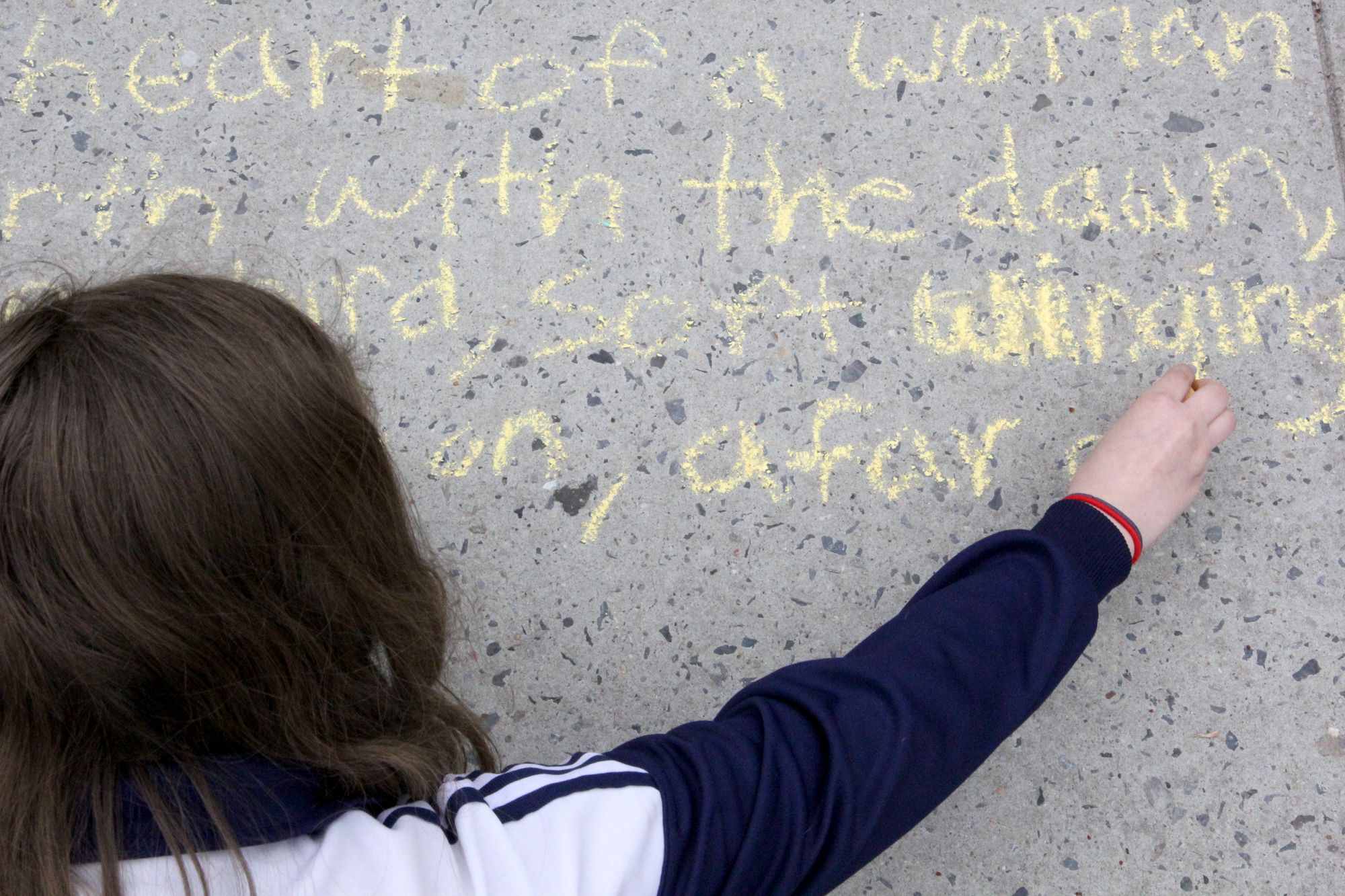 Before the class could go outside, Woods had them read each other their poems, explaining that an important part of understanding a poem is hearing how it sounds. "You're making something for your neighborhood and that's a very powerful thing," she told her students.
She then walked the fidgety tweens downstairs and across the street. The sky was cloudy, as if threatening to rain, but luckily no rain came and the chalk renderings stayed put.
"Poetry is really hard to get kids into. Especially at this age. It's either insulting to their intelligence or it's way above their heads and they feel alienated by it. They're so self-conscious at this age that you can't give them anything that's going to make them feel or look stupid when they try to analyze it," said Woods as she stood on the sidewalk and her students copied their poems in sidewalk chalk around her.
She gave each student a poem she picked based on what she knew about their interests and reading level, with a personalized note and some guiding questions for them to respond to. "They've spent the past 24 hours in this state of meditation or nesting with the poem where they're breaking apart what they like about it. They're trying to figure out what they think it means on a deeper level compared to their first impressions," she said.
Nathan copied down a poem called "Charlottesville" by Sophia Sacal. "I think she gave me this poem because she knows I'm into political problems," he said. He smiled, but then read the last line of the poem in a somber tone — "America. This is what the place we call 'home' has become."
Nathan's poem was not the only one that dealt with a weighty political issue. His classmate Josie Schlesselman illustrated Georgia Douglas Johnson's poem "The Heart of a Woman" with an anatomically correct heart.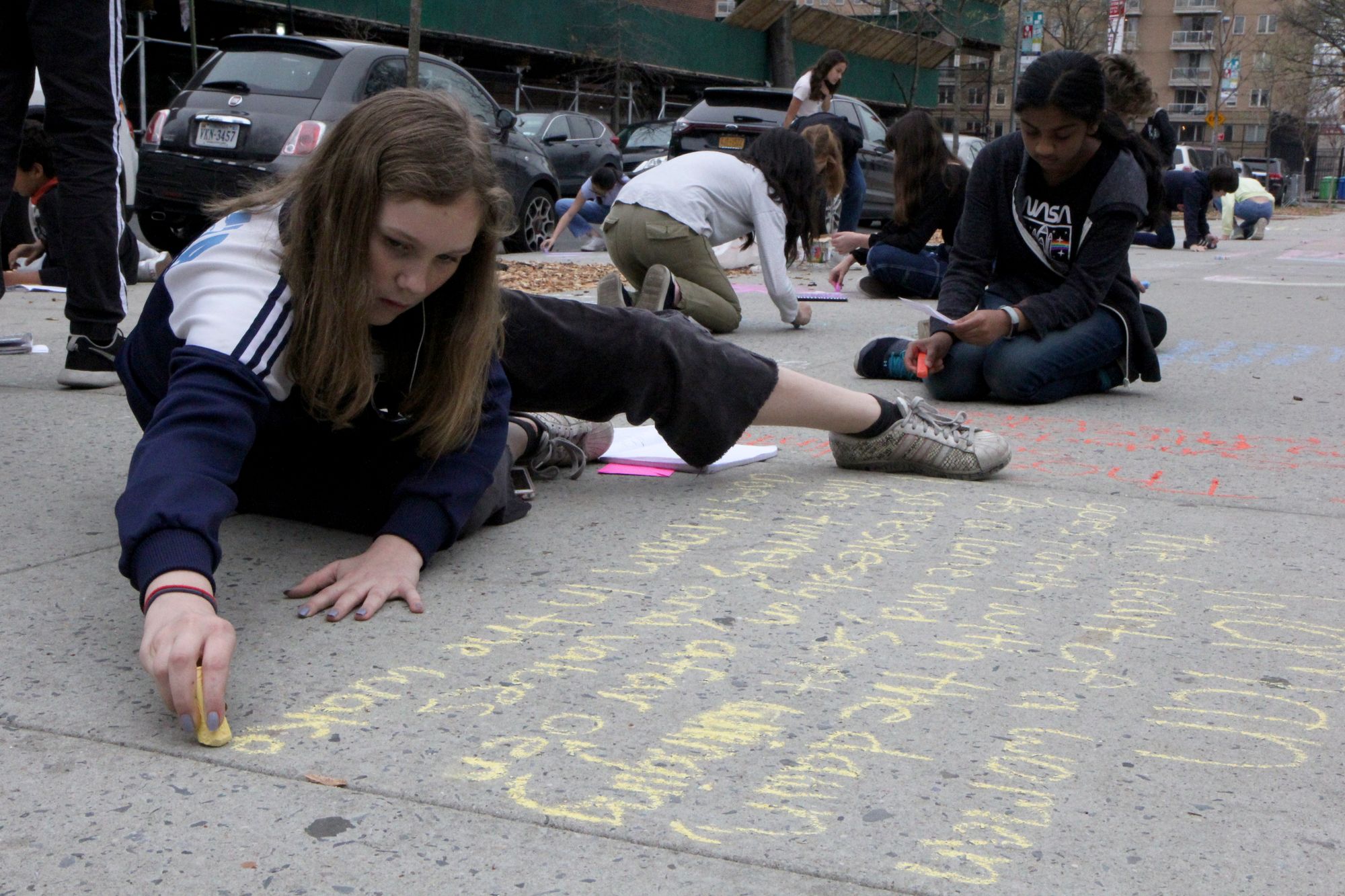 "It shows how women can help the world and how they have more strength than everyone says," she explained. Josie said she wanted to illustrate her piece of the sidewalk with images she'd seen at the Women's March.
Some students were not so excited by the poems chosen for them. Laura Daniels spoke about the poem "Boy in a Stolen Evening Gown" by Saeed Jones. "It's like they're writing it just to make it complicated. And it's also very, very boring," she said. However, she was able to pick out a favorite line from the poem. "'Call me at your side, one wildflower behind my ear.' It's nice imagery, I guess."
But how does she feel about poetry in general? "It's just complicated talking," Laura says.
After the students finished writing out their assigned poems, some of them were inspired to leave a mark with their own original verse. If you walk down Fourth Street between Fourth and Fifth Avenues you might just catch them.